UAE names oil chief to lead COP28 talks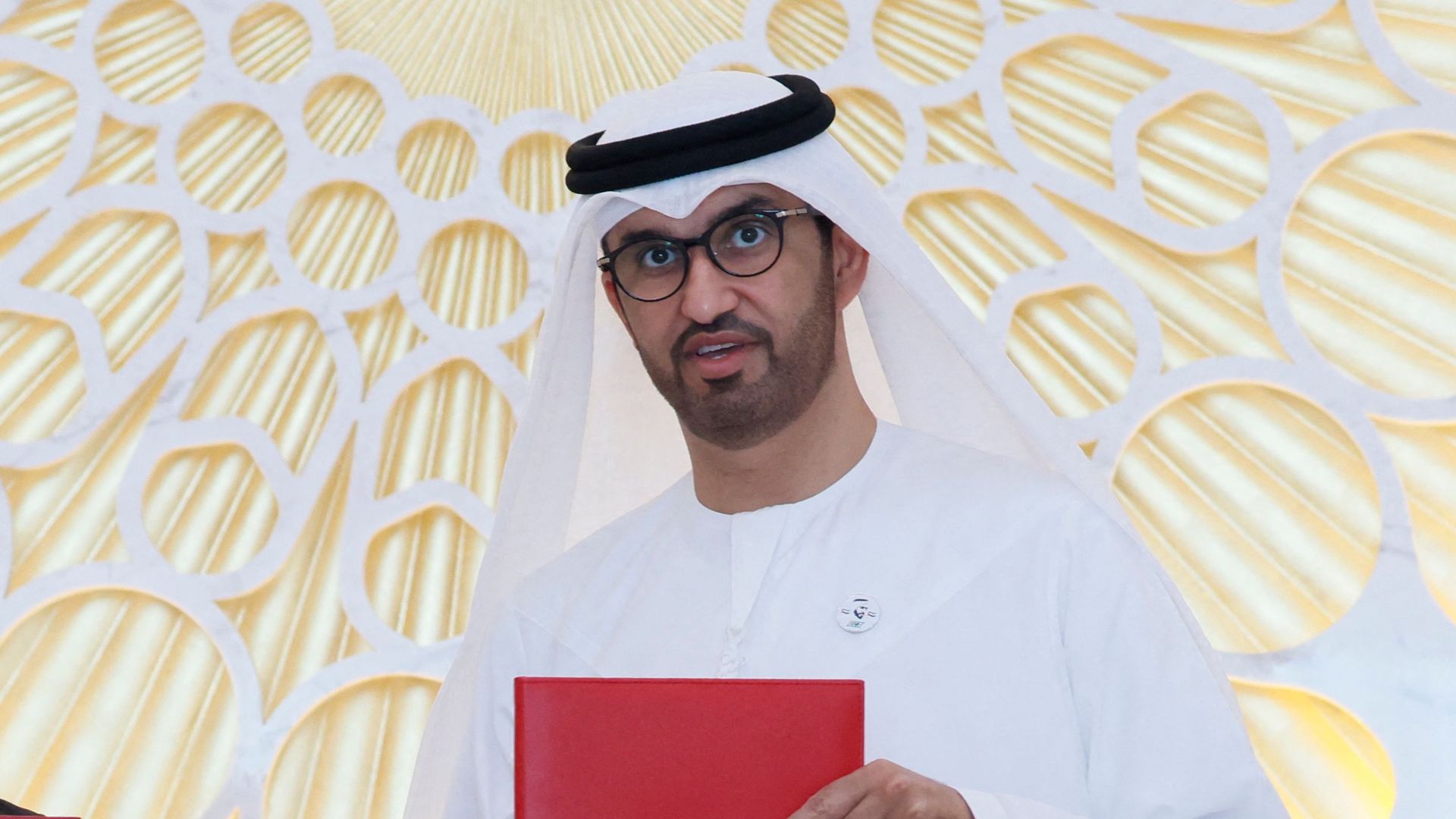 The United Arab Emirates announced Thursday that the CEO of one of the world's biggest oil firms will lead the COP28 global climate talks in Dubai later this year.
Why it matters: The appointment of UAE climate envoy Sultan al-Jaber, who leads the state-run Abu Dhabi National Oil, as COP28 president was met with outrage from climate activists — many of whom were already concerned that the UAE, one of the world's largest oil and gas producers, was hosting the summit.
Some attendees at last year's COP27 in Egypt criticized the summit for being a "glorified fossil fuel trade show" and campaigners are calling on al-Jaber to stand aside from his oil work while serving as COP28 president to avoid any conflict of interest, the BBC notes.
The big picture: Al-Jaber also oversees renewable energy projects while serving as the UAE's minister for industry and technology and he will be the "first CEO to ever serve as COP President, having played a key role in shaping the country's clean energy path," according to a statement carried by the state-run Emirates News Agency-WAM.
He's played a "proactive participatory role" at more than 10 United Nations Conference of the Parties, or COP, summits and two decades of executive business and leadership experience in government, climate policy and across the renewable and conventional energy sectors, per the statement.
What they're saying: Harjeet Singh, head of global political strategy at Climate Action Network International, said in a statement to media that if al-Jaber does not step down from his oil role, "it will be tantamount to a full scale capture of the UN climate talks by a petrostate national oil company and its associated fossil fuel lobbyist."
Bill McGuire, professor emeritus of geophysical and climate hazards at University College London, tweeted that COPs "have always been circuses" and now "they are complete jokes."
"We need separate standing bodies focusing on energy, transport, deforestation, loss & damage etc, working all year round," he added. "Not this bloated festival of world leader photoshoots and oil execs."
Teresa Anderson, global lead on climate justice at campaign group ActionAid, said in a statement that al-Jaber's appointment "goes beyond putting the fox in charge of the henhouse."
"The UN Climate Summit is supposed to be a space where the world holds polluters to account, but increasingly it's being hijacked by those with opposing interests. Like last year's summit, we're increasingly seeing fossil fuel interests taking control of the process and shaping it to meet their own needs."
— Teresa Anderson
Of note: Former U.K. Prime Minister Tony Blair was among those to welcome the move, saying in a statement carried by his nonprofit the Tony Blair Institute for Global Change that al-Jaber would "offer groundbreaking leadership for COP28."
The other side: A spokesperson for the UAE Office of the Special Envoy for Climate Change told CNBC in response to the criticism that al-Jaber's background "uniquely positions him to be able to convene both the public and private sector to bring about pragmatic solutions to achieve the goals and aspirations of the Paris Climate Agreement."
"The UAE is committed to an inclusive COP process, with the COP President acting as a global convenor," the statement to CNBC added. "The UAE's COP Presidency works with all parties and is committed to being open, transparent and accountable."
What's next: COP28 runs from Nov. 30 to Dec. 12.
Representatives for the UN Framework Convention on Climate Change could not immediately be reached for comment.
Go deeper