Historic transportation crises haunt Buttigieg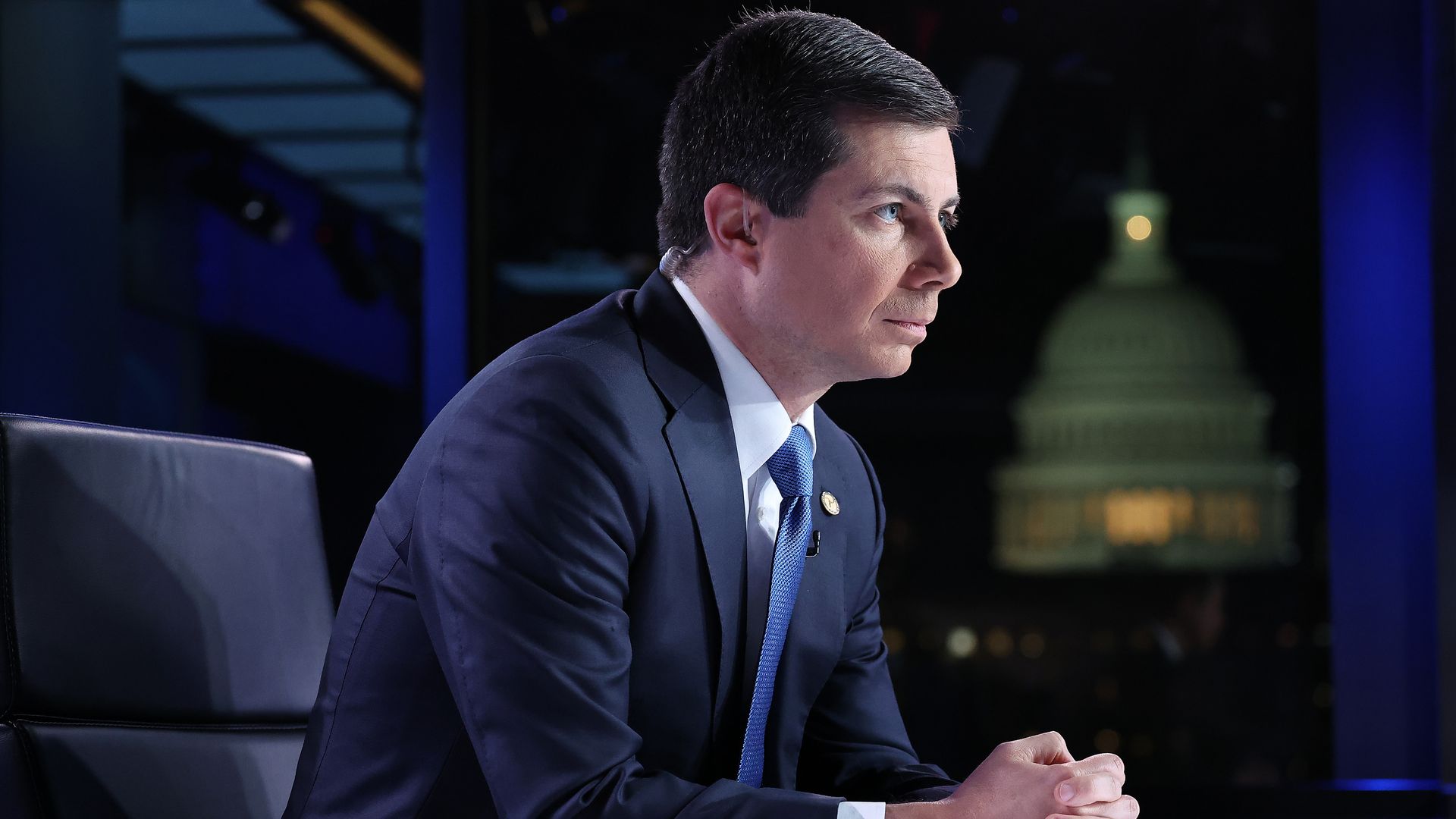 A historic string of air, rail and supply-chain meltdowns has plagued Transportation Secretary Pete Buttigieg's first two years in office, placing him — for better or worse — at the center of crises affecting millions of people.
Why it matters: A modest Cabinet role has become a political albatross for one of the Democratic Party's brightest young stars. Republicans have sought to make Buttigieg the face of the transport disruptions, while Democrats say his crisis leadership is proving his political mettle.
What's happening: A safety system outage forced the Federal Aviation Administration to temporarily ground all U.S. flights Wednesday for the first time since the 9/11 attacks.
Just weeks earlier, a systemwide meltdown at Southwest resulted in thousands of flight cancellations and delays over the holidays.
Late last year, Congress had to step in to avert a nationwide freight rail strike after union workers rejected a Biden administration-brokered deal over the lack of paid sick leave.
Meanwhile, global supply chain snarls linked to the COVID-19 pandemic have caused massive disruptions to U.S. ports dating back to 2021, resulting in widespread product shortages and persistent inflation.
The latest: President Biden has ordered Buttigieg to conduct an investigation of the flight system outage, which the FAA has preliminarily traced to a "damaged database file." In response to a question at a Wednesday briefing, White House press secretary Karine Jean-Pierre confirmed that Biden still has confidence in Buttigieg.
Between the lines: Buttigieg has in several cases been the victim of circumstances that predated his time in office — such as the ancient computers and infrastructure that appeared to contribute to the FAA disaster.
That hasn't stopped Republicans from relentlessly attacking Buttigieg each time a crisis has arisen, accusing the former small-town mayor of being incompetent and ill-qualified.
Sen. Ted Cruz (R-Texas), a top Republican on the committee that oversees DOT, called the FAA outage "completely unacceptable and just the latest example of dysfunction" at Buttigieg's agency.
The other side: "You can't go a day at DOT without some kind of a crisis. You have to provide the leadership, which I think Secretary Buttigieg has," former Obama Transportation Secretary Ray LaHood told Axios.
Jill Zuckman, a partner at SKDK and former head of public affairs under LaHood, says Republicans are hammering Buttigieg because they see him as a potential presidential candidate. "That's not how past Transportation secretaries were treated," Zuckman told Axios.
The lack of a permanent FAA administrator has also required Buttigieg to assume a more public-facing role.
His frequent appearances on Fox News and other cable news channels — a relic of the "go everywhere" media strategy that vaulted him to the top of the Democratic field in 2020 — have reinforced his status as one of the party's most effective communicators.
Be smart: The path from a second-tier Cabinet position like Transportation secretary to the White House — or any prominent elected office — was never as easy as advertised. By the time any future openings pop up, memories of his remarkable underdog presidential campaign will have faded.
The bipartisan infrastructure law has given Buttigieg a rare platform to be front and center: Just last week, he was in Connecticut to promote improvements for the Gold Star Memorial Bridge in New London.
But as the last few months of transportation snafus have demonstrated, Buttigieg's day job is filled with plenty of political downsides — without much opportunity to set the political agenda.
Zoom in: Biden's intention to run for re-election in 2024 removes a clear opportunity for Buttigieg to ascend to higher office.
He relocated to Michigan, a state that's much more hospitable to Democrats than his GOP-friendly home turf of Indiana.
But the Democratic bench of ambitious officeholders is deep in his adopted state, and Buttigieg quickly took himself out of the running for the open Senate seat being vacated by retiring Sen. Debbie Stabenow.
Democratic operatives noted that Buttigieg, despite his high profile, would face some of the same challenges in Michigan that he did in his 2020 presidential campaign.
Go deeper