TikTok's "Death Star" dangers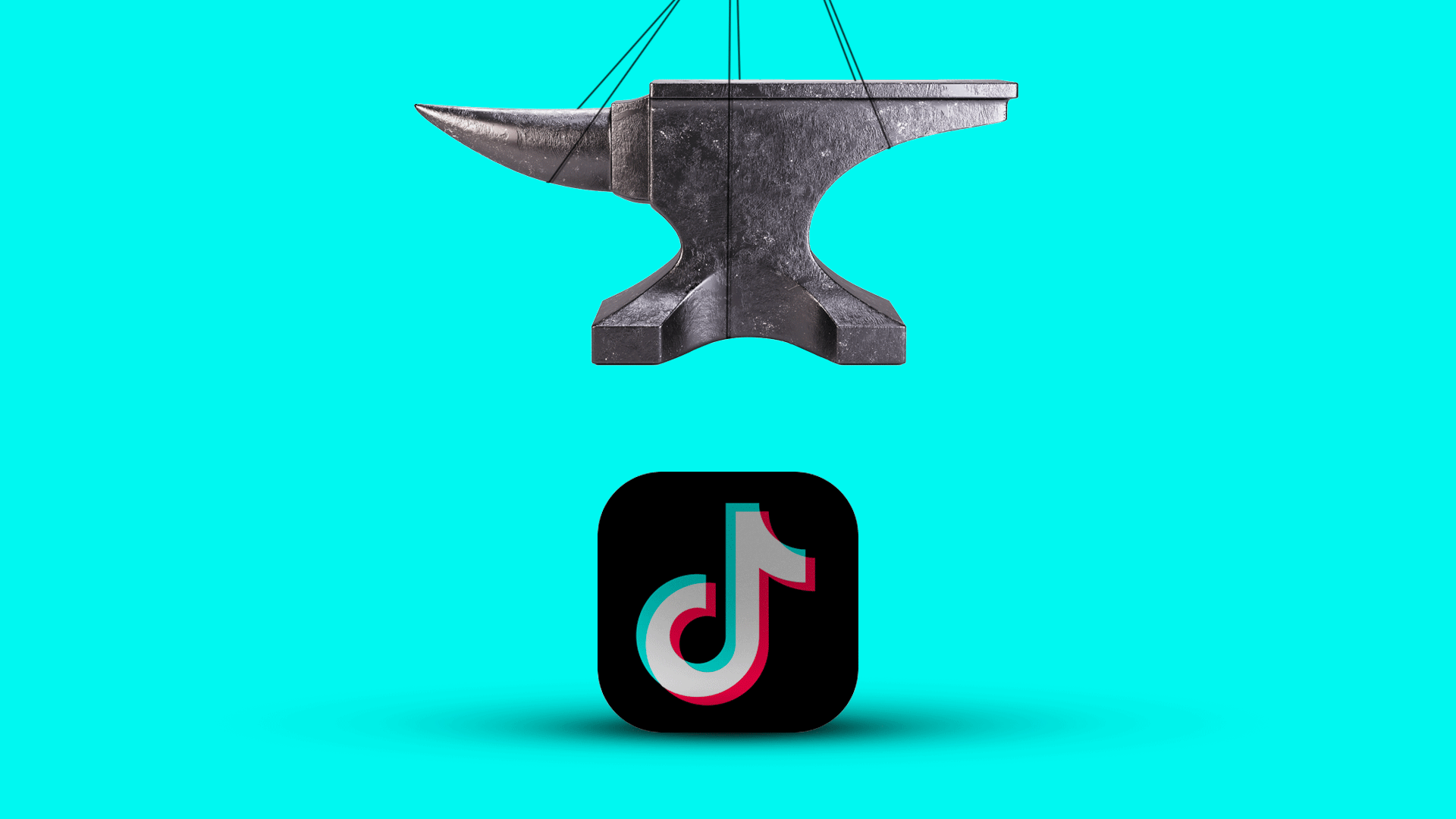 TikTok enters 2023 facing deepening doubts in Washington about its future in the U.S. thanks to its ownership by China-based ByteDance.
Why it matters: The short-video colossus now dominates the American social media landscape, raising concerns among lawmakers, competitors and users over data security, privacy and freedom of speech.
The big picture: Every social media company must navigate these same issues in both the U.S. and the EU — but only TikTok carries the albatross of foreign ownership at a moment when anti-China sentiment runs hot in D.C.
Driving the news: For TikTok, the clock has long been ticking on a proceeding by a U.S. government panel, the Committee on Foreign Investment in the United States (CFIUS).
If the company can't satisfy CFIUS that its American operations are secure from Chinese government meddling, TikTok could face a U.S. shutdown or an order to sell itself to U.S. owners.
In 2020 the Trump administration tried to force a TikTok sale and then to ban the app but courts blocked the moves.
What they're saying: TikTok is "running the standard social media playbook, highlighting their good works and contributions... that's what Facebook does, that's what Twitter does," one tech lobbyist told Axios.
"But there's concurrently the Death Star about to blow up the rebel base, and that's why concluding a CFIUS deal is so critical."
Details: TikTok's CFIUS negotiations have intensified, with TikTok offering expanded security plans involving Oracle as a partner, per Reuters.
At the same time, though, TikTok has halted hiring consultants to help implement any deal, suggesting the parties remain far apart, Reuters also reported Friday.
Without a plan sanctioned by U.S. national security officials, TikTok does not have a bulletproof story to tell lawmakers about how it keeps U.S. users' data safe.
The other side: "We have been working with CFIUS for over two years to address all reasonable national security concerns about TikTok in the U.S.," TikTok spokesperson Brooke Oberwetter told Axios in a statement.
"The solution under consideration by CFIUS is a comprehensive package of measures with layers of government and independent oversight to address concerns about TikTok content recommendation and access to U.S. user data — measures well beyond what any peer company is doing today," Oberwetter said.
In Congress, some legislators are growing impatient with the CFIUS process and begun taking their own action.
Congress' big year-end spending bill included legislation banning TikTok from federal employees' devices.
Sen. Marco Rubio (R-Fla.) introduced a bill to ban TikTok last December with a bipartisan House counterpart from Reps. Mike Gallagher (R-Wis.) and Raja Krishnamoorthi (D-Ill.). Gallagher has accused ByteDance of being under the control of the Chinese Communist Party, a claim TikTok rejects.
Those moves on the Hill put more pressure on CFIUS negotiators to work out a deal that's airtight and won't anger lawmakers.
A number of states have also begun moving against TikTok.
More than a dozen state governments have banned the app on government-issued devices. At least 22 states have taken some sort of action on TikTok since 2020, per GovTech. TikTok's Oberwetter said such bans "do nothing to advance cybersecurity in their states and are based on unfounded falsehoods about TikTok."
Indiana Attorney General Todd Rokita filed two lawsuits against TikTok last December, accusing the company of lying about the safety of user data and that the app is appropriate for teen users. A group of state attorneys general launched an investigation into whether TikTok harms children and teens' mental health last March.
Between the lines: Brendan Carr, a Republican commissioner at the Federal Communications Commission, told Axios in November that TikTok should be banned outright in the U.S.
Carr tells Axios that new revelations that TikTok employees (who were later fired) tracked multiple journalists make the app's continued availability in Apple's and Google's app stores "untenable."
"I'm pleased with the progress that's been made at both the federal and state level when it comes to taking appropriate actions to respond to the range of threats posed by TikTok," he said. "My expectation is we're going to see those efforts continue to accelerate in this new year."
The bottom line: No matter what TikTok does, and what deal CFIUS might work out, as long as ByteDance owns TikTok its leadership will be dodging hard questions.
Last month, CNN's Jake Tapper repeatedly pressed TikTok head of public policy Michael Beckerman about China's treatment of Muslim minorities.
"That's not what I focus on," Beckerman said, adding that TikTok does not censor content on behalf of any government.
Go deeper