Updated Jan 9, 2023 -

World
1,200 detained after Bolsonaro supporters storm Brazil Congress, other buildings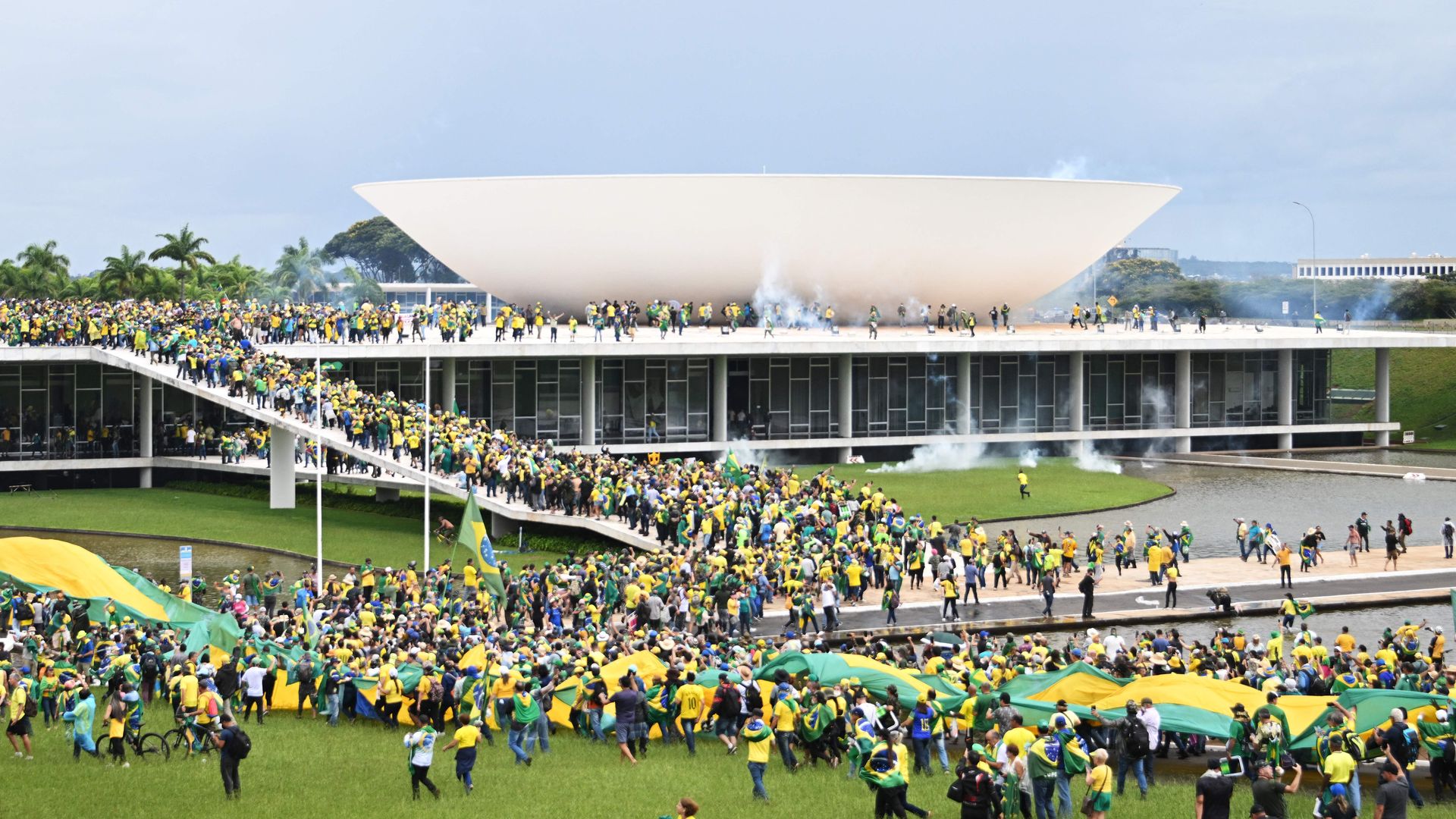 Thousands of supporters of Brazil's right-wing former President Jair Bolsonaro stormed the National Congress and other government buildings in the capital Brasilia on Sunday in an attack that echoed the Jan. 6, 2021, U.S. Capitol riot by supporters of former President Donald Trump.
The latest: President Luiz Inácio Lula da Silva, who took office less than a week ago and was in São Paulo at the time of the attacks, along with the presidents of Brazil's upper and lower houses of Congress and the Supreme Court on Monday signed a decree repudiating what they described as "coup acts in Brasilia."
What happened: Footage broadcast by several news outlets earlier Sunday showed protesters climbing onto the Congress building's roof, smashing some of its glass windows and doors, and damaging furniture.
They also flooded parts of the Congress building with the sprinkler system and damaged furniture in the presidential palace and Supreme Court building, per Reuters.
While Congress was not in session, protesters reportedly threatened employees if they tried to block their entry into the building, per CNN.
About 3,000 people took part in what initially started as a demonstration in Brasilia, according to local media.
What they're saying: "Whoever did this will be found and punished," Lula tweeted Sunday. "Democracy guarantees the right to free expression, but it also requires people to respect institutions."
"There is no precedent in the history of the country what they did today. For that, they must be punished," he continued.
"Those people we call fascists, the most abominable thing in politics, invaded the palace and Congress. We think there was a lack of security," he added before sharing a signed decree for federal intervention in the district that will last through the end of the month.
Lula also placed some blame on Bolsonaro, saying "there are several speeches by the former president encouraging this ... this is also his responsibility and the parties that supported him."
Lula said he was in the city of Araraquara, in the state of São Paulo, at the time of the attacks to assess the damage done by heavy rains in the last week of 2022.
Bolsonaro, who flew to Florida just before Lula's inauguration last week, criticized the attacks in a series of tweets posted several hours after his supporters stormed the buildings.
He said peaceful protests were a part of democracy, but not the "destruction and invasions of public buildings, like what occurred today."
He also rejected Lula's assertion he shared responsibility, saying there was "no proof" he encouraged the attacks.
Between the lines: While Bolsonaro did not explicitly concede or recognize Lula or his victory in an address following last year's election, he agreed to a transition of power in a press conference that took place two days after the vote.
Still, his supporters staged multiple protests and asked for the military to intervene.
The big picture: The attacks were condemned across Brazil and internationally, including in the U.S.
President Biden on Monday condemned the attacks during a phone call with President Lula, in which he "conveyed the unwavering support of the United States for Brazil's democracy and for the free will of the Brazilian people as expressed in Brazil's recent presidential election," according to a White House statement.
The presidents also pledged to work closely together on "peace and security," as well as other issues. Lula accepted Biden's invitation to visit Washington in early February.
Vice president Kamala Harris on Monday called the incidents "an obvious and clear attack on a democratic process."
White House national security adviser Jake Sullivan tweeted that the U.S. "condemns any effort to undermine democracy in Brazil."
"Our support for Brazil's democratic institutions is unwavering. Brazil's democracy will not be shaken by violence."
Brazil's Senate President Rodrigo Pacheco, meanwhile, tweeted that he "vehemently repudiate[d] these anti-democratic acts, which must urgently undergo the rigor of the law."
State of play: Brasilia Gov. Rocha announced on Twitter that he had fired Anderson Torres, the security secretary of the federal district who had been in charge of ensuring the area's safety. Torres is a Bolsonaro ally who previously served as the former president's minister of justice, per the New York Times.
In photos: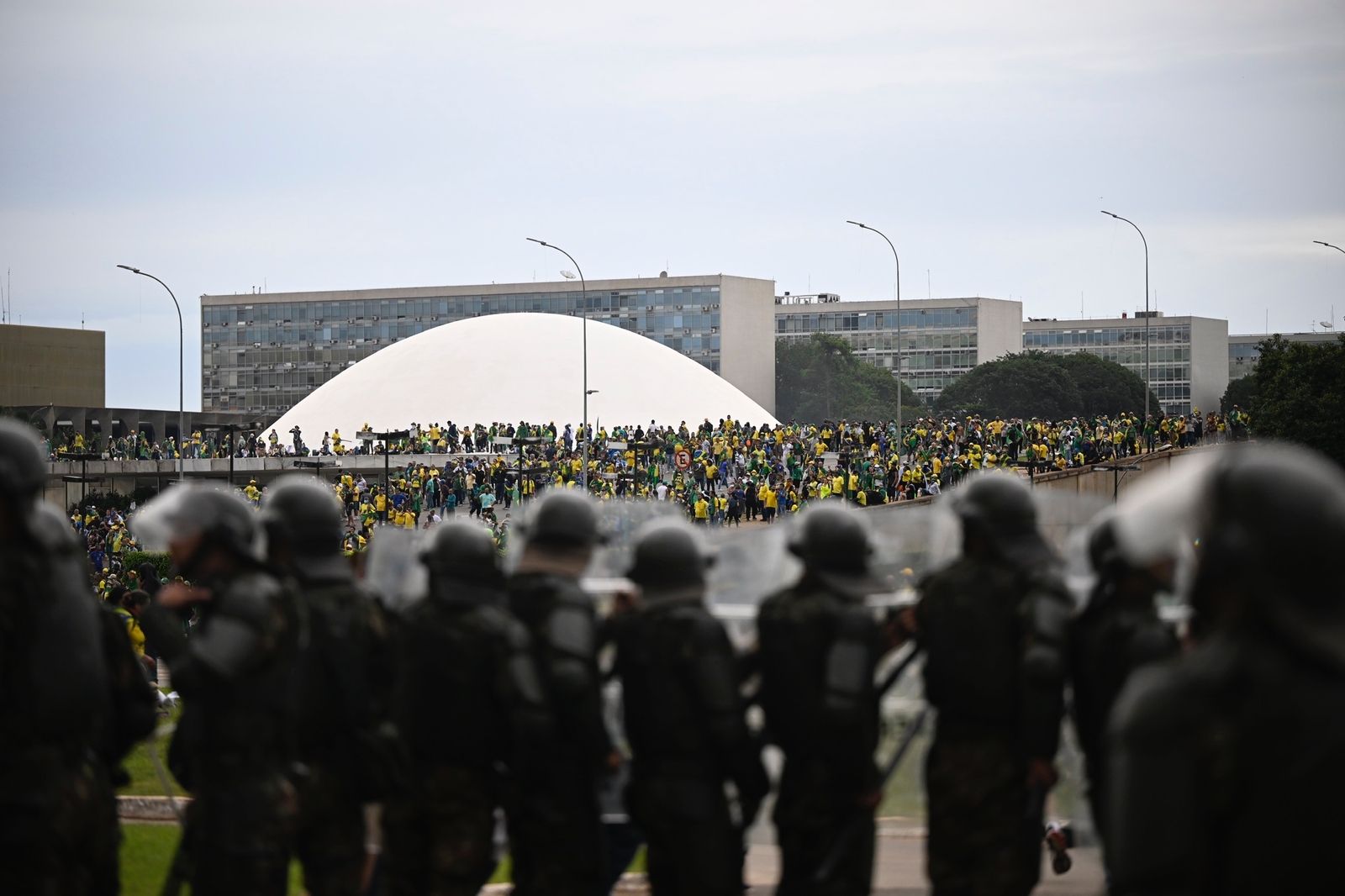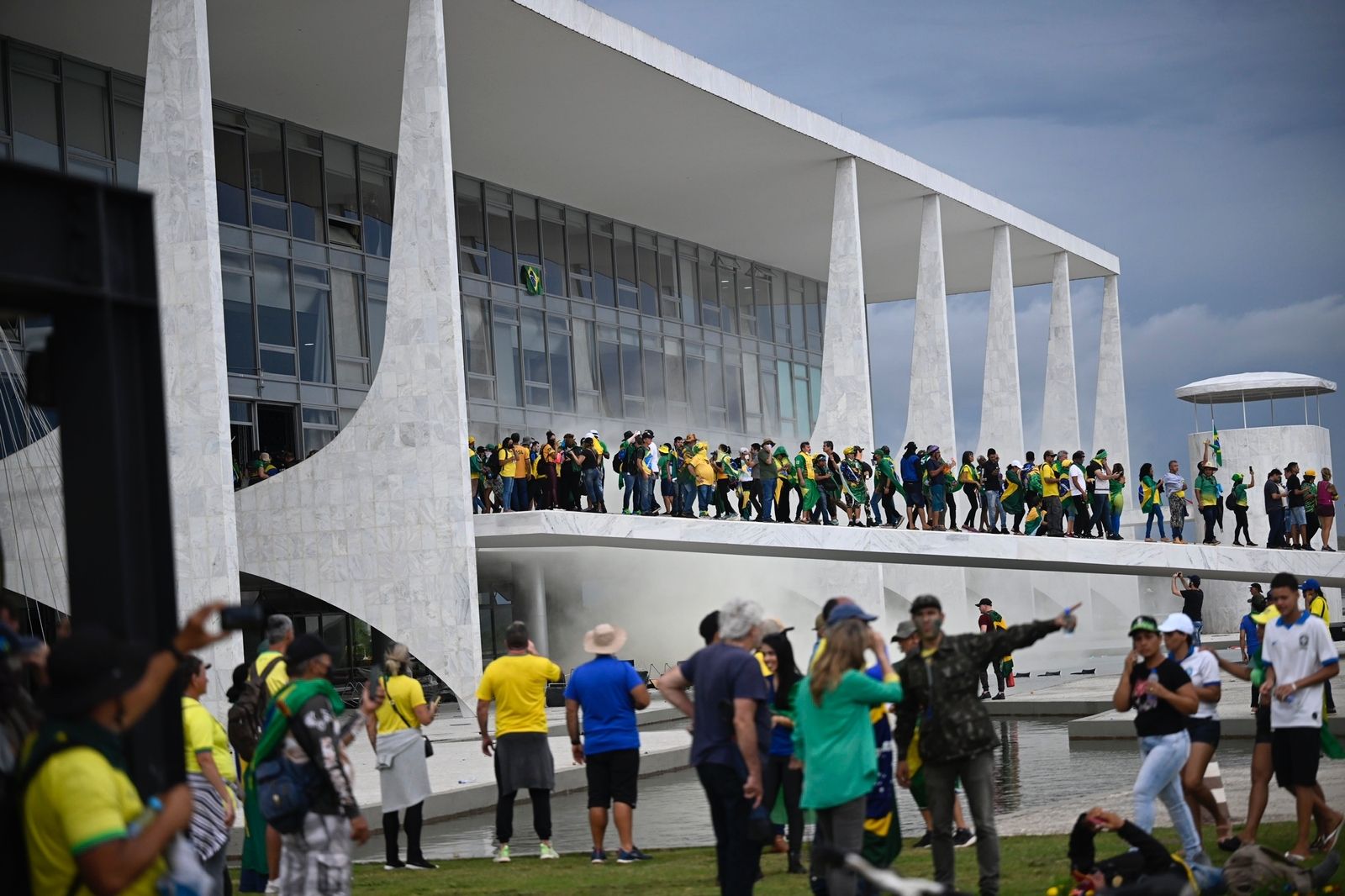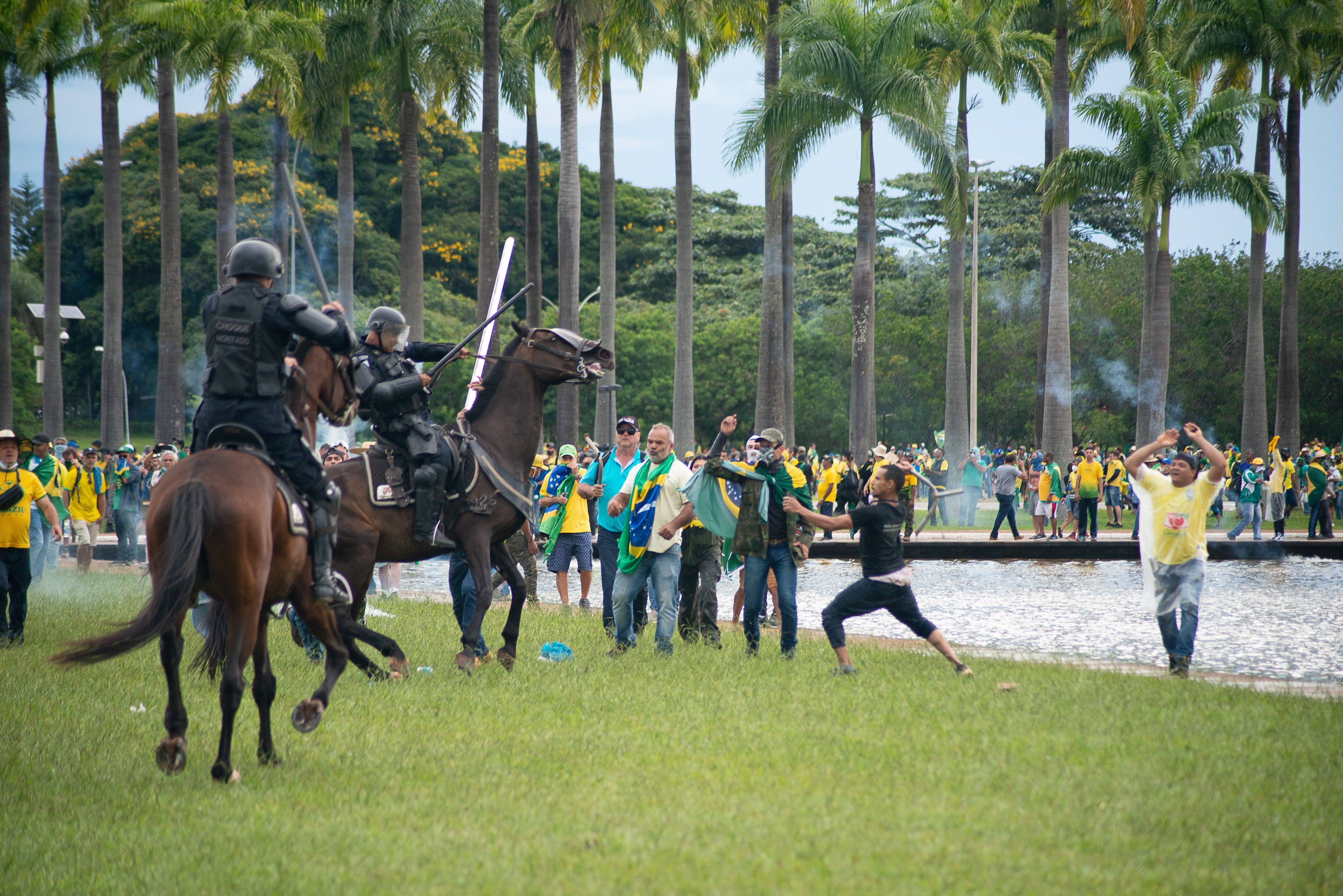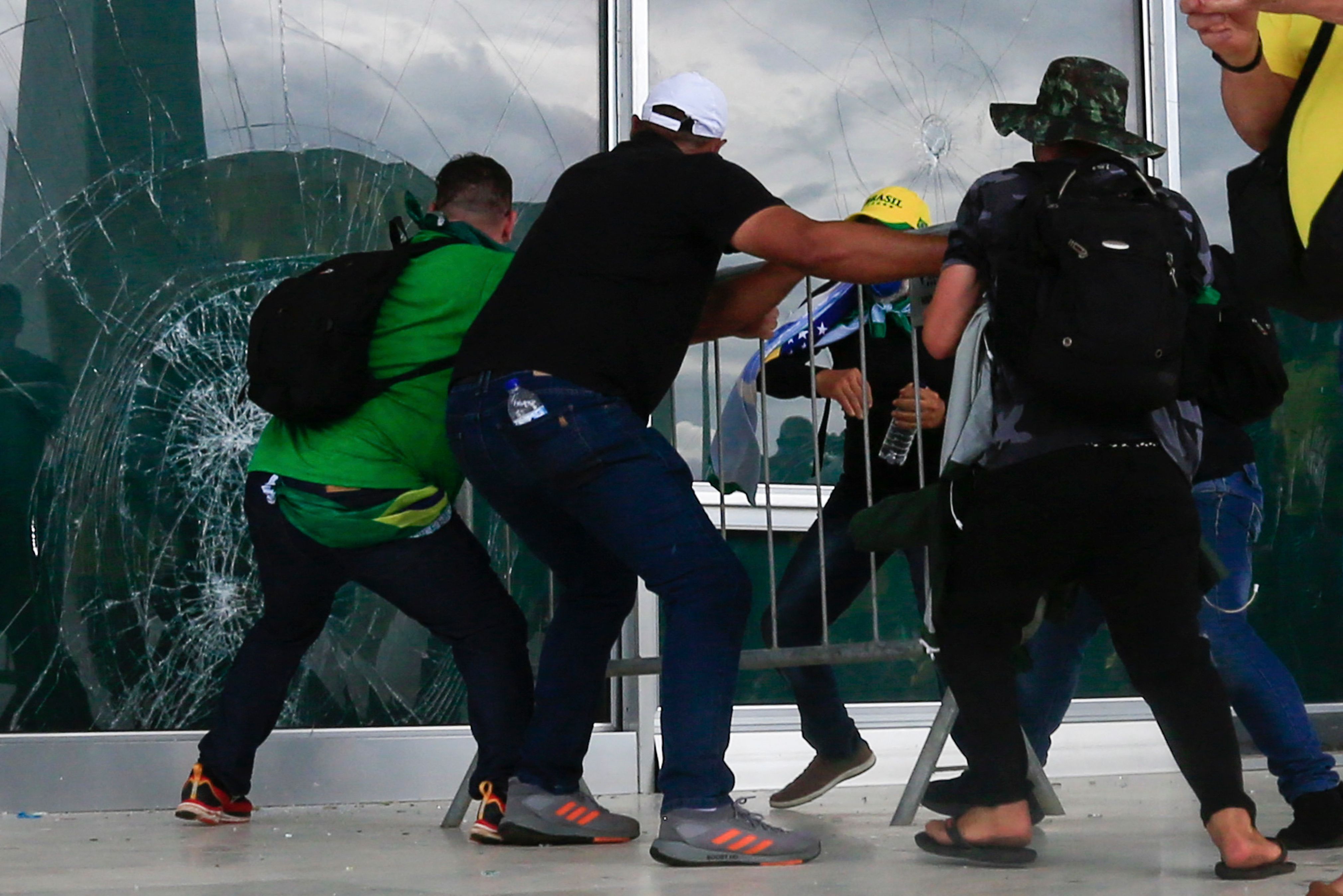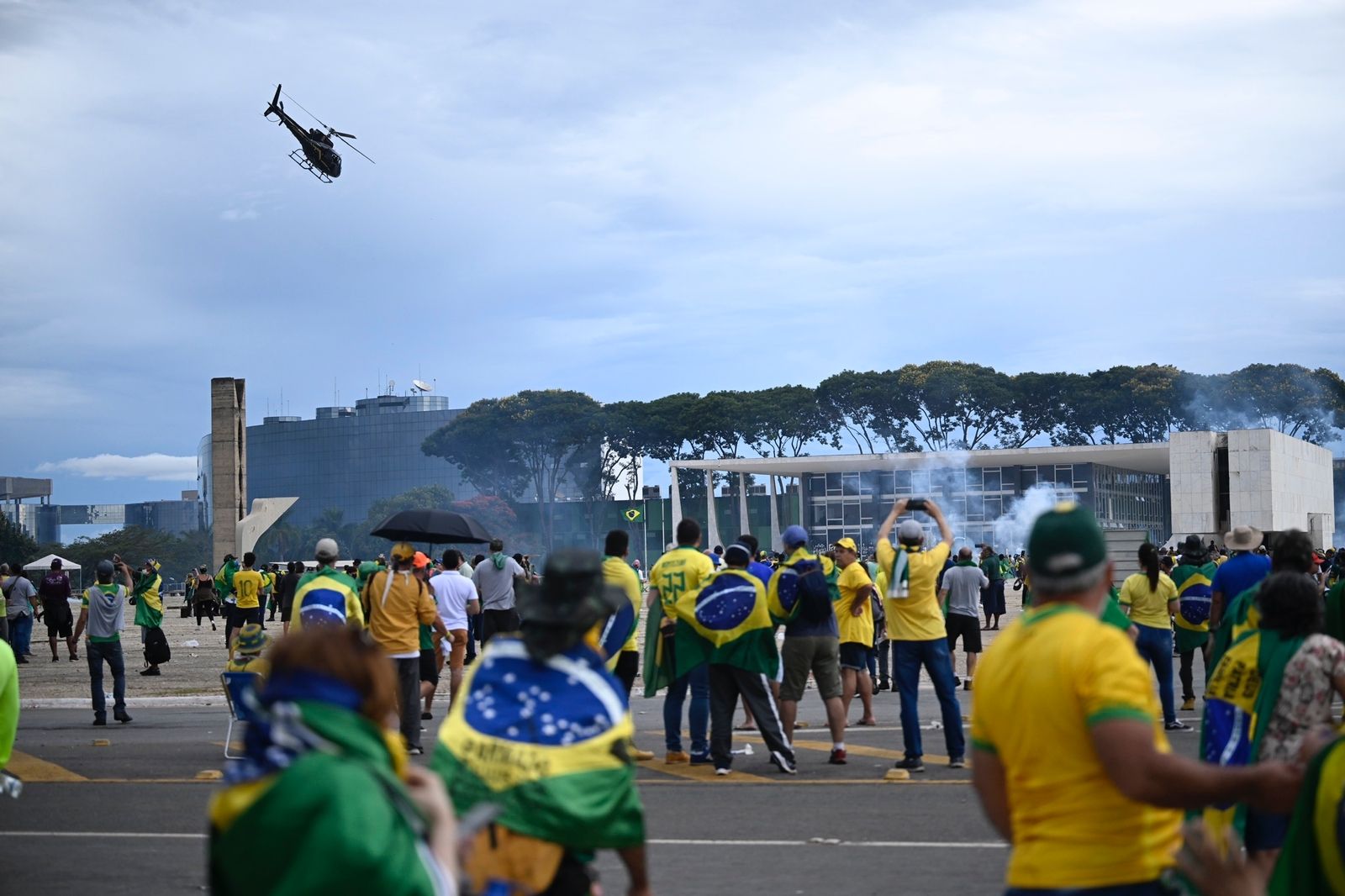 Editor's note: This article has been updated with additional details throughout.
Go deeper