Indoor farming isn't just for the rich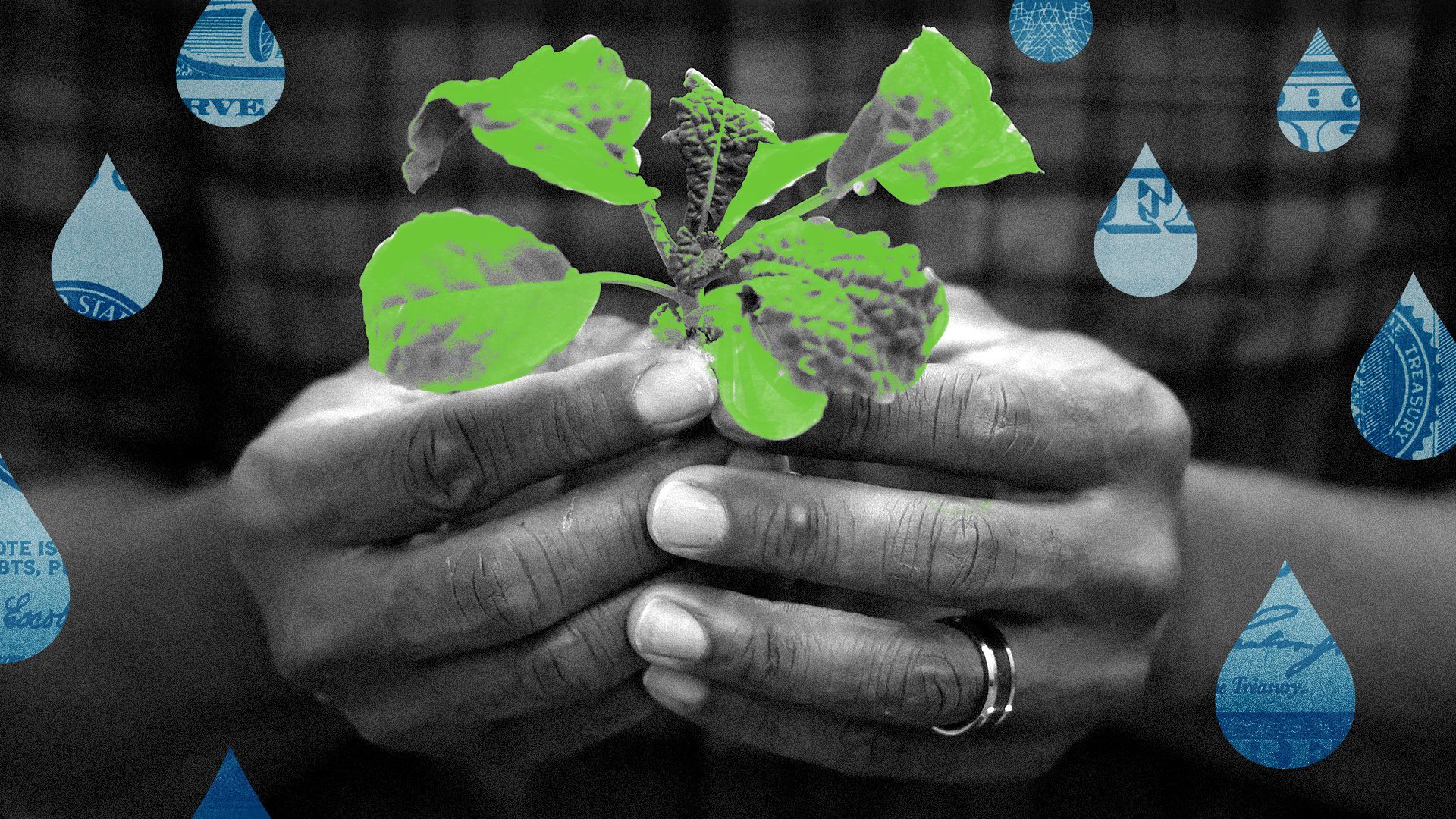 Historically costly indoor hydroponic farms are becoming more accessible to small-scale U.S. farmers.
Why it matters: While extreme weather exacerbated by climate change hurts crop yields, some small farmers are turning to ag-tech solutions that have long been sequestered from anyone but the rich.
The big picture: Indoor hydroponic farms, or just indoor farms, are tech-driven, weather-controlled production sites that grow crops in nutrient solutions rather than soil.
They use less water than traditional farming methods and take up less space — and are popping up everywhere from Alabama to Hawaii.
Axios' Jennifer Kingson writes that while indoor growing can't completely replace outdoor growing for crops like lettuce, it's expected to start filling in when climate change leads to more outdoor crop failures.
Nearly two-thirds of farmers surveyed across 15 U.S. states reported sizable crop and income loss due to drought conditions last year, per the American Farm Bureau Federation.
What they're saying: According to Nona Yehia, CEO and co-founder of Vertical Harvest Farms, indoor farming has long been associated with a major barrier to access — high start-up and operating costs.
"As we grow as an industry, that cost is going to come down ... but I think that's going to take time," says Yehia.
Vertical Harvest Farms is now working to bring 10 new vertical farms to U.S. food deserts within the next five years, Yehia tells Axios.
"Furthering equity is where we really think hydroponic growing will mean something to people. It'll mean something to our families, our communities, our neighborhoods."
On a hyper-local level, indoor farming is being explored as a food insecurity mitigation tool by communities in urban food deserts, according to Lisa Price, an Oregon State University professor of anthropology who researches food systems.
Price notes the practice could be a way to "try and correct ... the tremendous reduction of Black farmers in this country," which is largely due to historic land loss and racial discrimination in federal farm assistance.
Price tells Axios that community-centric indoor farming is "just one element of a larger trend for Black and brown food initiatives," from the Navajo Nation providing tribal members with materials and training to Indiana's first hydroponic container farms established by the Black-led farm New Age Provisions last year.
"They are providing a service to these communities for fresh produce, while also making a living."
Meanwhile, Virginia's Babylon Micro-Farms sells indoor farming units optimized for hydroponic produce growth.
At Boston-based ag-tech company Freight Farms, commercial-scale mobile hydroponic farms also present accessible options for small farmers, according to CEO Rick Vanzura.
Priced at $149,000, Vanzura says that the Freight Farms upfront cost is comparatively affordable.
"If you think about it in the world of commercial farming, it's quite low," Vanzura tells Axios, pointing to the startup costs for traditional open-field farms, which reportedly range from $11,000 to over $5 million.
Of note: "It's not for everyone," Hamilton Horne, owner of South Carolina's King Tide Farms, says of the cost.
Horne tells Axios he spent roughly $160,000 to get his Freight Farms container farm up and running last year. "[It] is a lot of money for one individual to put up for something like this," Horne says.
Yes, but: The returns have since made Horne glad he invested, especially with the recent rise in demand for the varieties of greens he grows and sells to local chefs and restaurants.
That surge in demand is in part thanks to the extreme winter weather conditions that lashed much of the U.S., last month, forcing many farmers in Charleston to replant their crops, while Horne says his went untouched.
The bottom line: "With the hurricane this year, everybody's crops around here got ruined. We just went through a frost hit, everybody's got knocked down again," Horne tells Axios. "I'm the lone guy standing strong."
Editor's note: This story has been corrected to note that a single farm from Virginia's Babylon Micro-Farms costs around $15,000, not $3,500.
Go deeper