Bed Bath & Beyond warns of possible bankruptcy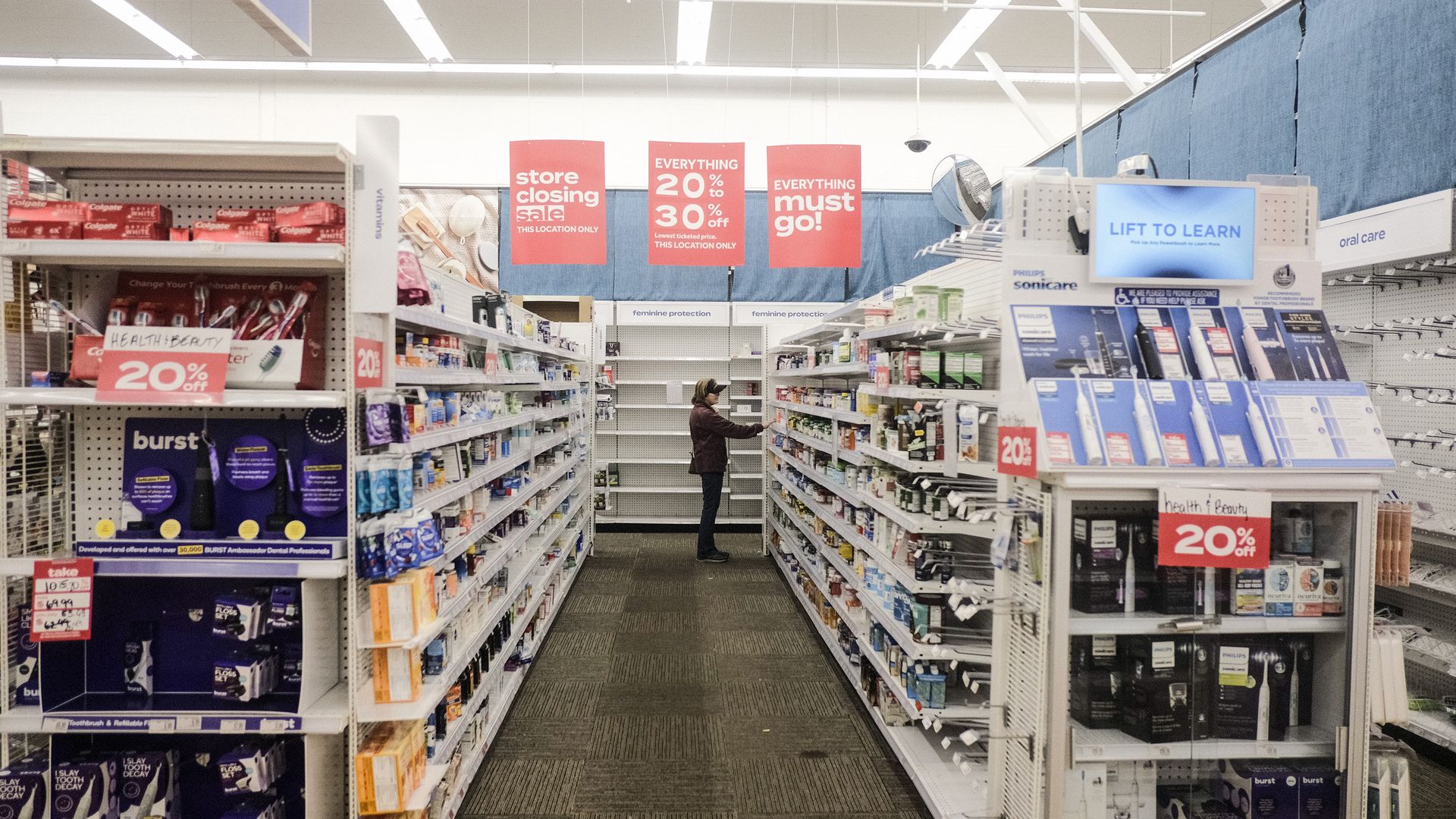 Bed Bath & Beyond — whose 20% coupons, towel towers and wedding registry have been a staple of the American shopping landscape — warned Thursday that its dismal performance threatens the company's future.
Driving the news: The beleaguered retailer said in a public filing that it faces "substantial doubt" about its ability to continue operating on its own — and that it could file for bankruptcy protection.
Why it matters: Bed Bath & Beyond still had some 32,000 employees and 955 stores as of last summer.
That included the company's other properties: buybuy Baby and Harmon.
State of play: Bed Bath & Beyond has been distressed for years, having failed to reinvent itself in the digital age despite efforts to declutter its stores and remake its coupon strategy.
The retailer said Thursday that it expects to report a 33% sales decline in the quarter that ended Nov. 26, "driven by lower customer traffic and reduced levels of inventory availability, among other factors."
The company also said it expects to report a net loss of $386 million, up from $276 million a year earlier.
BBBY shares are down more than 86% over the last year, tumbling below $2 on Thursday.
Threat level: Particularly concerning is the fact that the company is facing what CEO Sue Gove on Thursday called "inventory constraints" and "reduced credit limits," leading to "lower levels of in-stock presentation within the assortments that our customers expect."
Distressed retailers often find it hard to get inventory from vendors under conventional terms as they careen toward a liquidity crisis.
Yet no less recently than June, the company was reporting that it had too much inventory.
"In our view, Bed Bath & Beyond is too far gone to be saved in its present form," GlobalData retail analyst Neil Saunders wrote Thursday in an analysis. "A catalogue of missteps has run the company into the ground and has made it increasingly irrelevant."
Worth noting: Not long ago, Bed Bath & Beyond found itself as the object of affection from meme stock traders, inspired by an investment from GameStop chair Ryan Cohen.
But the stock plunged in August after Cohen sold off his shares, leaving the retailer's shares to trade on the not-so-good fundamentals.
What they're saying: "The Company continues to consider all strategic alternatives including restructuring or refinancing its debt, seeking additional debt or equity capital, reducing or delaying the Company's business activities and strategic initiatives, or selling assets, other strategic transactions and/or other measures, including obtaining relief under the U.S. Bankruptcy Code," the filing stated.
The bottom line: "These measures may not be successful," the company added.
"Only very radical action will allow it to survive," Saunders wrote, suggesting the company could quickly sell off its buybuy Baby division to raise cash. But "even if it does, it will be a shadow of its former self."
Editor's note: This story has been updated with additional details throughout.
Go deeper