House passes legislation to avert economically devastating rail strike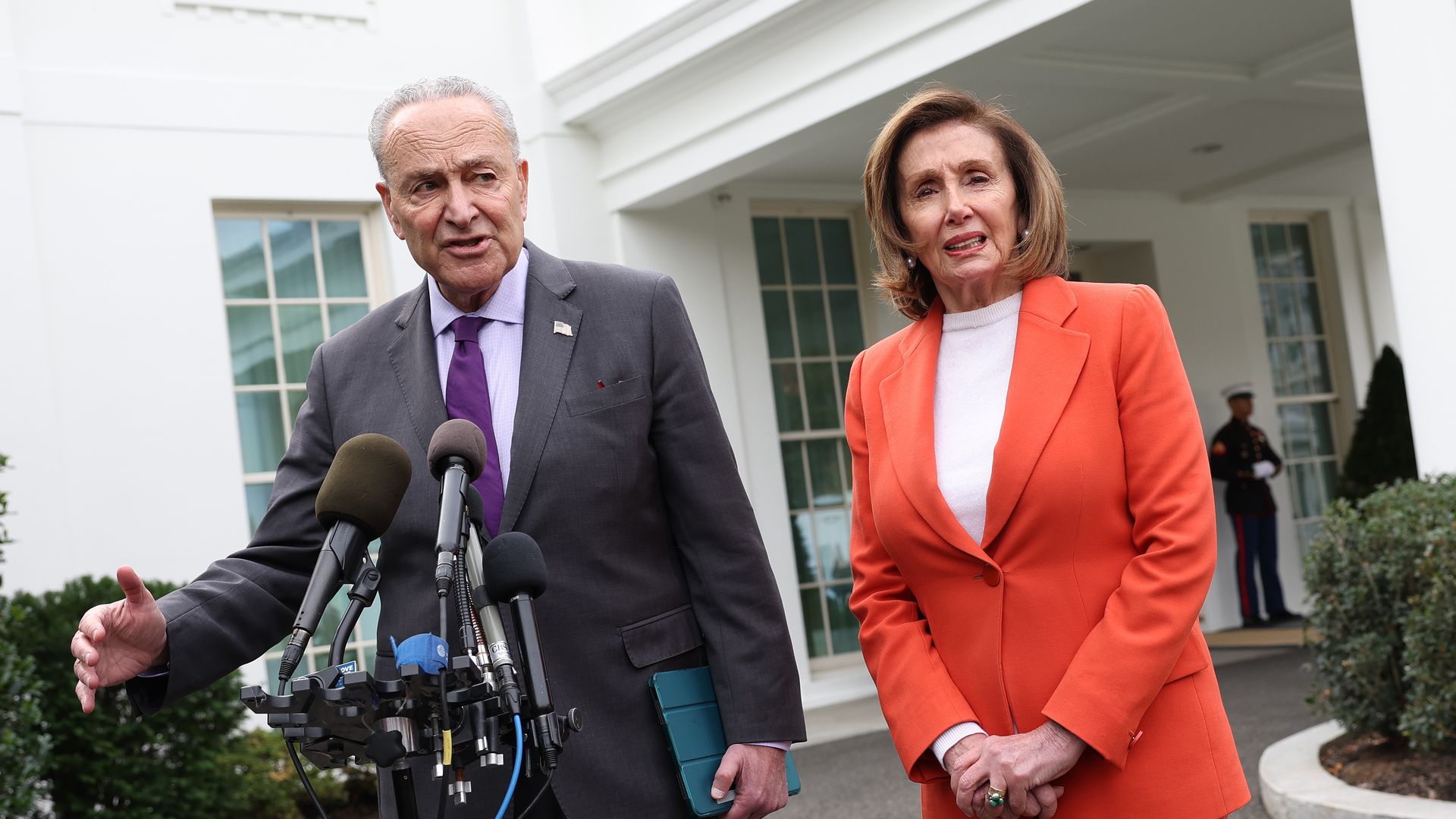 The House passed legislation Wednesday to avert a nationwide rail strike that President Biden warned earlier this week could "hurt millions of other working people and families."
Driving the news: The legislation now heads to the Senate, where time is ticking before Dec. 9 — the earliest date railway workers could strike if an agreement is not reached.
The first measure on a tentative agreement passed in a 290-137 vote. Eight Democrats and 129 Republicans voted against the bill.
One of the two measures passed Wednesday includes seven paid sick days for railroad employees, a key sticking point for workers, lobby members and progressive lawmakers. The resolution passed in a 221-207 vote mainly along party lines.
What they're saying: "I am grateful to Speaker Pelosi and House Democrats and Republicans for taking urgent action to prevent a rail shutdown," Biden said Wednesday.
"The Senate must now act urgently," he said.
"Let me say that again: without action this week, disruptions to our auto supply chains, our ability to move food to tables, and our ability to remove hazardous waste from gasoline refineries will begin."
"The Senate must move quickly and send a bill to my desk for my signature immediately."
House Speaker Nancy Pelosi (D-Calif.) in a Dear Colleague letter on Tuesday night said that "more must be done to secure the paid sick leave that hard-working railroaders deserve."
Between the lines: Some progressive lawmakers signaled their opposition to the initial piece of legislation because it did not include paid sick leave for workers.
"At a time of record profits in the rail industry, it's unacceptable that rail workers have ZERO guaranteed paid sick days," Sen. Bernie Sanders, I-Vt wrote in a tweet.
"It's my intention to block consideration of the rail legislation until a roll call vote occurs on guaranteeing 7 paid sick days to rail workers in America."
"We thank President Biden and Labor Secretary [Marty] Walsh for their hard work in negotiating a tentative agreement that is better than the disastrous proposal put forward by the rail industry. But Congress can and must make this agreement better," read a joint statement from a group of Democratic Senators including, Sens. Bernie Sanders, Kirsten Gillibrand, Tammy Baldwin, Cory Booker, Sherrod Brown, Ed Markey, Jeff Merkley, Alex Padilla, Jack Reed, Tina Smith, Elizabeth Warren and Sheldon Whitehouse.
By the numbers: During the first three quarters of 2022, the rail industry made a record-breaking $21.2 billion in profits, according to the joint statement.
"Guaranteeing 7 paid sick days to rail workers would only cost the industry $321 million a year – less than 2 percent of their total profits," the statement continues. "Please do not tell us that the rail industry cannot afford to guarantee paid sick days to their workers."
What's next: Senate Majority Leader Chuck Schumer (D-N.Y.) said Tuesday that both he and Senate Minority Leader Mitch McConnell (R-Ky.) "agreed we'd try to get it done ASAP."
Editor's note: This story has been updated with additional developments.
Go deeper