Crucial Georgia Senate race heads to Dec. 6 runoff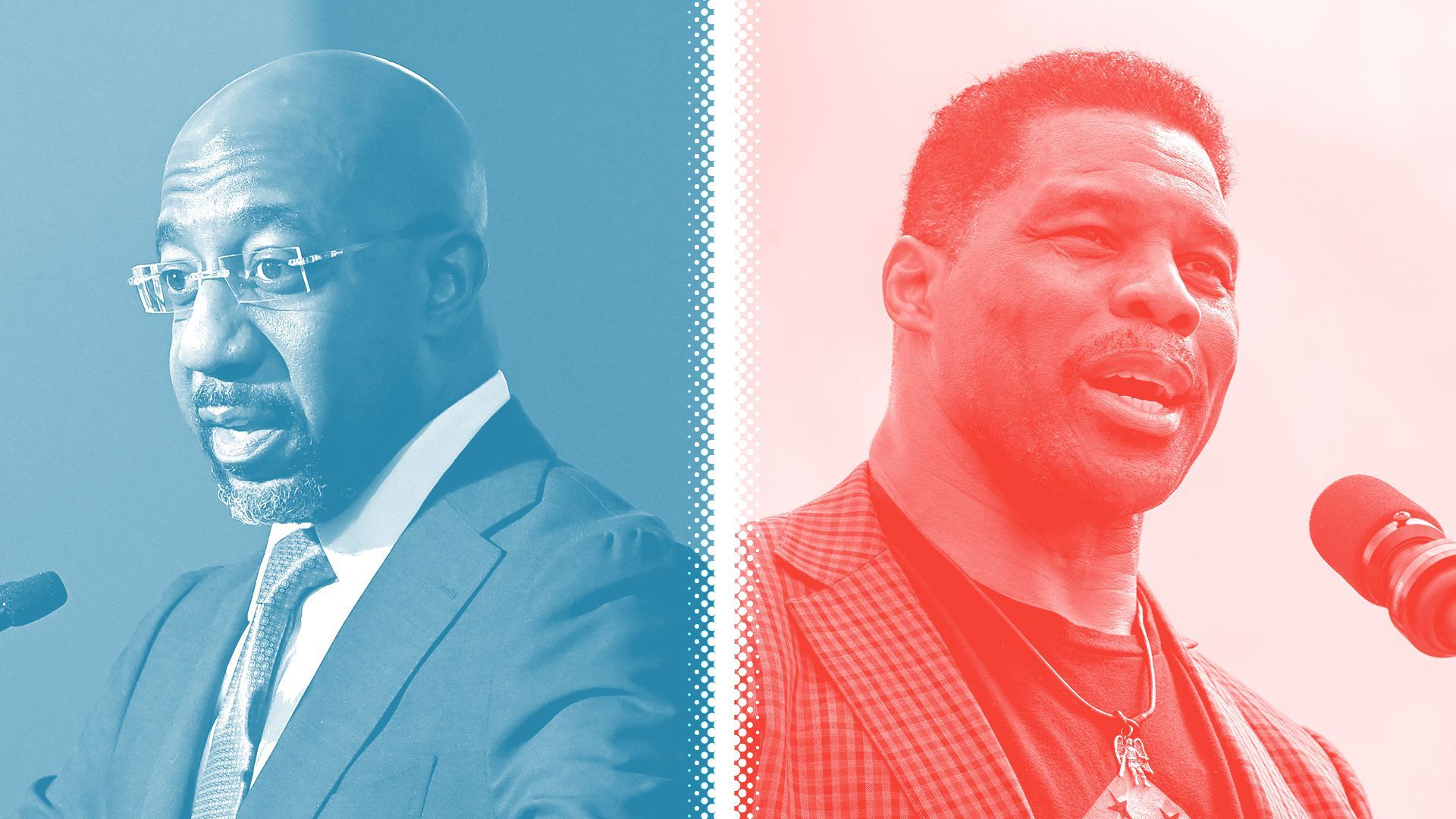 The high-profile contest between Georgia Republican Herschel Walker and incumbent Democrat Sen. Raphael Warnock will head to a runoff after neither candidate received more than 50% of the vote in the midterm election, Republican Secretary of State Brad Raffensperger announced Wednesday.
Why it matters: Both parties view the state as crucial to their chances of holding a majority in the Senate. The move to a runoff is reminiscent of Georgia's two 2020 Senate races.
Driving the news: The runoff between the two candidates will take place on Dec. 6.
More than 7,000 votes remained uncounted Wednesday afternoon, not including military and provisional ballots, per Georgia's secretary of state office.
Warnock held a roughly 35,000 vote lead as of Wednesday, but still less than 50% of the vote.
Catch up quick: Polls had consistently shown the race in a dead heat. And while Georgia Gov. Brian Kemp declared victory within hours with a much wider margin, the Senate race paced very differently than other statewide contests — which favored Georgia Republicans.
Flashback: Warnock, the pastor of Atlanta's Ebenezer Baptist Church, was first elected in a 2021 special election runoff alongside Sen. Jon Ossoff (D-Ga.). The Democratic wins flipped two Republican seats and handed Democrats a narrow Senate majority.
The big picture: On the trail, Warnock sought to highlight his bipartisan policy moves, while Walker constantly tied him to President Biden, whose popularity has dropped in a state he won in 2020.
Walker, a former University of Georgia football star, moved to Georgia late last year to run for the seat. He managed to walk a fine line in the Republican party, garnering the endorsements of a longtime friend, former President Trump, and Sen. Mitch McConnell (R-Ky.)
The intrigue: Walker's campaign was beset with scrutiny, including past allegations of domestic violence and inflations of his academic record.
Yes, but: Despite the scandals, national Republicans never wavered in their support for Walker financially and on the campaign trail.
McConnell, asked in the spring about allegations made by Walker's ex-wife that he had threatened her with a gun, told Axios: "Every candidate has flaws and assets. This candidate has a lot of assets and is very competitive and has a great chance of winning."
What they're saying: Speaking to supporters shortly before 2am Wednesday, Warnock said: "We know that when they're finished counting the votes from today's election, that we're going to have received more votes than my opponent. And we know that once again, the people of Georgia showed up and said loud and clear that you want a senator who's going to do the work for Georgia."
Walker's campaign sent his supporters home around midnight. Earlier in the night, he told his crowd: "I'm like Ricky Bobby. I don't come to lose. I told you, he's going to be tough to beat … but he's got the wrong Georgian here, don't he?"
This story and headline have been updated with additional developments.
Go deeper