Paul Pelosi had surgery for skull fracture after home attack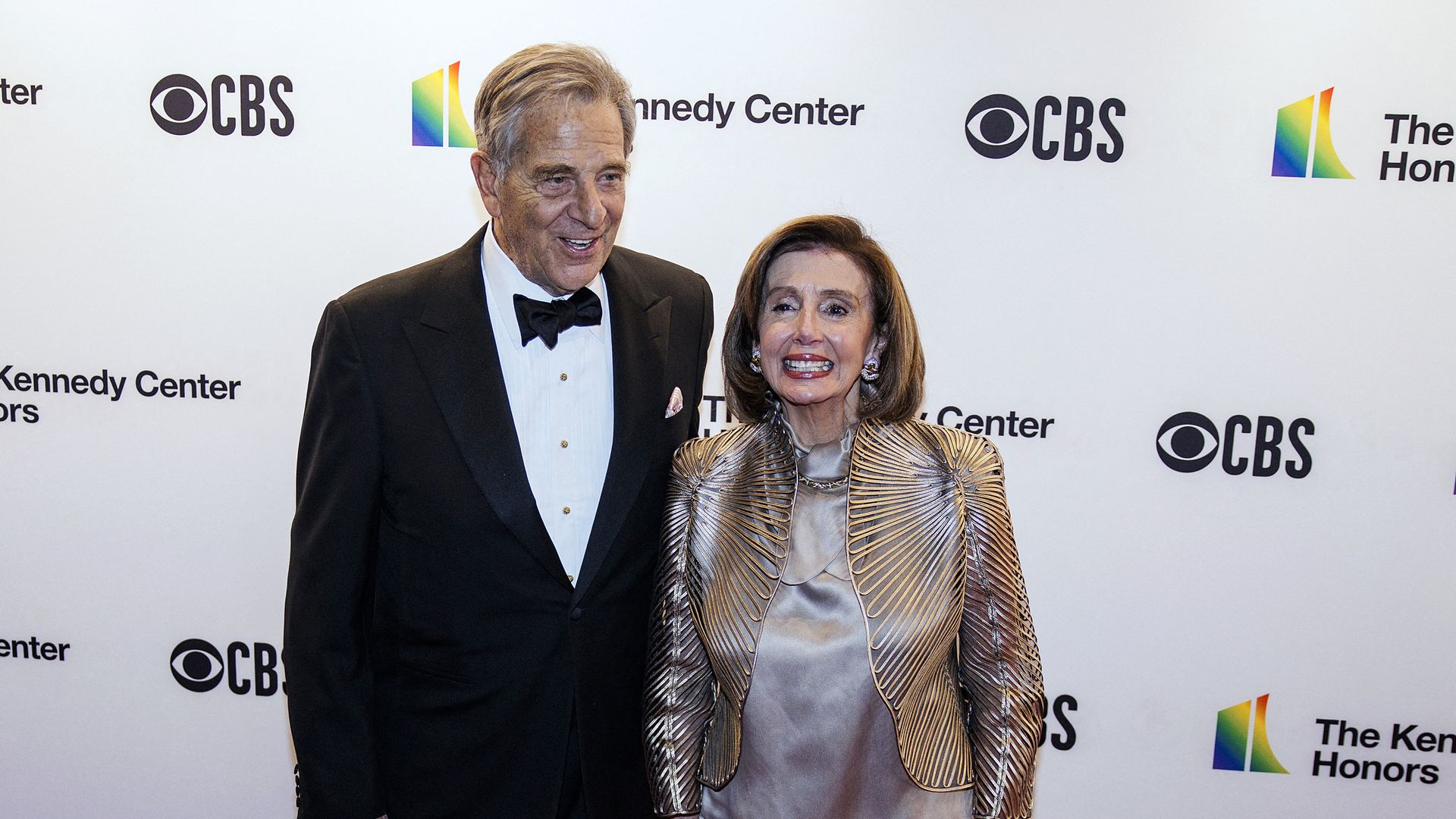 House Speaker Nancy Pelosi's husband Paul "underwent successful surgery to repair a skull fracture and serious injuries to his right arm and hands," following an attack at their San Francisco home, according to the California Democrat's spokesperson.
The big picture: The attack early Friday morning came amid an uptick in threats against members of Congress and a series of security incidents over the summer.
Driving the news: The suspect — who police identified as 42-year-old David DePape — was looking for the speaker, per a source briefed on the attack. The source said that before the attack, DePape confronted Paul Pelosi, shouting, "Where is Nancy, where is Nancy?"
Paul Pelosi's doctors expect him to make a "full recovery," the House speaker's spokesperson Drew Hammill said in a statement.
DePape will be charged with multiple felonies including attempted homicide for allegedly attacking Paul Pelosi, the 82-year-old husband of House Speaker Nancy Pelosi, early Friday morning at their San Francisco home, San Francisco Police Chief William Scott said during a news conference Friday.
DePape attacked Paul Pelosi with a hammer in front of officers after they arrived for a "wellbeing check" at around 2:30 am local time, per Scott.
Nancy Pelosi was not in San Francisco at the time of the attack, Hammill said earlier Friday.
In a later statement, Hammill said Paul Pelosi "underwent successful surgery to repair a skull fracture and serious injuries to his right arm and hands." He is expected to make a "full recovery," Hammill added.
Details: DePape will be charged with attempted homicide, assault with a deadly weapon, elder abuse, burglary, and "several other additional felonies," per Scott, who said the motive for the attack is still being determined.
"[DePape] pulled the hammer away from Mr. Pelosi and violently assaulted him with it," Scott said. The officers "immediately tackled [DePape], disarmed him, took him into custody, requested emergency backup, and rendered medical aid."
Both Paul Pelosi and DePape were transferred to a local hospital early Friday, Scott said.
What they're saying: "This is despicable. There's no place in America. There's too much violence, political violence, too much hatred, too much vitriol," Biden said at the Pennsylvania Democratic Party Reception at the Pennsylvania Convention Center in Philadelphia.
"Enough is enough is enough!" Biden said. "Every person of good conscience needs to clearly and unambiguously stand up against the violence in our politics regardless what your politics are."
Biden and Senate Majority Leader Chuck Schumer (D-N.Y.) both called the House speaker on Friday morning, according to statements from their offices.
"The President is praying for Paul Pelosi and for Speaker Pelosi's whole family," White House press secretary Karine Jean-Pierre said. "He is also very glad that a full recovery is expected."
Vice President Harris, who also spoke with Pelosi on Friday, told reporters the attack was an "act of extreme violence," per Politico. "Somebody literally broke into their home, saying, 'Where's Nancy?' And I strongly believe that each one of us has to speak out against hate, we have to speak out against violence obviously, and speak to our better selves."
House Minority Leader Kevin McCarthy has contacted Pelosi as well, according to his office. "Leader McCarthy reached out to the Speaker to check in on Paul and said he's praying for a full recovery and is thankful they caught the assailant," a spokesperson for McCarthy told Axios.
Editor's note: This story has been corrected to reflect that DePape will be charged in the attack, not that he has been charged and to add additional comments from President Joe Biden.
Go deeper