Ian is a hurricane again, heads for Georgia and Carolinas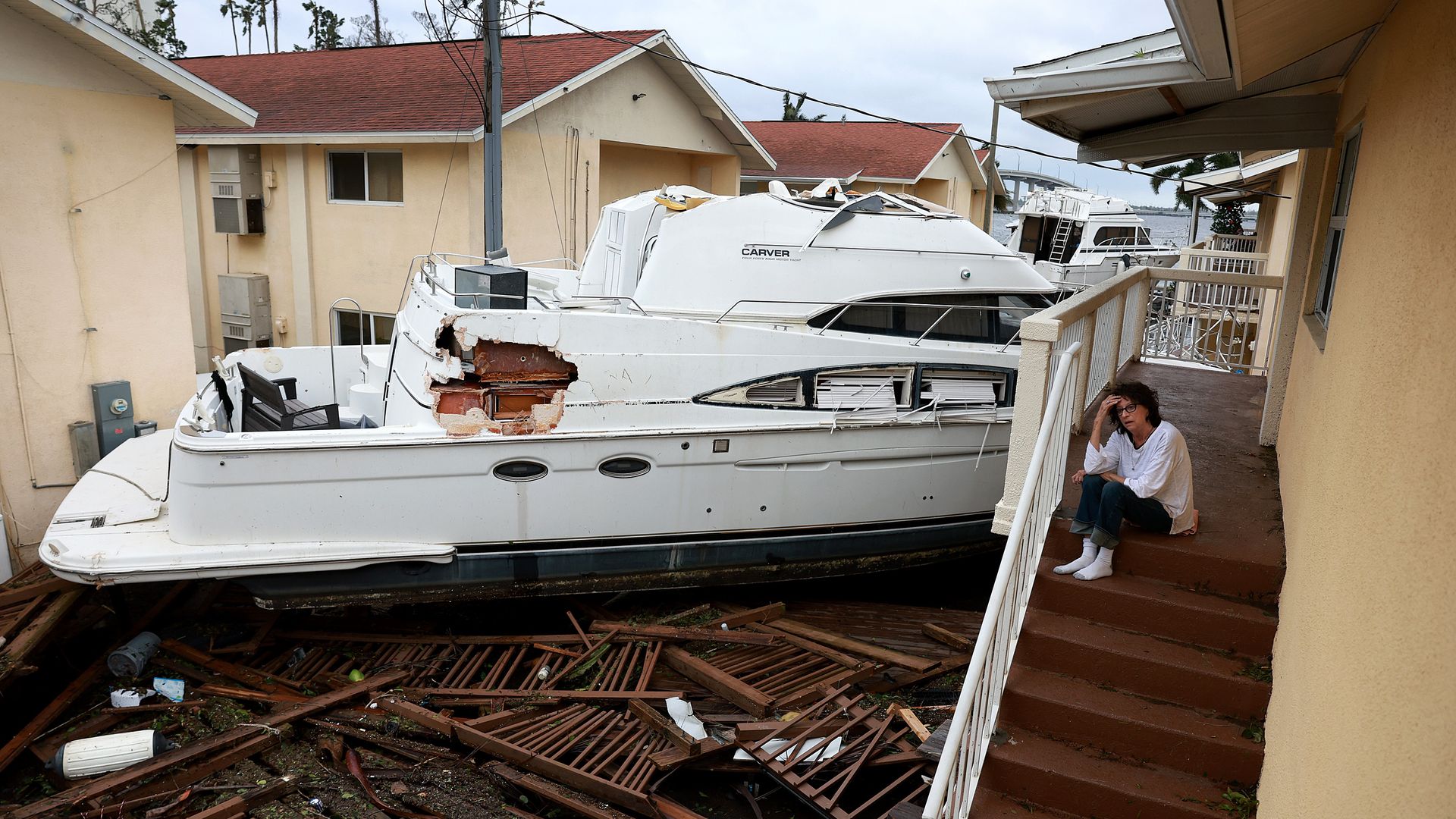 Follow live news updates on Tropical Storm Ian as it makes landfall again in South Carolina.
Ian regained hurricane status Thursday evening on its way to a damaging encounter with the Carolinas after bringing record storm surge flooding and intense winds to Florida's west coast, the National Hurricane Center said.
The big picture: Hurricane warnings have been issued for the South Carolina coastline. The storm has knocked out power to about 2.6 million customers across Florida, with outages mounting in the Jacksonville area as the storm's winds knock down trees and power lines.
Ian is forecast to become a Category 1 hurricane when it makes second landfall in South Carolina.
The latest: As of 8am ET, the storm's sustained winds intensified to 85 mph, the NHC said.
It was located 105 miles to the south-southeast of Charleston, South Carolina, and 185 miles south-southwest of Cape Fear, North Carolina, moving north-northeast at 9 mph.
Ian "taking aim at the Carolinas and Georgia with life-threatening flooding, storm surge and strong winds," the center said.
President Biden on Friday declared an emergency for South Carolina and ordered the federal government to assist local response efforts.
Hurricane warnings are now in effect for the entire South Carolina coastline, and storm surge warnings extend into Georgia.
Hurricane Center forecasters warn the storm will have a large wind field as it approaches the coast, which could add to storm surge heights.
A storm surge of between 4 to 7 feet above normally dry ground is anticipated from Edisto Beach to the South Santee River, which includes Charleston.
The region from northern Florida to Edisto beach, South Carolina is forecast to see 4 to 6 feet of surge.
The storm will bring the threat of inland flooding as well, which will not be limited to Georgia and South Carolina, according to the National Weather Service.
The agency has issued a "moderate risk," or level 3 out of 4 on its risk scale, for flash flooding in South Carolina on Friday, with that danger moving north and east through the weekend.
The NWS is predicting a large swath of 4 to 6-inch rainfall amounts from Charleston, South Carolina, to southeastern Virginia. Heavy rain could fall as far north as Washington, D.C., this weekend.
The governors of Georgia, South Carolina, North Carolina and Virginia declared states of emergency earlier this week.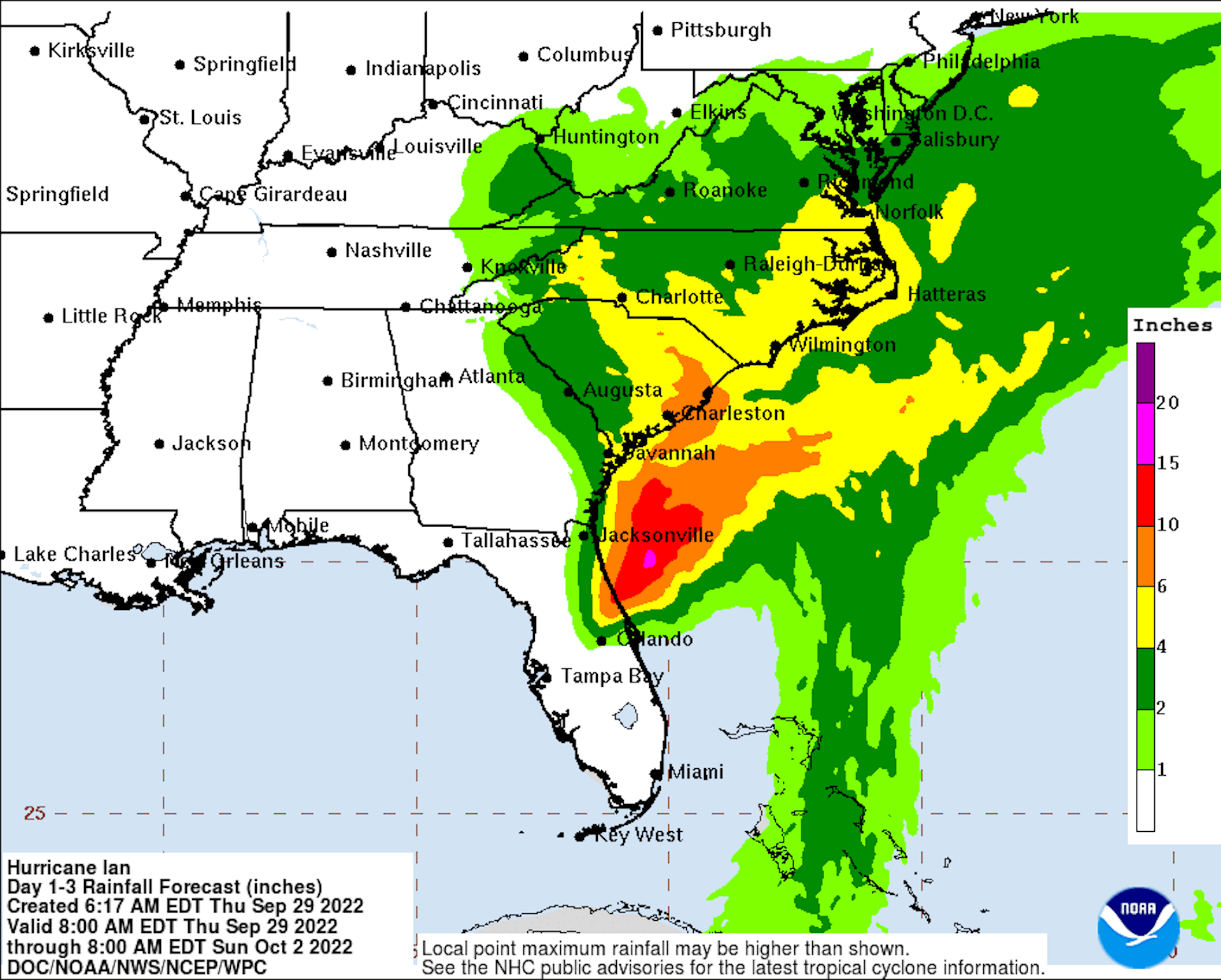 Florida
Ian continued to make its way over northeastern Florida and out to the western Atlantic Ocean early Thursday with heavy rain, strong winds and a continued storm surge threat.
The NHC warned residents on the state's northeast coast of life-threatening storm surge through Friday.
Biden told Florida Gov. Ron Desantis Thursday that FEMA Administrator Deanne Criswell will travel to the state to check in on response efforts.
South Carolina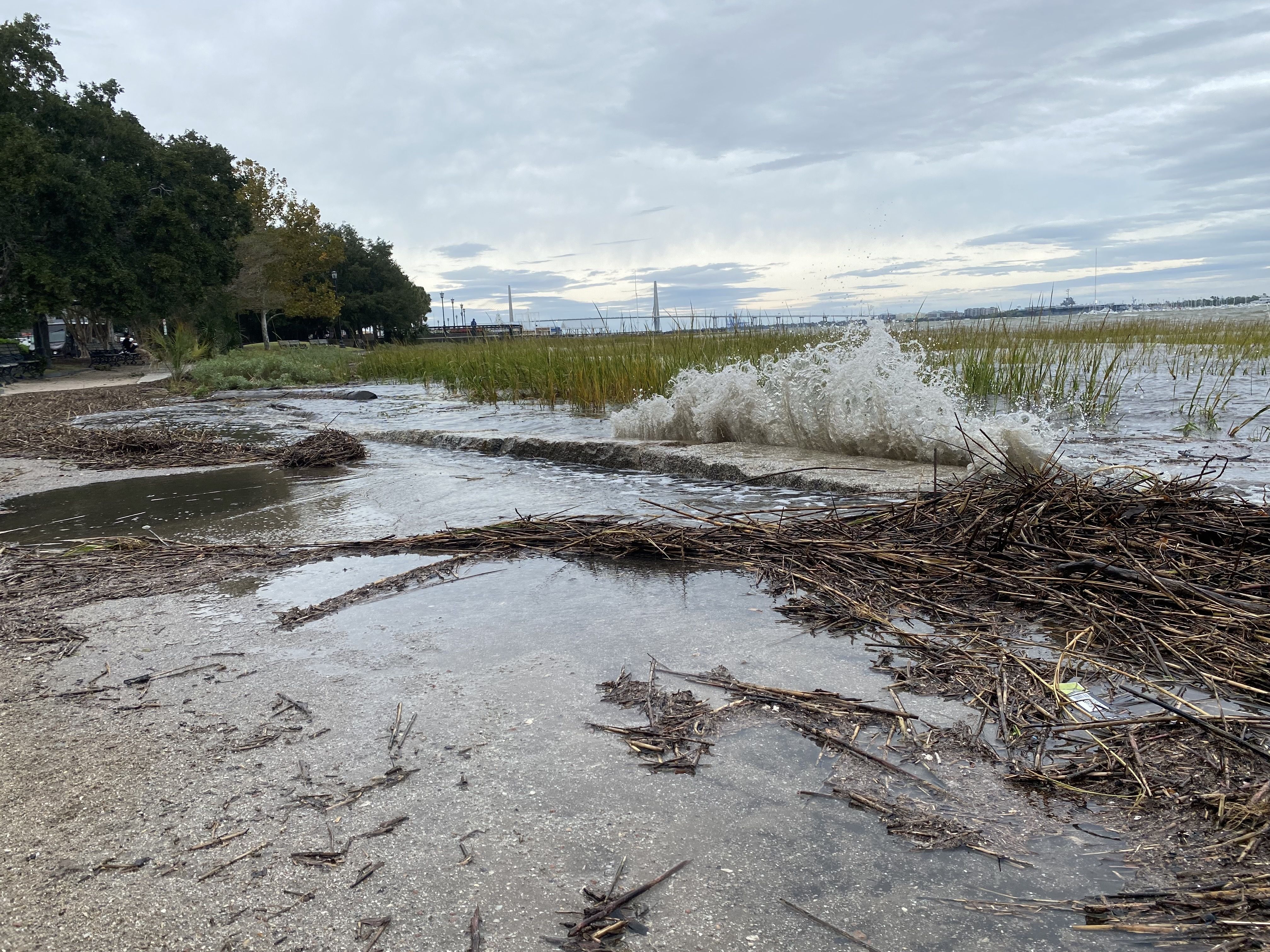 The NHC warned Ian will again attain hurricane intensity as it heads towards South Carolina.
The storm is expected to once again push toward land in South Carolina around Friday afternoon, bringing 4 to 7 feet of storm surge flooding above normally dry land to Charleston.
Forecasters are predicting peak winds of 55 to 70 mph, with gusts to 90 mph, in Charleston.
Sea level rise from climate change, along with land subsidence over time, makes Charleston one of the most vulnerable cities in the U.S. for flash and surge-related flooding.
According to Axios' Jen Ashley in Charleston, Charleston County has opened at least one shelter, and CARTA, the city's public bus system, is offering free transportation there.
Local governments, including the cities of Charleston and North Charleston, have been handing out free sandbags to residents.
As of midday, only a few businesses in the popular tourist district had boarded their windows or placed sandbags outside. Most remained open, welcoming in lunch crowds as seawater started to pool in the streets.
Georgia
A tropical storm warning, hurricane watch and storm surge warning has been issued extending up and down the east coast of Florida into Georgia, South Carolina and North Carolina.
Ian is anticipated to stay off the Georgia coast before making landfall again in South Carolina. Gusty winds and heavy rain are the main threats to north and central Georgia through late Saturday.
The NHC warned of considerable flash and urban flooding in southeastern Georgia.
North Carolina
The state's governor told residents to expect heavy rainfall and possible flooding and tornadoes on Friday and Saturday.
The storm is forecast to track toward the western regions of North Carolina with 5-7 inches of rain possible both along the coast and along the Blue Ridge mountains.
Virginia
Ian's remnant circulation will likely hit Virginia over the weekend, leading to heavy rains across the Appalachians in particular. The NHC said the state could see 3 to 6 inches or rain, with totals as high as 8 inches in some areas.
Go deeper: Hurricane Ian slams southwest Florida with "catastrophic" storm surge
Go deeper