Updated Sep 22, 2022 -

World
Israeli Prime Minister Lapid backs two-state solution in UN speech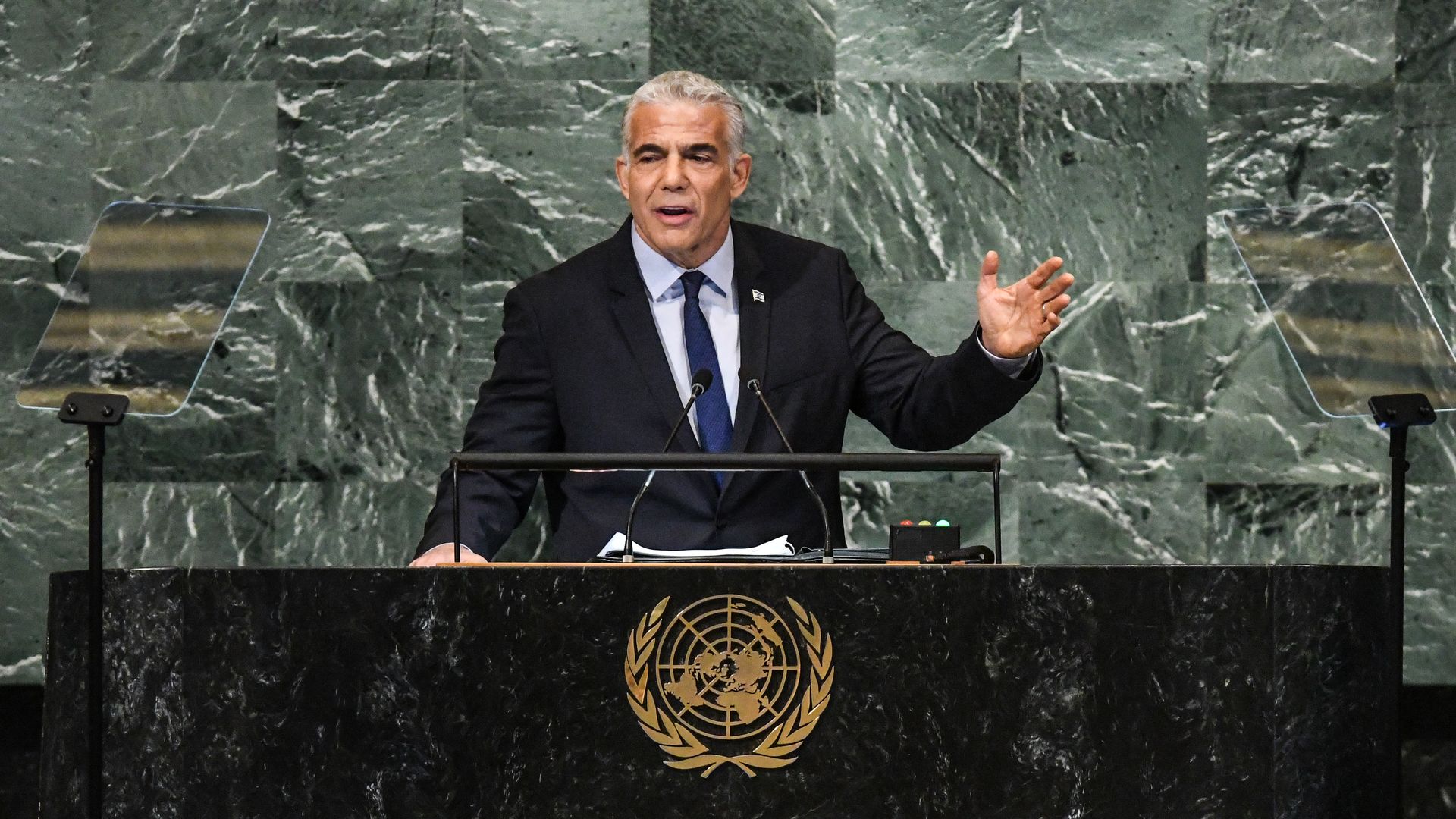 Israeli Prime Minister Yair Lapid expressed his support for a two-state solution to the Israeli-Palestinian conflict in his speech at the UN General Assembly on Thursday.
Why it matters: It's the first time Lapid as prime minister has given a speech backing a two-state solution. Lapid made clear that the establishment of a Palestinian state must have security arrangements for Israel.
It's also the first time since 2017 that an Israeli prime minister has publicly expressed support for a two-state solution.
Flashback: Former Israeli Prime Minister Benjamin Netanyahu expressed support for the two-state solution in a speech in May 2009. He repeated his support several times, including at the UN, but backtracked and didn't express clear support for a Palestinian state after former President Trump assumed office in 2017.
What he's saying: "An agreement with the Palestinians, based on two states for two peoples, is the right thing for Israel's security, for Israel's economy and for the future of our children," Lapid said.
"Peace is not a compromise. It is the most courageous decision we can make. Peace is not weakness. It embodies within it the entire might of human spirit," he added.
"Despite all the obstacles, still today a large majority of Israelis support the vision of this two-state solution. I am one of them," Lapid said.
"We have only one condition: That a future Palestinian state will be a peaceful one. That it will not become another terror base from which to threaten the well-being and the very existence of Israel. That we will have the ability to protect the security of all the citizens of Israel, at all times."
Yes, but: An Israeli official told reporters Wednesday that Lapid doesn't have plans at the moment to meet with Palestinian President Mahmoud Abbas and he doesn't see peace talks resuming in the near future.
"If Lapid thought that meeting Abbas would be effective right now, he would have done it," the Israeli official said.
What to watch: Abbas is expected to give a fiery speech at the UN General Assembly on Friday, expressing his frustration with the stagnant Israel-Palestine peace process.
With Abbas' domestic position weakening, his UN speech is a rare opportunity to protest the current situation. It will likely include harsh criticism against Israel.
Abbas had threatened to use his speech to call for a vote at the Security Council on giving Palestine full UN membership, but U.S. officials say he's unlikely to follow through after pressure from the Biden administration and countries including Jordan and Egypt.
Saudi Arabia's foreign minister and the EU foreign policy chief convened a closed-door meeting on Wednesday with representatives from 25 countries on ways to reinvigorate the Arab Peace Initiative.
U.S. and Palestinian officials attended. Israel was not invited.
The 2002 initiative promised the full normalization of ties between Arab countries and Israel in return for the establishment of a Palestinian state. But the relevance of the initiative is now in question after four Arab countries normalized relations with Israel through the Abraham Accords prior to Palestinian statehood.
Editor's note: This story has been updated with details from Lapid's speech.
Go deeper