How it all fell apart for Boris Johnson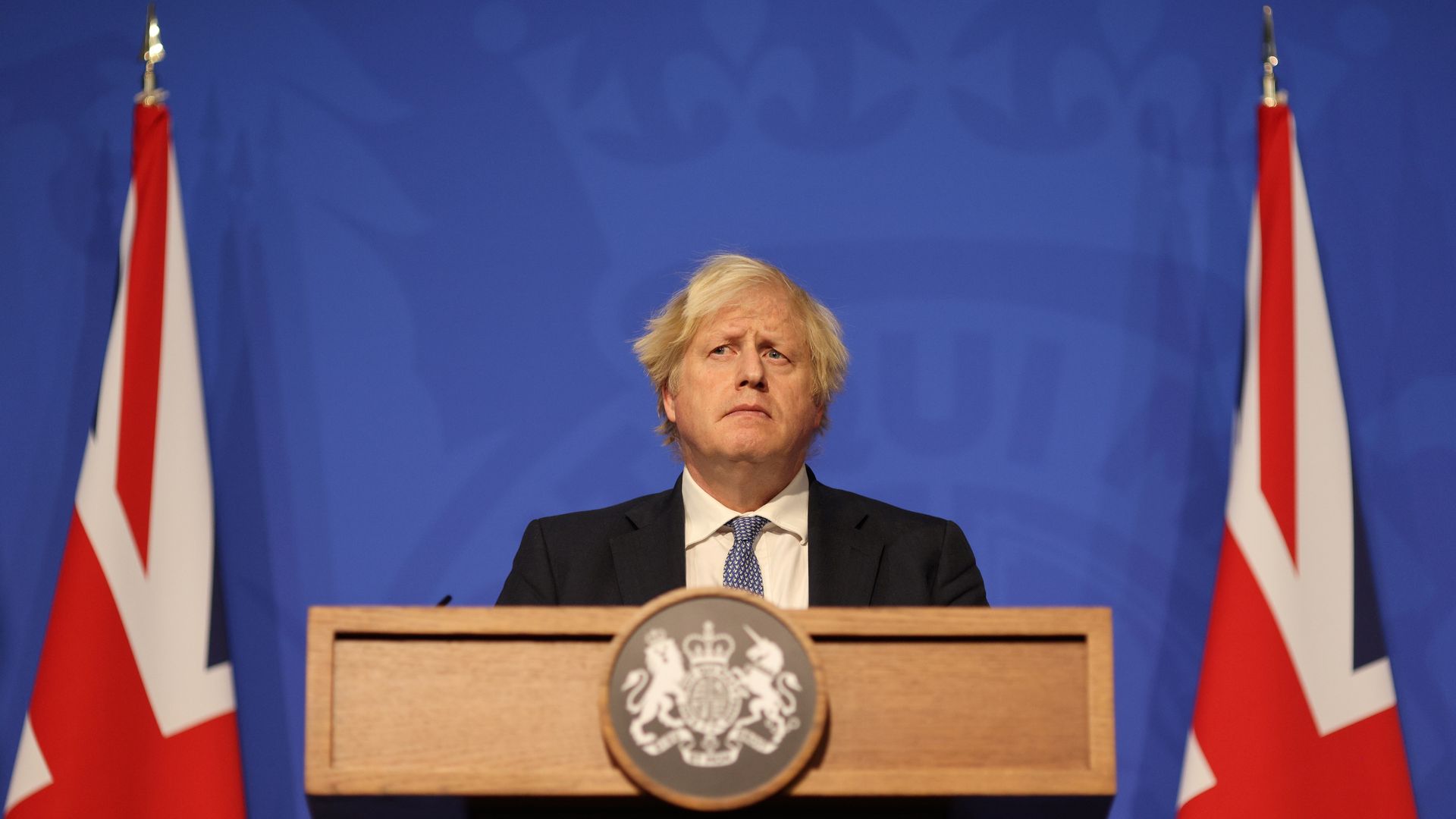 The U.K.'s next prime minister is likely polishing their campaign pitch after Prime Minister Boris Johnson announced — belatedly, when all other options had evaporated — that he would be stepping down.
Driving the news: Two candidates to replace Johnson as Conservative Party leader and thus prime minister have already thrown their hats into the ring, with many more expected to follow. The man who led the campaign to take Britain out of the EU and appeared electorally untouchable after a landslide victory in 2019 will soon be yesterday's news.
Half of Johnson's government, some 59 ministers, had resigned by the time he approached a podium outside Downing Street to announce his exit (something he insisted through Wednesday evening he would not be doing).
"The herd instinct is powerful, and when the herd moves, it moves," Johnson said, maintaining his wry tone even as he described his ouster as "painful" and "eccentric."
Johnson added that no politician is indispensable and "our brilliant and Darwinian system will produce another leader."
How it happened: The last straw came when Johnson's deputy chief whip, Chris Pincher, resigned after being accused of groping two men. It emerged that Johnson was aware of previous sexual misconduct allegations against Pincher before appointing him.
That followed months of drip-drip revelations that Downing Street had hosted boozy parties while the U.K. was in a strict COVID lockdown. "Partygate" stuck to Johnson in a way no previous scandal had (and there were many).
He compounded the frustrations of his lieutenants by forcing them to defend positions — "there were no parties in Downing Street," "he wasn't aware of the concerns about Pincher" — that turned out to be fiction.
A cost-of-living crisis and a controversial tax hike didn't help matters.
Perhaps most damaging of all was his transition from electoral magician to liability.
The Conservatives trail Labour in the polls and have suffered a string of embarrassing defeats in recent special elections.
Johnson blamed the parliamentary "herd," but the public turned on him long before his Cabinet did.
What's next: Johnson has cobbled together a new Cabinet of MPs still willing to serve under him, and he intends to stay in office for up to three months as the party leadership contest plays out.
He said in Thursday's address that the timetable will be released next week, and he assured the Cabinet that he won't take major policy steps in the interim.
Tory heavyweights including former Prime Minister John Major have urged him to step aside now in favor of his deputy to end the political circus. Labour leader Keir Starmer is threatening a no-confidence vote if he doesn't.
Meanwhile, Foreign Affairs Committee Chair Tom Tugendhat and Attorney General Suella Braverman have launched their campaigns to succeed Johnson.
The potential favorites include recently departed Chancellor Rishi Sunak and Health Secretary Sajid Javid, who together launched the resignation wave by stepping down on Tuesday evening, as well as Foreign Secretary Liz Truss.
The bookmakers' favorites also include Defense Secretary Ben Wallace, whose stock has risen during the war in Ukraine, and Penny Mordaunt, who as a relatively moderate Brexiteer could conceivably help unite the sparring wings of the party.
What to watch: If Johnson's political career up to now is any guide, the coming transition period may be an eventful one.
Go deeper