Scoop: Manchin serious about Schumer talks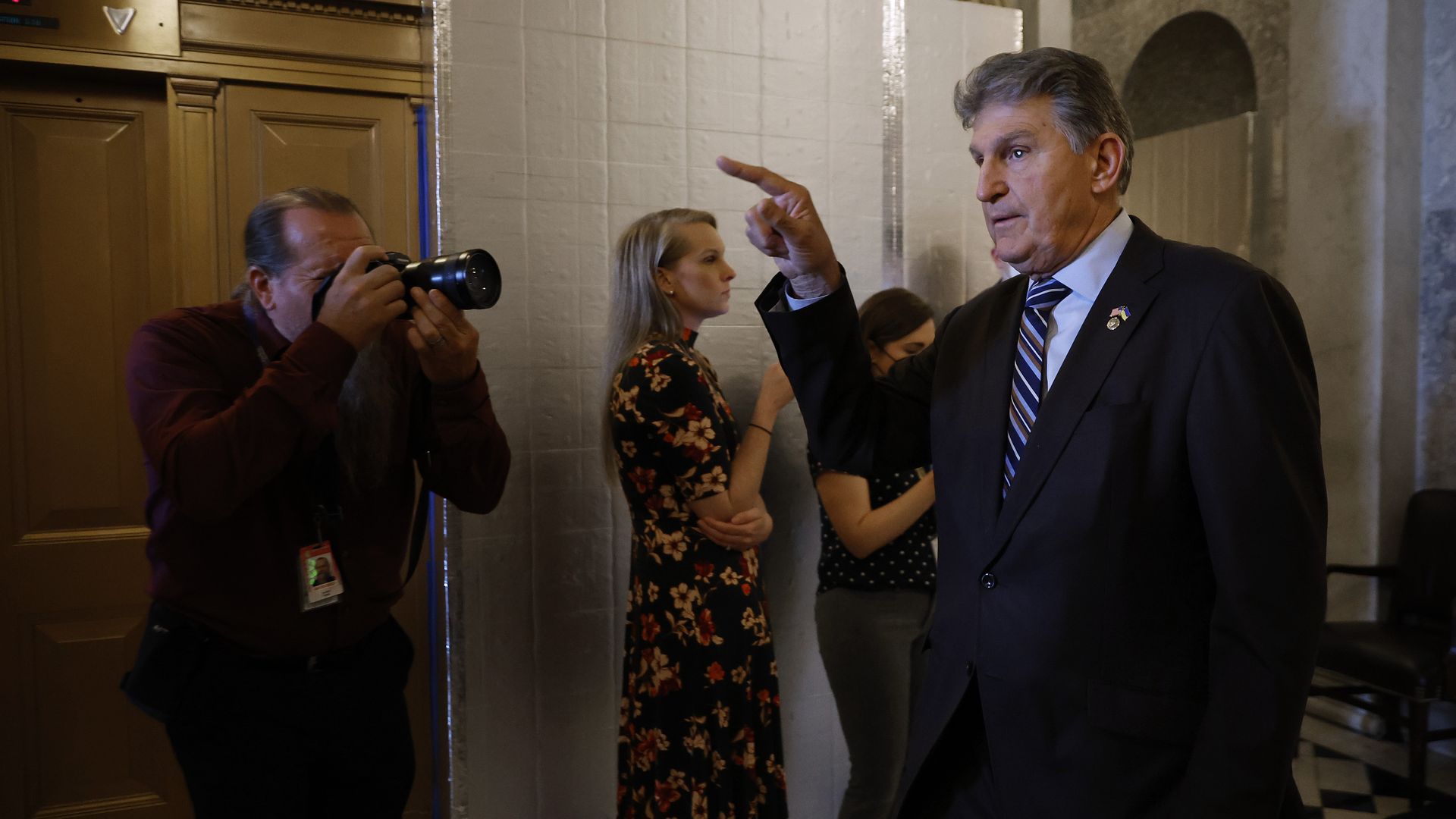 Sen. Joe Manchin (D-W.Va.) told Axios on Thursday he's earnestly engaged in talks with Senate Majority Leader Chuck Schumer (D-N.Y.) over a climate, energy and deficit reduction package, reviving hopes for action this year. 
Why it matters: Even a slimmed-down version of President Biden's Build Back Better package looked dead. But comments by Manchin, along with tempered optimism from some Democrats, suggests a Biden win on the Hill in this midterm year has gone from unlikely to possible.
Biden, stuck at around 40% popularity, needs Manchin to revive his agenda. Manchin told Axios it's possible the latest talks still die.
Behind the scenes: As Manchin and Schumer try to repair a strained relationship, their staffs have been making progress on the contours of a climate and deficit reduction package, according to people familiar with the matter.
Manchin called those preliminary talks "respectful" and "encouraging, to a certain extent."
"There could be nothing," Manchin told us in an interview. "There could be truly nothing. That's all I can tell you."
"Chuck has a very, very difficult job," Manchin added. "The trust that I have, it's his ability to be able to move 48 or 49 other people."
Manchin noted he has not engaged directly with President Biden.
What's happening: Manchin this week told a bipartisan group of senators with whom he's been negotiating over a climate and energy security bill that he's prepared to back tax increases in a Democrat-only bill if the bipartisan group can't agree to any additional revenue.
Manchin told Axios he understands why some Republican senators might conclude that a Democrat-only reconciliation package is his "ace in the hole," giving him more leverage in the bipartisan talks.
That left some senators thinking that Manchin may be closer to a deal with Schumer than they suspected and that he can jump tracks if he reaches an agreement.
Between the lines: The productive spirit of Manchin's recent talks with Schumer has led some senators to believe that a reconciliation bill, with roughly $300 billion in energy tax credits and $800 billion in new revenue, is a possibility.
A slimmed-down climate bill — though it would be much smaller than the $1.75 trillion climate and social spending package passed by the House last year — would give Democrats another legislative accomplishment to campaign on in the midterms.
Legislation passed through the budget reconciliation process requires only a bare majority vote to pass, rather than the 60-vote threshold most legislation needs to overcome Senate filibusters.
Details: On Wednesday evening in the Capitol, Manchin met with the group, which includes Sens. Kevin Cramer (R-N.D.), Tom Carper (D-Del.), Bill Cassidy (R-La.), John Hickenlooper (D-Colo.), Mark Kelly (D-Ariz.), Mitt Romney (R-Utah), Brian Schatz (D-Hawaii), Kyrsten Sinema (D-Ariz.) and Mark Warner (D-Va.).
Manchin said he'd indicated to his colleagues that "'there are options that are going to be there that you might have to consider'... I was as honest as I could be."
He also told senators that the Senate Energy and Natural Resources Committee that he chairs already has studied specific proposals on climate and energy independence, which many of them thought was the core charge of their bipartisan gatherings.
Manchin insisted in our interview that he still wants to include Republicans in the conversations, even if Democrats ultimately take a party-line route.
"I've been trying to get input... it informs a lot of decisions."
Between the lines: Manchin suggested there's more agreement on the deficit reduction side of the equation than on new spending for renewable energy.
He's deeply skeptical of any additional tax credits for electric vehicles if the money just goes to Chinese manufacturers.
What we're watching: Inflation has been a top concern of Manchin's and he seems most interested in the deficit reduction provisions of any potential reconciliation bill.
He's eager to authorize Medicare to negotiate directly with pharmaceutical companies over the price of prescription drugs to save billions of dollars for taxpayers.
He's also comfortable with more money for the IRS to help increase tax collection.
And while he would still like to raise the corporate tax rate from 21% to 25%, he knows Sinema is opposed and he'll settle for establishing a domestic minimum rate of 15%.
Go deeper