🚨 Axios x Zefr at Cannes Event Line-Up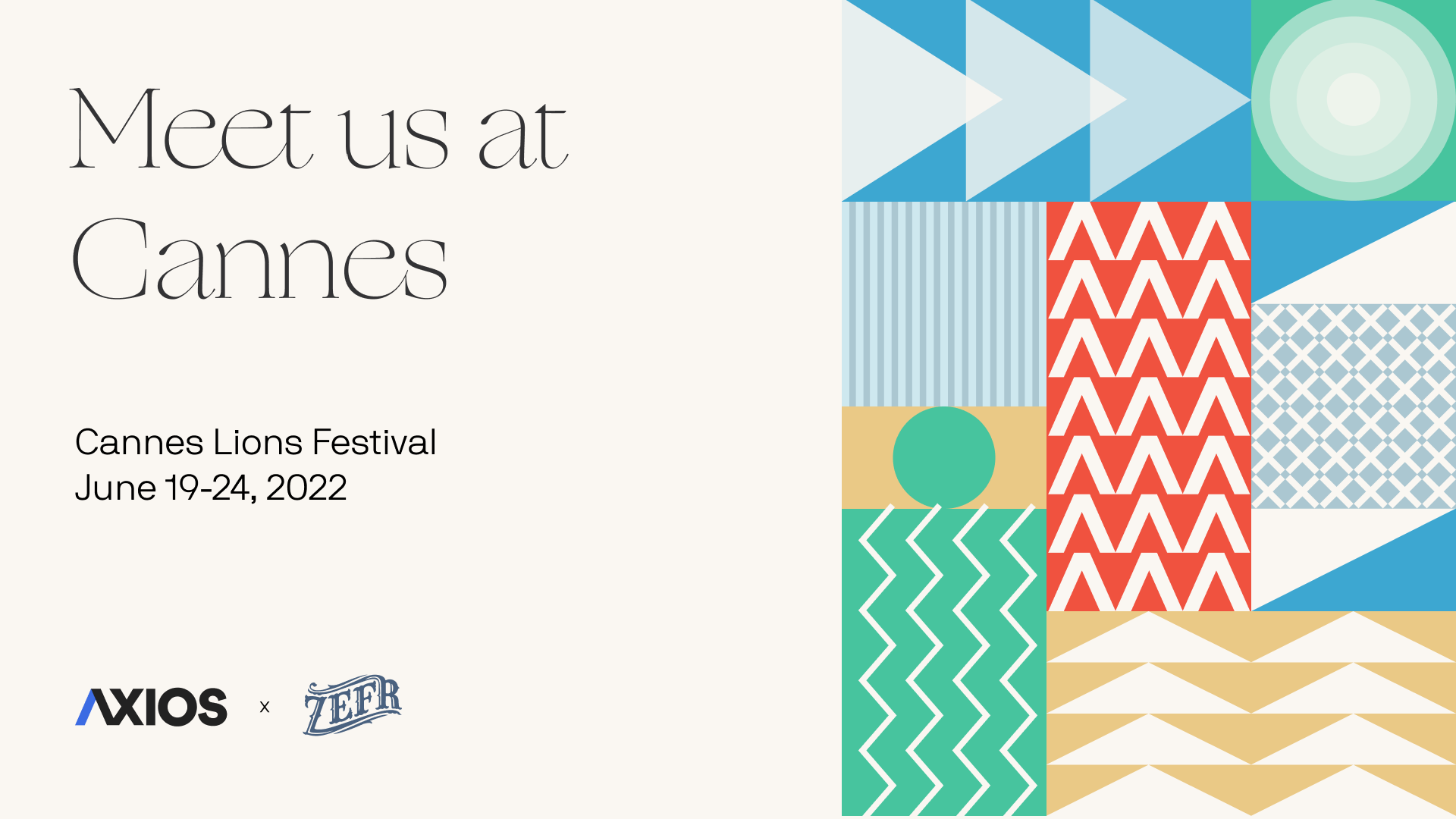 Meet Axios and Zefr at this year's Cannes Lions Festival for a week of convening and conversations on the future of advertising, media and marketing trends.
Axios Media Reporter Sara Fischer, Axios Business Reporter Hope King and more will unpack the biggest stories we're tracking at Cannes, the new era for social media and how the creator economy is growing.
⎯⎯⎯⎯⎯⎯⎯⎯⎯⎯⎯⎯⎯⎯⎯⎯⎯⎯⎯⎯⎯⎯⎯⎯⎯⎯⎯⎯⎯⎯⎯⎯⎯⎯⎯⎯⎯
Monday June 20th, 5:00pm - 7:00pm CEST | 1 Big Thing
To kick-off the week, join Axios and Zefr for cocktails and conversations focused on the "1 Big Thing" we are watching in the world of media, marketing and advertising. Axios Media Reporter Sara Fischer will be in conversation with Snap. Inc CEO & co-founder Evan Spiegel. Email [email protected] for more information.
⎯⎯⎯⎯⎯⎯⎯⎯⎯⎯⎯⎯⎯⎯⎯⎯⎯⎯⎯⎯⎯⎯⎯⎯⎯⎯⎯⎯⎯⎯⎯⎯⎯⎯⎯⎯⎯
Tuesday June 21st, 9:30am - 11:00am CEST | Social Media Enters a New Era
EXCLUSIVE: Request an invite to join us for a brunch-hour, roundtable discussion led by Sara Fischer and Hope King to go deeper into social media's shift towards privacy, safety and trust, implications for the future of the industry and the path forward for reaching audiences. Request an invitation.
⎯⎯⎯⎯⎯⎯⎯⎯⎯⎯⎯⎯⎯⎯⎯⎯⎯⎯⎯⎯⎯⎯⎯⎯⎯⎯⎯⎯⎯⎯⎯⎯⎯⎯⎯⎯⎯
Wednesday June 22nd, 4:00pm - 6:00pm CEST | Media Trends: Reaching New Audiences
Join New York Times CEO Meredith Kopit Levien and President of U.S. Advertising Sales and Marketing at TelevisaUnivision Donna Speciale for exclusive back-to-back conversations examining how news organizations are approaching advertising, growth and appealing to multicultural audiences in this new era of media and marketing. Register.
Go deeper