Fed chair Jerome Powell confirmed to second term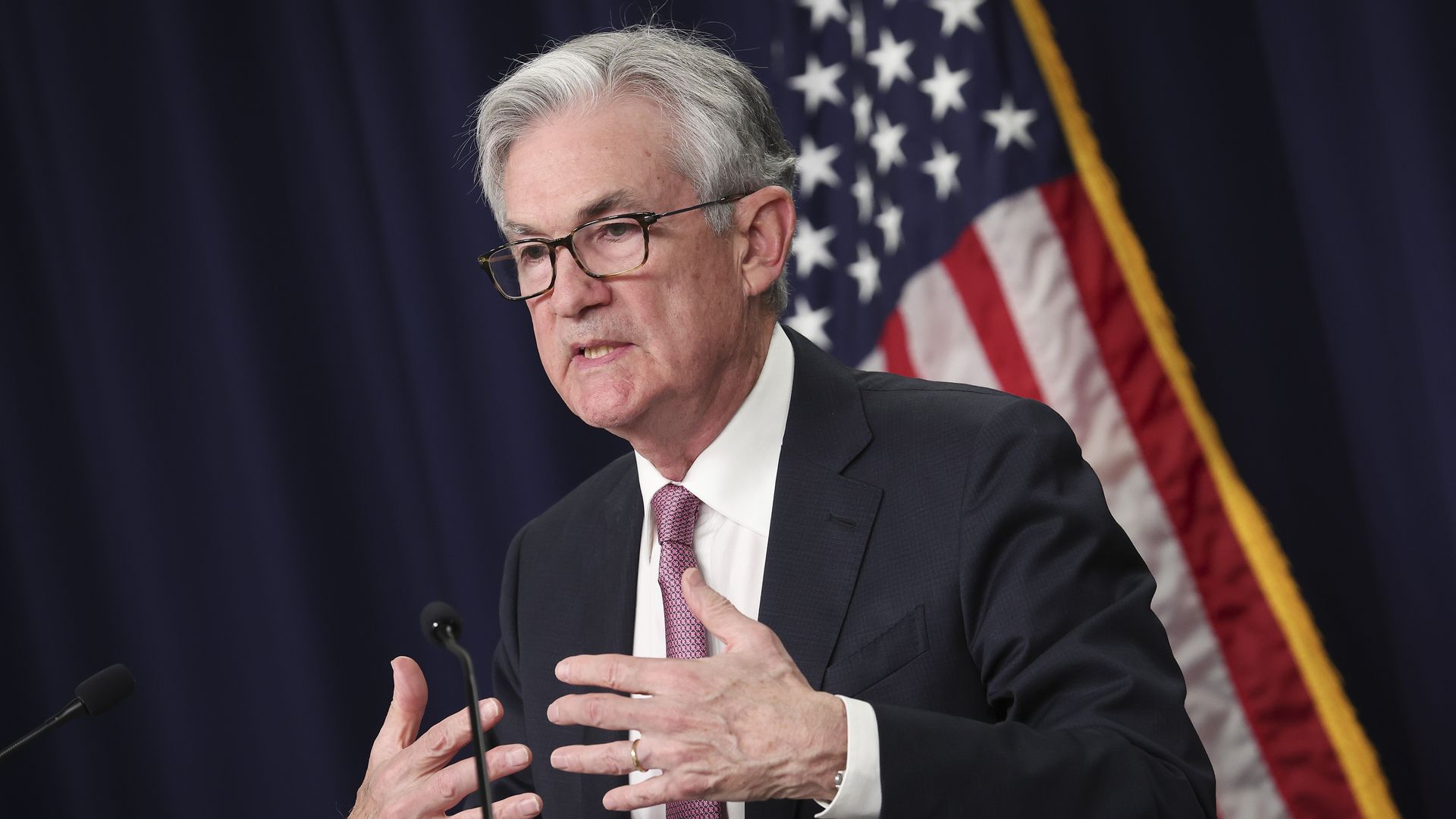 Federal Reserve chair Jerome Powell was confirmed to a second term on Thursday, putting him in charge of the central bank for another four years as it grapples with the highest inflation in decades and with financial markets in tumult.
The big picture: Powell received bipartisan support, with the Senate voting 80-19 in favor of confirmation. He faces the challenge of withdrawing the Fed's extraordinary pandemic stimulus implemented in his first term rapidly enough to contain inflation without tanking the economy.
Powell's second term will involve a gantlet of political and economic cross-pressures.
One of the Fed's primary jobs is to ensure stable prices, and by Fed officials' own accounting, they are currently failing, with 8.3% inflation over the past year.
To fight inflation, the Fed has embarked on its most aggressive campaign of monetary tightening in decades, planning multiple half-percentage point rate increases in a row and a drawdown of its $9 trillion balance sheet.
But that tightening campaign is causing cracks to appear in financial markets and sharply higher rates for mortgages and other forms of borrowing. It could lead to economic distress in the months ahead and put the Fed under pressure both for inflation and the negative side effects of higher rates.
Yes, but: Powell, a 69-year-old former private equity executive, is a savvy political operator skilled at building bridges across partisan lines — as reflected in his appointments to Fed positions by three presidents and his bipartisan Senate confirmation vote.
While Powell's appointment represents continuity in the leadership of the central bank, this is also a time of many new faces at the top ranks of the Fed.
The Senate also voted to confirm Philip Jefferson and Lisa Cook as Fed governors this week, and the nomination of Michael Barr to be vice-chair in charge of financial regulation is pending.
New presidents of the Fed regional banks in Boston (Susan M. Collins) and Dallas (Lorie Logan) are set to take over this summer, and there will soon be vacancies at the helm of the Chicago and Kansas City Fed due to mandatory retirements.
The bottom line: Powell will have the benefit of experience and bipartisan credibility but faces an exceptionally difficult task in undoing his own first-term policies and reduce inflation without excessive collateral damage.
Editor's note: This story has been corrected to show Powell was confirmed on Thursday, not Wednesday. 
Go deeper