NYT says Wordle acquisition added "tens of millions of new users"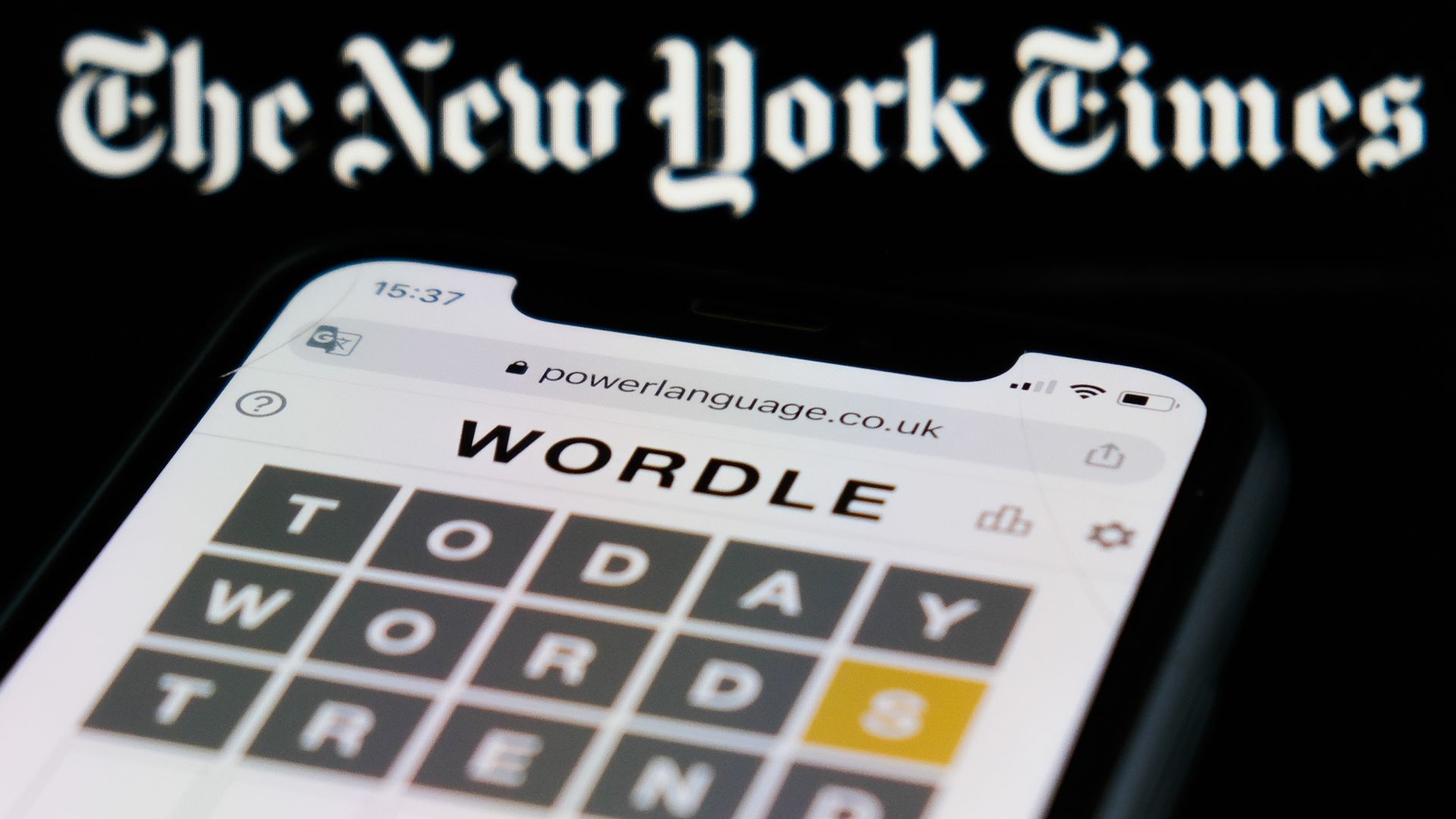 The New York Times on Wednesday reported its second-best first quarter subscription growth since introducing a digital subscription in 2017, thanks in part to the acquisitions of The Athletic and Wordle in January.
Why it matters: Executives remain bullish that the Times will be able to meet its new goal of 15 million subscribers by the end of 2027.
Investments in the company's core news product, lifestyle products — like its cooking, games and audio subscriptions — as well as its subscription bundle will fuel that growth.
CEO Meredith Kopit Levien said the company "intends to begin to introduce" The Athletic into the Times' subscription bundle "in the back half of this year."
Yes, but: The acquisition of The Athletic resulted in a year-over-year loss in operating profit, which was expected. The Athletic lost $6.8 million in the first quarter.
Executives expect The Athletic to dilute operating profit for the next three years, but say it will become smaller this year compared to 2021.
Details: While a smaller investment than The Athletic, executives touted the success of Wordle, the viral online game that it paid "in the low seven figures" for in January.
Wordle brought in "an unprecedented tens of millions of new users to The Times," the company said.
Many Wordle users "stayed to play other games" with the Times, which helped drive the best quarter ever for net subscriber additions to Games, the company said.
By the numbers: Overall, The Times added 387,000 net new digital subscribers in the first quarter, bringing its total number of subscribers to New York Times products to 9.1 million.
It reported a total of 10,390,000 paid subscriptions, of which, 9,620,000 are paid digital-only subscriptions. The Times first announced that it surpassed its goal of 10 million subscriptions years ahead of schedule last quarter.
Net increases included roughly 16,000 new subscribers and 24,000 new subscriptions to The Athletic since the acquisition.
Between the lines: Revenues from advertising grew 20% year-over-year in the first quarter, although digital advertising grew slower than expected, due in part to macro-economic factors, like inflation.
Levien noted that the Times' print advertising revenues grew more than expected, in part due to the strength of print advertising categories, like luxury and live entertainment.
The big picture: The Times believes that the total addressable market for potential subscribers is 135 million globally.
"We think about 50 million of those people are outside of the U.S," Kopit Levien told investors.
Go deeper