Trump-backed candidates confront cash wave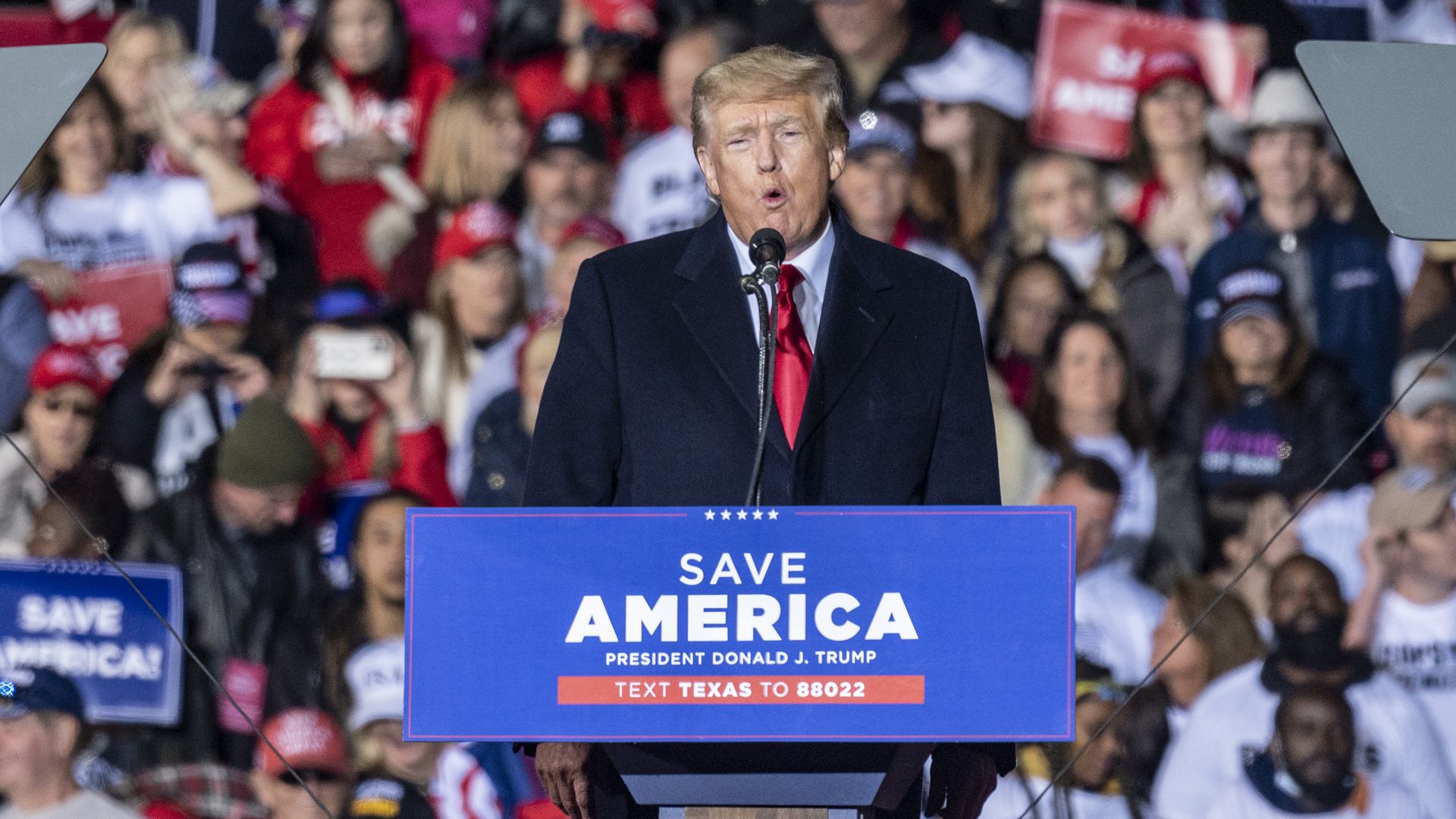 Some of Donald Trump's handpicked candidates are hitting an obstacle in their efforts to purge the Republican Party of Trump skeptics: money. Lots of it.
Driving the news: Key Trump-backed Republican challengers were heavily outraised by their Republican primary opponents late last year, newly filed financial reports show.
The money advantage has the potential to play a decisive role in closely watched House and Senate primary contests this midterm year.
And the lack of it can spell trouble for a number of candidates Trump has endorsed out of personal affinity, or simply a hatred of the more moderate Republicans they're looking to unseat.
By the numbers: The trend was most evident in Wyoming.
The incumbent, Rep. Liz Cheney (R-Wyo.), more than quadrupled the fourth-quarter fundraising haul of her top primary opponent, fellow Republican Harriet Hageman.
Cheney's $2 million haul, her best-ever fundraising quarter, came as she spearheaded efforts to investigate Trump's role in the January 6 Capitol attack — triggering the ex-president's fury.
Hageman reported raising $443,000.
Other Republicans who, like Cheney, voted to impeach Trump early last year also outraised Trump-backed challengers.
Sen. Lisa Murkowski (R-Alaska) brought in nearly $1.4 million in the fourth quarter of 2021. Her Trump-backed challenger, Kelly Tshibaka, raised just over $600,000.
Rep. Fred Upton (R-Mich.) raised about $726,000, more than five times than the $135,000 taken in by primary rival Steve Carra.
Rep. Jamie Herrera Buetler (R-Wash.) raised $525,000 to challenger Joe Kent's $306,000.
John Gibbs, who's challenging Rep. Peter Meijer (R-Mich.), only entered the race in early November, yet the $51,000 he raised during the last two months of the year was well below the pace of Meijer's Q4 total of $530,000.
Even in some contests without an explicit Trump antagonist, Trump-endorsed candidates are facing an onslaught of cash.
Rep. Mo Brooks, the Trump-backed Republican running for Alabama's open U.S. Senate seat, pulled in a modest $385,000 during the fourth quarter.
Republican rival Katie Boyd Britt more than tripled that haul; she now has more than $4 million in the bank, compared to less than $2 million for Brooks.
Meanwhile, a late entrant into the race, Army veteran Mike Durant, put over $4 million of his own money behind his campaign late last year.
Yes, but: Trump himself is raking in political money.
His political operation brought in $51 million during the second half of the year, and now has more than $122 million cash on hand.
It's not clear how much of that Trump is willing to spend directly on behalf of candidates he's endorsed.
Even if he distributed it freely, donation limits mean he won't be able to single handedly turn around any one candidate's fundraising.
Go deeper