Judge nixes Gulf of Mexico oil leases in climate-focused ruling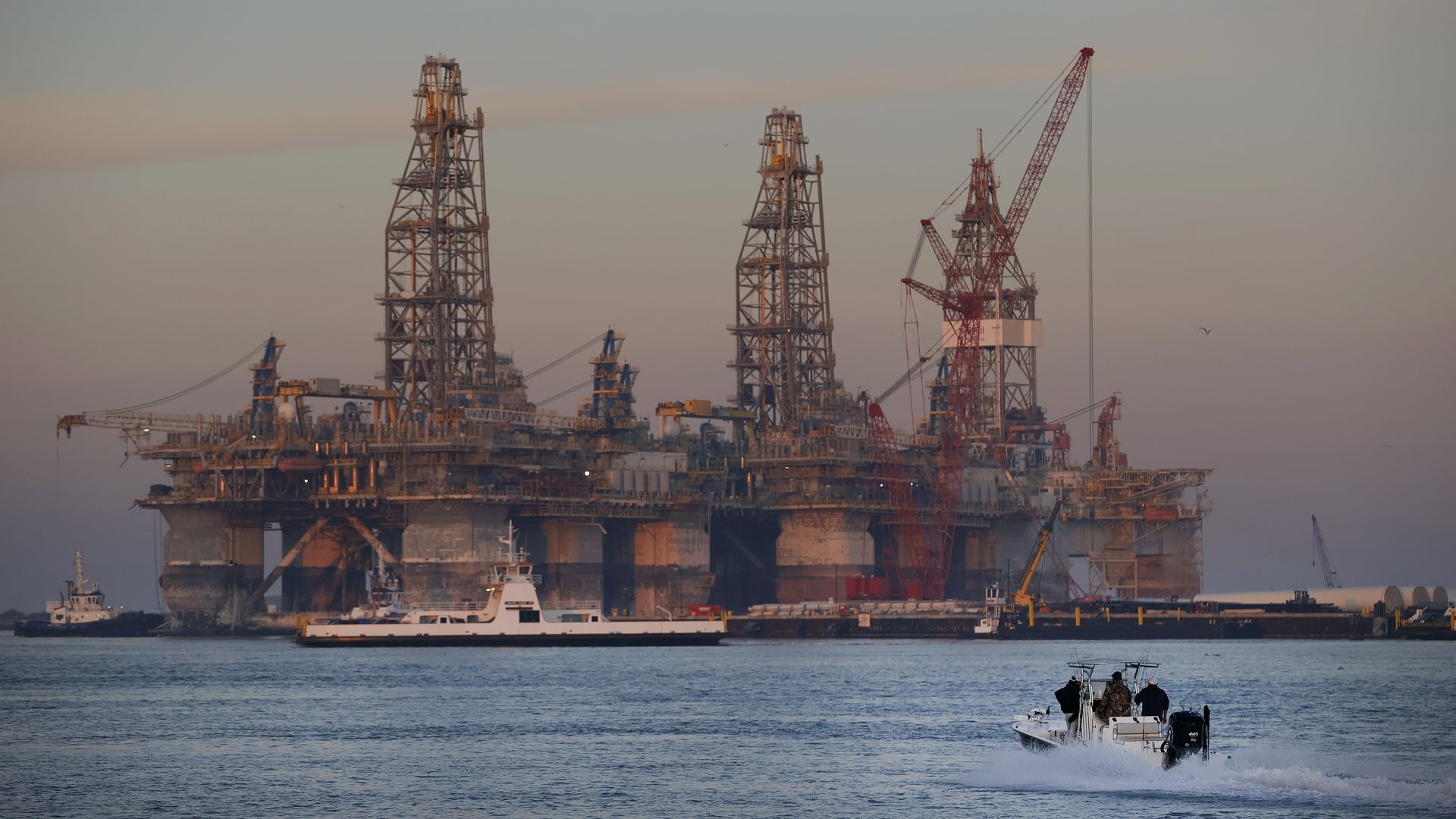 A federal judge on Thursday canceled the Biden administration's late 2021 sale of new oil-and-gas drilling leases in the Gulf of Mexico.
Why it matters: The ruling that the greenhouse gas emissions analysis by the Interior's Bureau of Ocean Energy Management (BOEM) was insufficient is a win for green groups that challenged the decision, as they seek to curb fossil fuel production.
Environmental organizations have been upset with an administration they consider too cautious on new restrictions.
Driving the news: U.S. District Judge Rudolph Contreras in D.C. remanded the sale back to the Interior Department for more analysis after finding that the department had "acted arbitrarily and capriciously in excluding foreign consumption from their greenhouse gas emissions."
"Barreling full-steam ahead with blinders on was simply not a reasonable action for BOEM to have taken here,'' the Obama-appointed judge said.
The big picture: The Biden administration had previously sought to pause new lease sales in federal lands and waters, but a Louisiana federal judge last year thwarted that policy.
An Interior Department spokesperson said in an emailed statement on Thursday night that the department was reviewing Contreras' decision "concerning deficiencies in that record" on the project, known as Lease Sale 257.
"As the Department has stated previously, to comply with the injunction imposed in the District Court of Louisiana litigation we were compelled to proceed with Lease Sale 257 based on the previous administration's environmental analysis and its decision to approve the lease sale," the spokesperson said.
The spokesperson pointed to President Biden's executive order designed to protect public lands and waters over new oil-and-gas leases.
"We have documented serious deficiencies in the federal oil and gas program. Especially in the face of the climate crisis, we need to take the time to make significant and long overdue programmatic reforms. Our work will be guided by the law, science and sound policy. That's why the President called for a pause on leasing in his Executive Order, and why we are appealing the decision enjoining implementation of the pause."
— Interior Department spokesperson
What they're saying: Earthjustice, which represented other environmental groups in the case, called it a "pivotal victory in the fight to defend Gulf communities and the planet from the worsening climate crisis."
The group said Interior "must start with a blank slate and consider the full environmental costs associated with auctioning off our public waters to the fossil fuel industry."
The other side: American Petroleum Institute spokesperson Scott Lauermann said in an emailed statement that the company was "reviewing this disappointing decision" and considering its options.
"Offshore energy development plays a critical role in strengthening our nation's economy and energy security," Scott Lauermann added.
Editor's note: This article has been updated with further comment from the Interior Department.
Go deeper