The infrastructure Republicans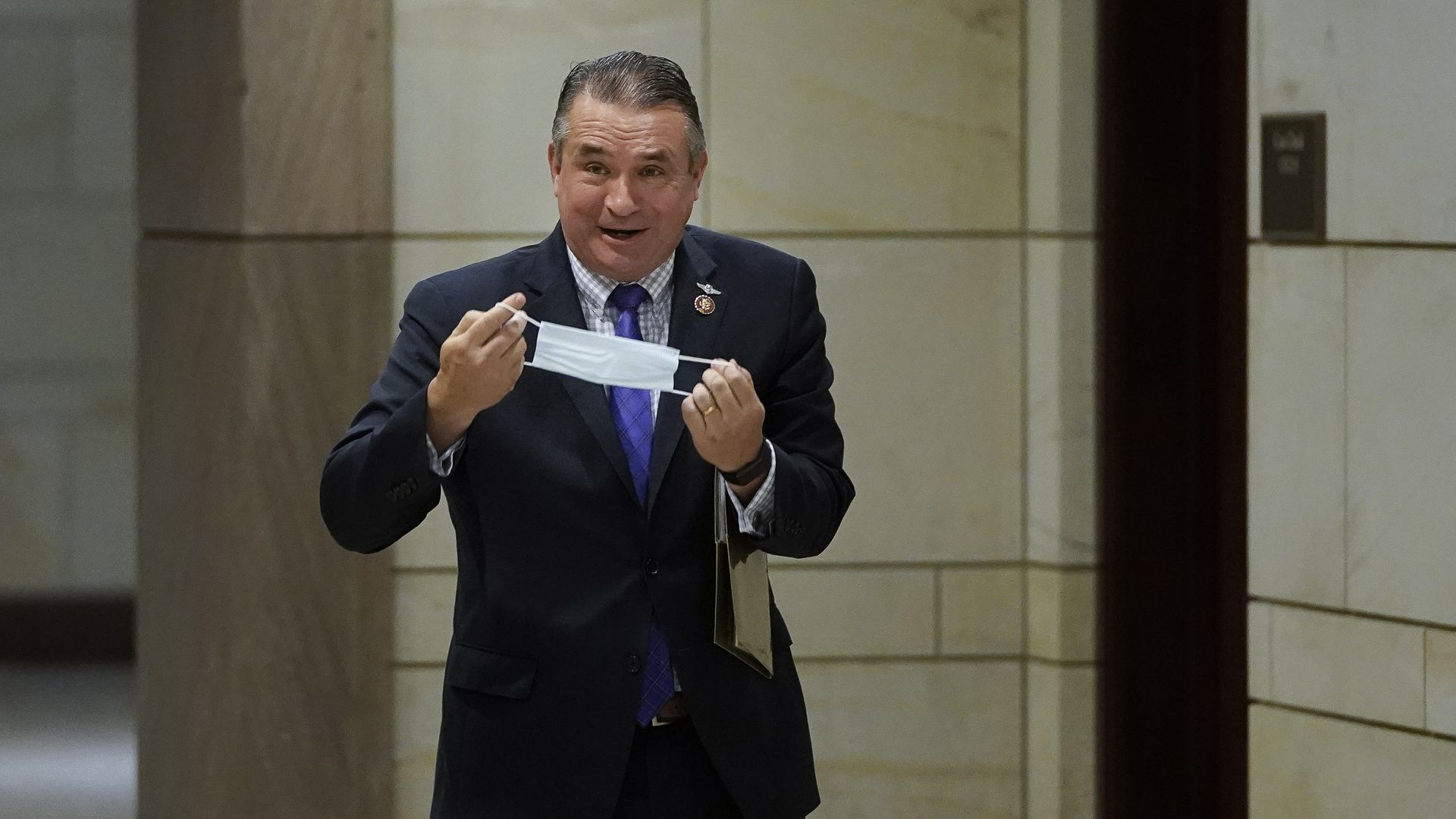 Some of the swing-district House Republicans who crossed party lines to help Democrats pass the $1.2 trillion infrastructure bill told Axios they believe they can survive the political fallout from their own party — and that their vote strengthens their own standing with general election voters a year from now.
The big picture: The 13 GOP votes gave Speaker Nancy Pelosi the numbers to pass the bill despite no-votes from six liberal Democrats who held out trying to secure a bigger version of the companion Build Back Better social spending package.
They included a combination of lawmakers who are retiring and who will seek re-election. Some did — but most didn't — vote to impeach former President Trump over the Jan. 6 insurrection.
What they're saying: "I weakened their hand. They have n0 leverage now," said Rep. Nicole Malliotakis (R-N.Y.), who had shaped a GOP-friendly spin on her vote by the time she exited the chamber: "I voted against AOC and the squad tonight."
Malliotakis told Axios that progressives will no longer be able to hold the bill hostage and predicted Build Back Better will be "drastically weakened" in the Senate or "die altogether" as a result of the infrastructure bill passing.
A damned-if-you-do, damned-if-you-don't choice is what Rep. Don Bacon (R-Neb.) told Axios he faced, so he said he did what felt right. "You vote one way, maybe it hurts in the primary. You vote the other way... in my district, it'd hurt me in the general."
With Republican leadership whipping against the bill as "inextricably linked" with a larger social spending package opposed by all Republicans, Bacon says he faced "pressure" on the House floor from GOP colleagues to sink the bill.
While "certain elements of our party did not like it," he said, the bill is popular among his constituents, with broad support from farmers, unions and businesses — with internal polls showing two-thirds support or higher in his district.
"I helped draft this bill," Bacon said. "To do a flip wouldn't have been appropriate. Wouldn't have been right." He acknowledged he could face a primary challenger who tries to tie him to the social spending package, but he predicted, "I'll still win."
The other side: Hardliner and provocateur Rep. Marjorie Taylor Greene (R-Ga.), has pledged to support intra-party challenges against Republicans who voted for the bill.
She tweeted out the office numbers of the 13 Republicans and claimed they "handed over their voting cards to Nancy Pelosi to pass Joe Biden's Communist takeover of America via so-called infrastructure."
Bacon shrugged: "She wouldn't do too well in Omaha."
Details... The 13 House Republicans who voted for the bill include: Bacon; Malliotakis; Don Young of Alaska; Adam Kinzinger of Illinois; Fred Upton of Michigan; Jeff Van Drew and Chris Smith of New Jersey; Andrew Garbarino, John Katko and Tom Reed of New York; Anthony Gonzalez of Ohio; Brian Fitzpatrick of Pennsylvania; and David McKinley of West Virginia.
The six House Democrats who voted against the bill include: Ayanna Pressley of Massachusetts; Rashida Tlaib of Michigan; Ilhan Omar of Minnesota; Cori Bush of Missouri; Jamaal Bowman and Alexandria Ocasio-Cortez of New York;
Go deeper