The obstacles to building our way out of climate change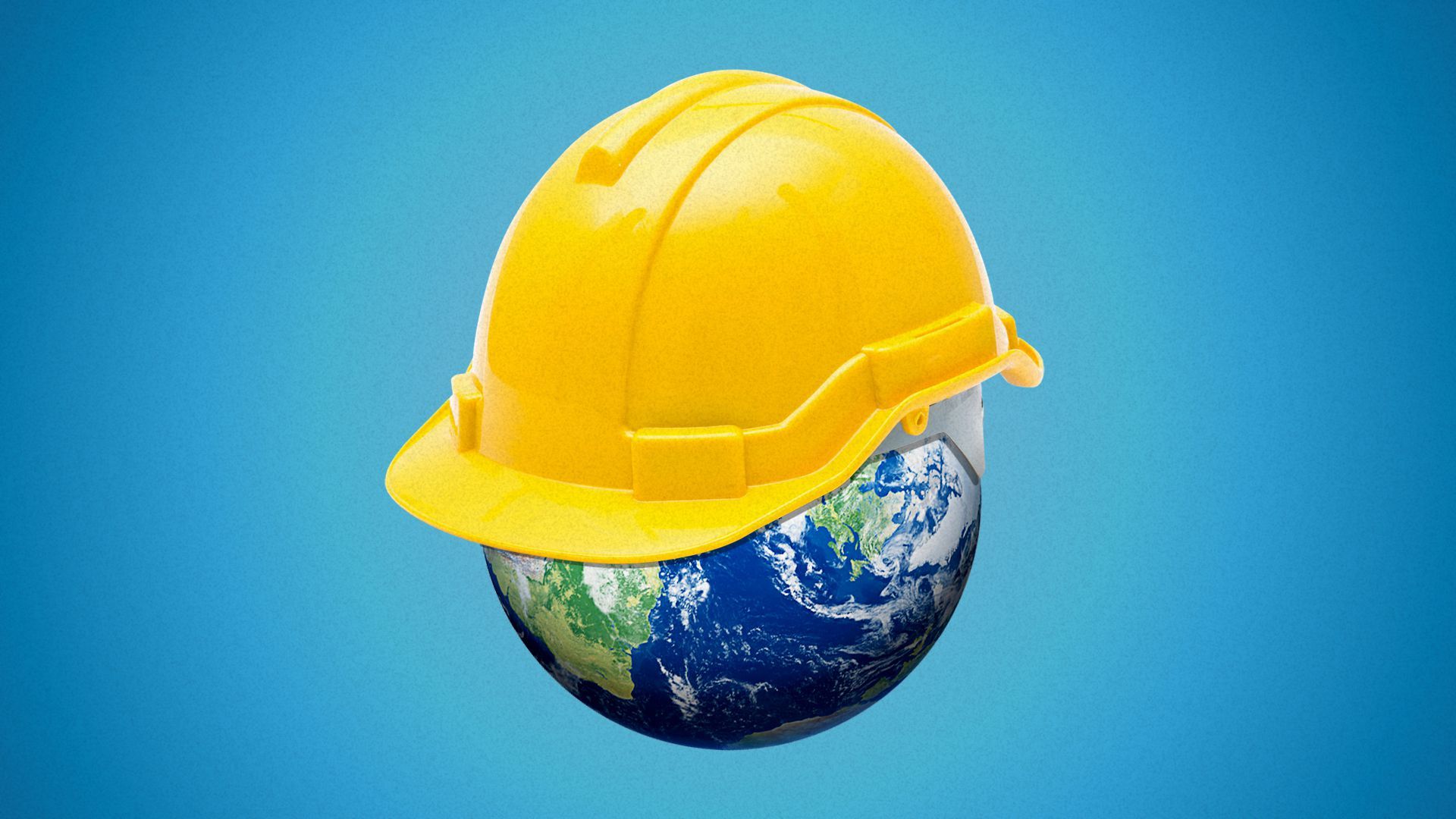 Averting catastrophic climate change — while ensuring economic growth for the world — will require renewable energy and carbon removal projects on a massive scale.
Why it matters: There's strong ingrained public resistance to big infrastructure projects, including among many environmentalists.
Driving the news: On Friday at the UN climate summit in Glasgow, the U.S. Department of Energy announced it will launch a major research effort to bring the cost of carbon removal below $100 a ton by 2030.
That's good news for the climate, as the UN Intergovernmental Panel on Climate Change has calculated the world may ultimately need to remove 100 billion to 1 trillion tons of CO2 by the end of the century to keep temperature rise below 1.5°C.
But beyond the scientific challenge of vastly reducing the cost of effective carbon removal — which is currently as much as $2,000 per ton — achieving it on a massive scale would require building out an entirely new kind of energy infrastructure.
An academic consortium last year calculated that using nature-based solutions would require setting aside land several times the size of Texas, while relying on direct air-capture of CO2 would demand as much as a third of today's global energy use.
Between the lines: That's just carbon removal. Fully decarbonizing the economy will require replacing fossil fuels with renewable sources like wind and solar, as well as nuclear and other zero-carbon energy supplies.
The size will grow if the world tries harder to close the massive energy gap between poor and rich nations by building out energy infrastructure in the global south.
13% of the world — almost 1 billion people — still lacks any real, reliable access to electricity. The average person in the Democratic Republic of the Congo uses just over 100 kWh, more than 100 times less than the average American or Canadian.
By the numbers: A study last year found that reaching net-zero emissions in the U.S. by 2050 using existing technology would potentially require tripling electricity transmission systems and it would take up 10% of the country's continental land.
When the U.S. and other countries make their pledges at Glasgow to sharply cut carbon emissions, they're implicitly promising to embark on the massive building spree needed to remake a 150-year-old grid in just a few decades.
"You're creating whole new supply chains that don't exist, and you're trying to do it in a very fast time," says Daniel Yergin, author of "The New Map: Energy, Climate and the Clash of Nations. "That means transitioning from Big Oil to Big Shovel."
The catch: The development required for net-zero carbon is increasingly meeting local resistance on the ground, including from people who identify as environmentalists.
On Tuesday, people in Maine voted against a $1 billion, 145-mile energy transmission project that would bring clean Canadian hydropower to New England, on the grounds it would disrupt the state's woodlands.
That vote came a few months after plans for what would have been the U.S.'s largest solar plant — providing enough daytime electricity to power 500,000 homes — were scrapped because of complaints the 14-square-mile project would damage the Nevada desert.
The big picture: The benefits of projects that reduce carbon are spread out over the entire world and matter the most for the future, while the costs of such development are concentrated in the communities and times where and when they are built.
The environmental movement has decades of experience and the foundation of 1970s-era regulations in stopping things from being built, but relatively little experience in getting things built.
Even when projects can be built, it can take years. Across all federal agencies, the average Environmental Impact Statement completion time between 2010 and 2017 was 4.5 years.
What they're saying: "Sooner or later, you need to start building things," Ted Nordhaus, executive director of the Breakthrough Institute, wrote last year.
"And those things will have impacts — on people and places and wildlife — that can't be hidden away behind all those distributed solar home systems."
The bottom line: Stopping climate change will require starting a building spree the likes of which we've never experienced.
Go deeper