Jobs people want — and don't want — after the pandemic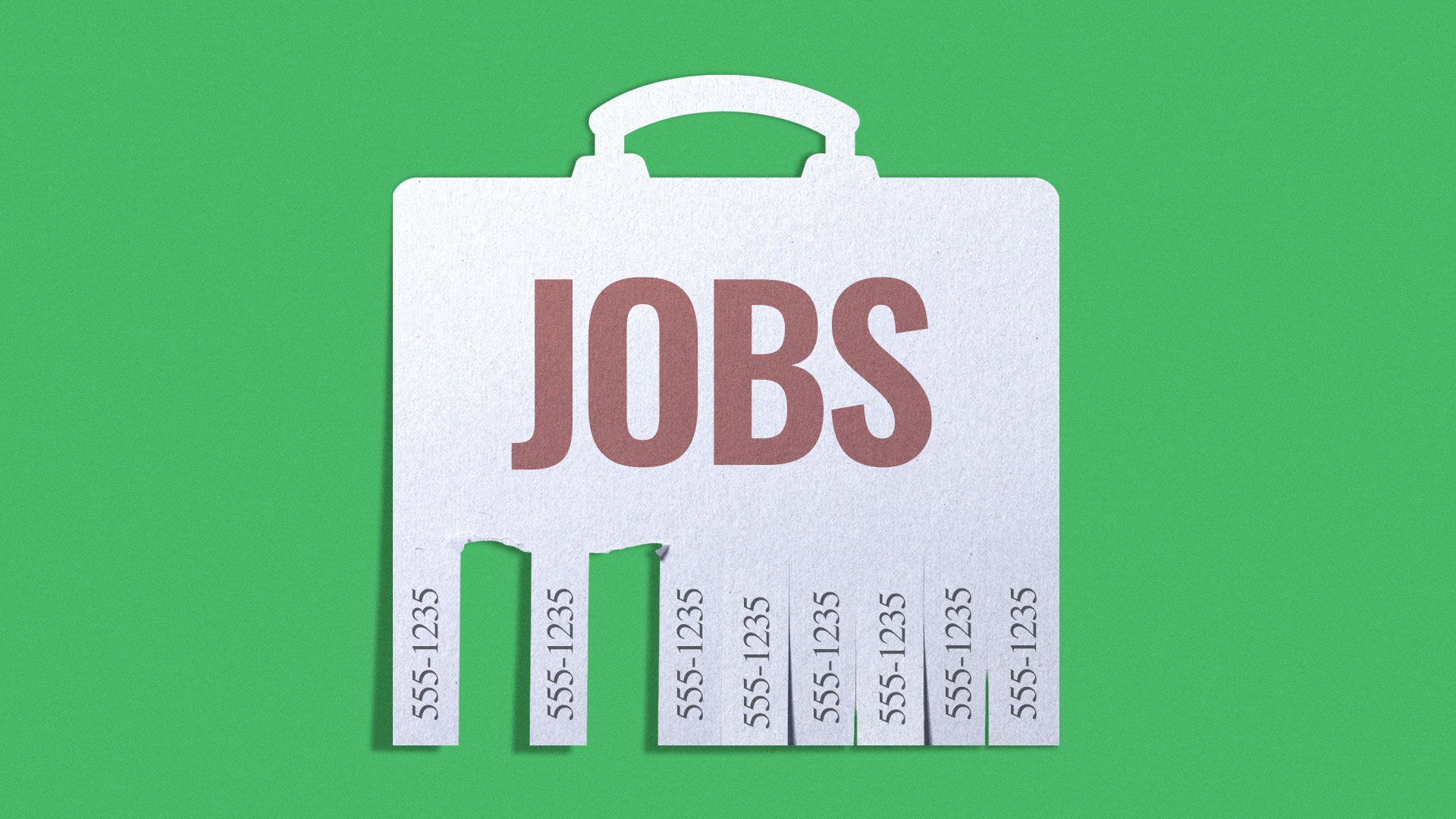 Interest in IT and media jobs is surging, but no one wants to fill the sorely needed child care and home health roles.
Why it matters: Workers have the power, and some industries are struggling way more to hire than others, according to a new report from the jobs site Indeed. Labor shortages in those industries will continue to hobble the economy.
By the numbers: Interest in civil engineering jobs and IT operations jobs has surged the most since the pre-pandemic era. Postings for both types of jobs are getting 59% more clicks on Indeed now than in February 2020.
Interest in media and communication jobs is up 48%, and clicks for software development jobs have jumped 48%.
What's happening: Only around 37% of U.S. jobs can be done from home, per an analysis by economists at the University of Chicago. But more and more people are eager to secure those jobs for the flexibility they provide during the pandemic and beyond, says Indeed economist AnnElizabeth Konkel.
That explains the uptick in interest for jobs in IT and civil engineering, many of which are welcoming to career-switchers.
Employers in these fields will often hire applicants who have taken short-term, skill-building courses even if their educational background is not in tech.
At the same time, Indeed's report shows that interest in loading and stocking jobs at warehouses has cratered 40%. Clicks for food service jobs are down 18%. And interest in personal care and home health jobs and child care jobs is down 33% and 15%, respectively.
The jobs in this group are all in-person roles with relatively low pay, says Konkel. And the gap between the number of open roles and the number of interested applicants keeps growing in these critical industries.
For example, 9.8% of personal care and home health job postings and 4.8% of child care jobs on Indeed were "hiring urgently," well above the site's national average of 2.6% of job postings.
"Those employers are likely going to continue to experience hiring difficulties in the immediate term," Konkel says.
The stakes: The labor shortages in each of the industries seeing declining interest will send ripples through the entire economy.
Loading and stocking jobs are key to supporting America's booming pandemic-fueled e-commerce habit. And restaurants keep reducing hours or shuttering because they can't find kitchen staff and waiters.
The labor shortage in child care is weighing on the post-pandemic recovery, as parents — who make up one-third of the U.S. workforce — keep delaying their return to work because they can't find child care, reports Axios' Courtenay Brown.
And the shortage in personal and home health care jobs is set to worsen as demand increases. The Bureau of Labor Statistics projects home health aide jobs will grow 33% in the next decade as our society ages and as more people need long-term care after battling COVID-19.
What to watch: It'll be tough for employers to fill these jobs that are losing clicks unless they keep raising wages, Konkel says. Take hospitality and leisure, an industry in which interest was dipping but rose back up to pre-pandemic levels after wages went up.
But some industries in which interest is waning have been so battered by the pandemic that they just can't afford to bump pay.
Go deeper