Biden lays out $1.75 trillion "framework" before Europe departure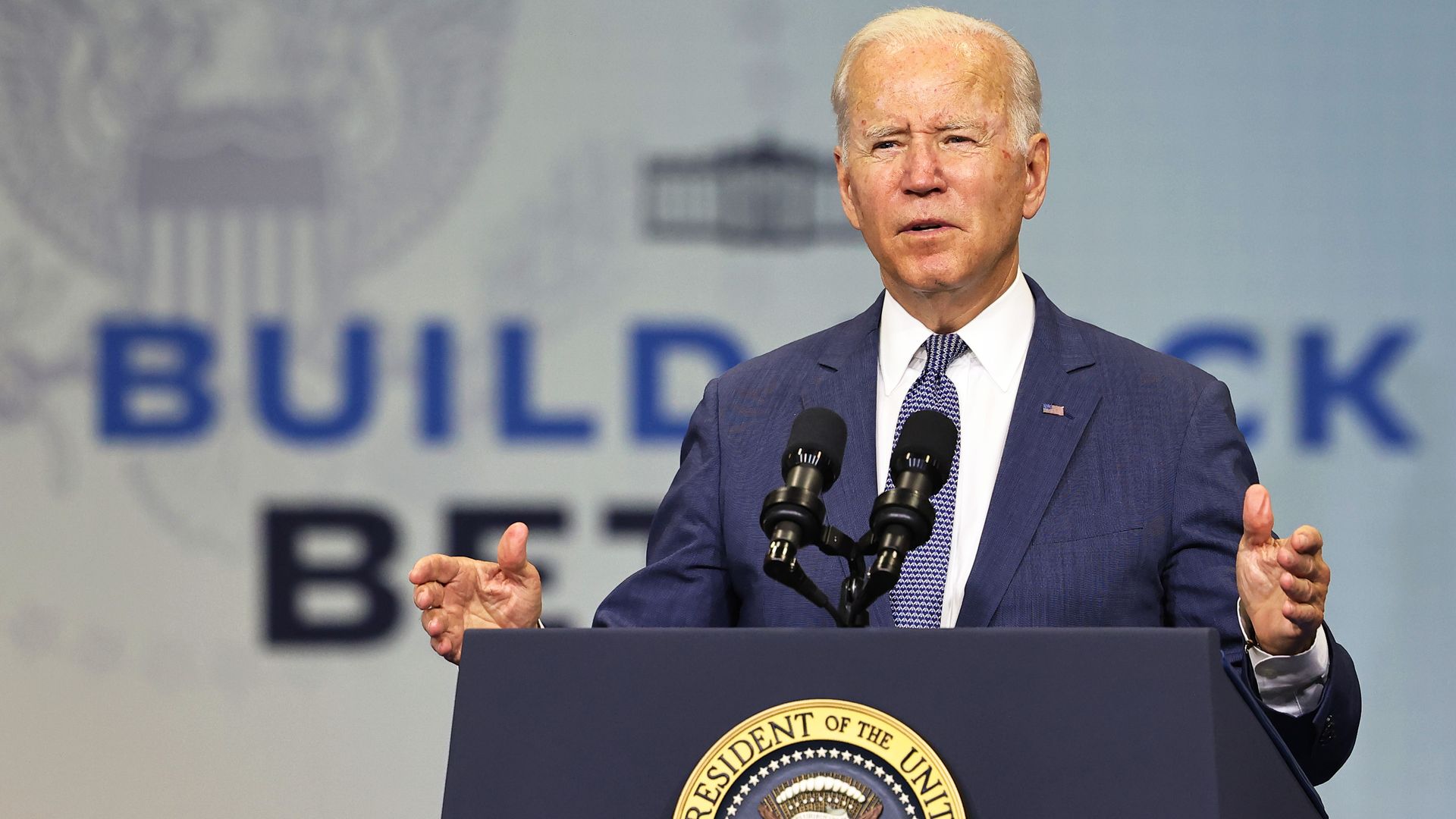 President Biden announced Thursday a "framework" for $1.75 trillion in social program and climate change spending after failing in prior efforts to win over his fellow Democrats on a much broader and costlier package.
Why it matters: Biden is gambling that by proclaiming the broad contours of the proposal, which he immediately began selling in a meeting with House Democrats before jetting off to Europe, progressives will vote for his $1.2 trillion infrastructure plan if and when House Speaker Nancy Pelosi brings it to the floor.
Biden was outlining "every last detail" of his framework, "line by line," said Rep. Annie Kuster (D-N.H.) as she emerged from the meeting. The president left after speaking for about an hour.
The proposal includes universal preschool and new money for elderly care, as well as $555 billion to address climate change.
Yet as details for the framework trickled out, lawmakers were privately pessimistic that progressives would support a plan that left out many of their key priorities, like paid family leave and allowing Medicare to negotiate the prices of prescription drugs.
Administration officials said they were agnostic about when Congress would vote on both plans and that they would leave the timing to Pelosi — a recognition that support for both plans was far from assured.
What they're saying: "There's been so many changes in this process, so many people, you know, 'yes, no,' doing the hokey pokey, one foot in, one foot out. So, we need certainty that we're going to be able to deliver," Rep. Alexandria Ocasio-Cortez (D-N.Y.), a key progressive voice, said before entering the meeting with the president.
Rep. Pramila Jayapal (D-Wash.), chair of the Congressional Progressive Caucus, also was reserved.
"I think that will show tremendous momentum, but we want to see the actual text because we don't want any confusion and misunderstanding," Jayapal told reporters. "My understanding is that the framework is very general, so let's turn it into legislative text."
Following the meeting, a third progressive, Rep. Ilhan Omar (D-Minn.) demanded both a formal legislative text of the package and a vote on both the infrastructure and safety net bills on the same day.
"We need to keep the promise that was made," she said.
Sen. Joe Manchin (D-W.Va.), who has been dictating the terms of much of what is in the broader package, told reporters: "This is all in the hands of the House right now. O.K.? [I have] worked in good faith, and I look forward to continuing working in good faith, and that is all I have to say today."
Driving the news: Biden delayed his departure for a G20 summit in Rome, followed by the COP26 climate meeting in Glasgow, to address House Democrats in person at 9am ET.
He is set to speak about his plan to the general public at 11:30am ET from the White House.
Pelosi has promised to bring the infrastructure bill to the floor by the end of the month, with many centrist Democrats demanding a vote to both show progress on bipartisan priorities and give Democrat Terry McAuliffe a boost in his Virginia's gubernatorial race.
The details...
The framework includes:
An extension of the Child Tax Credit for one year.
A plan to offer universal preschool to three and four-year-olds, as well as additional money to help new families defray the cost of childcare.
Funding home care for disabled and elder care.
Money to subsidize insurance payments on the Obamacare health insurance exchanges.
Hearing benefits for Medicare recipients.
What's left out:
A plan to offer paid family leave was not included in the framework.
And one of the main funding mechanisms — giving Medicare the authority to negotiate directly with pharmaceutical companies on prescription drugs costs, which could have raised up to $600 billion — was not included.
In addition, full expansion of Medicare benefits for dental and vision, a priority for Sen. Bernie Sanders (I-Vt.), was not in the framework.
How it's paid for: Officials insisted that the total cost of the program would be offset by new revenue from corporations and wealthy individuals, without raising taxes on families making less than $400,000.
Corporations will face a 15% minimum tax as well as new international rates.
Individuals who make more than $10 million will be subject to a new surcharge.
Editor's note: This story has been updated with the meeting over and comments from Reps. Kuster, Ocasio-Cortez, Jayapal and Omar, as well as Sen. Manchin.
Go deeper