McAuliffe pivots to schools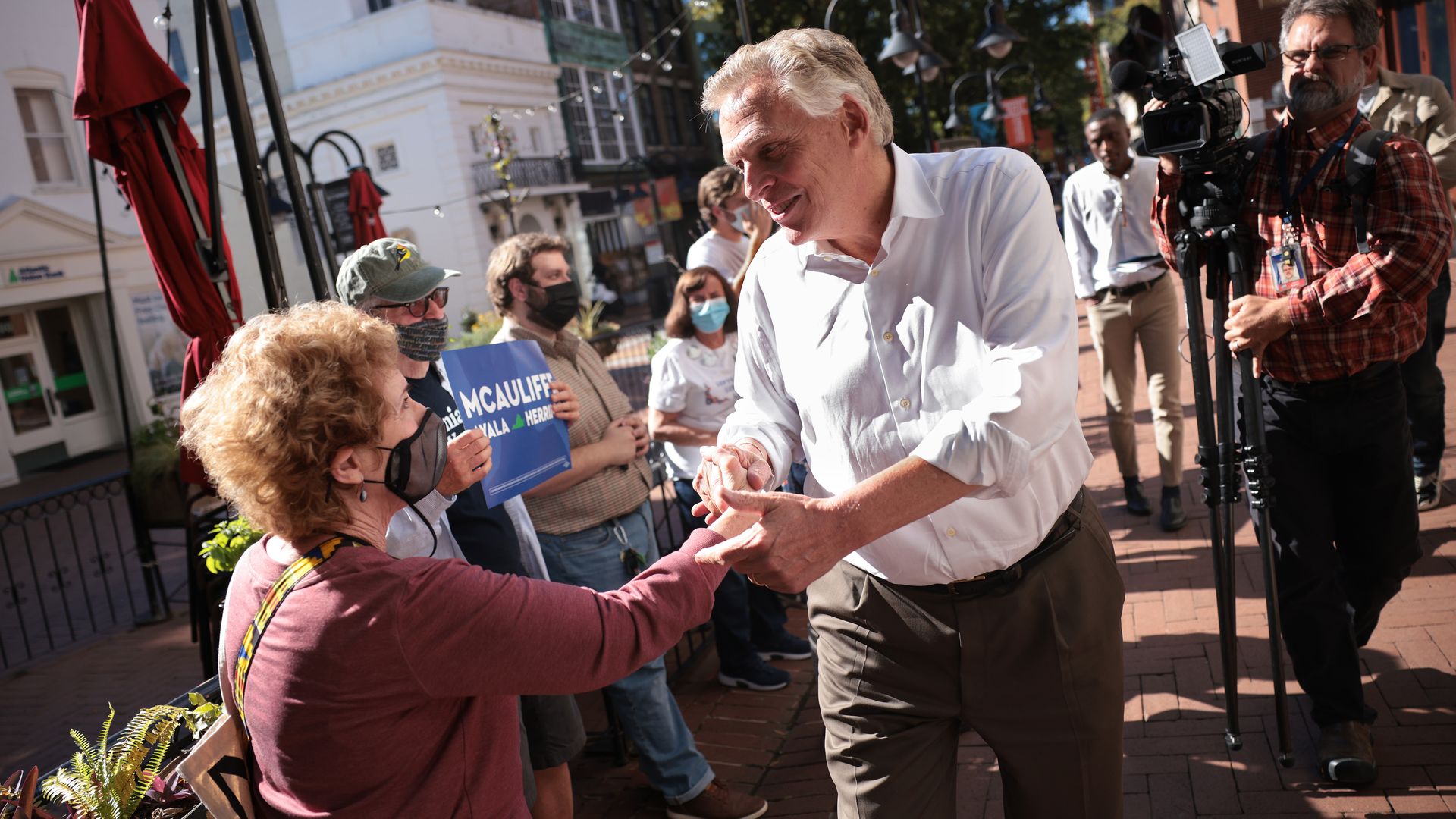 In the closing weeks of their closely watched Virginia gubernatorial race, Terry McAuliffe is going after Glenn Youngkin on unlikely ground — public education — as he tries to reverse the Republican's surprisingly strong challenge.
Why it matters: McAuliffe and his fellow Democrats are in danger of losing a bellwether election in a must-have presidential state. He's brought in President Biden, Vice President Kamala Harris and former President Obama as his own efforts to make the race a referendum on Donald Trump have faltered.
By focusing on education, McAuliffe is trying to shift the debate on a topic that resonates especially with pivotal suburban women.
The past and would-be future governor is warning parents that plans pushed by Youngkin will quietly cut thousands of teaching jobs — and this should be a bigger concern than the tonality of lesson plans around systemic racism.
"Listen, he's got an economic plan that 43,000 teachers will be cut. $10 billion hole in education. So, I want to rebuild, and that's what I'm excited to do," McAuliffe said about Youngkin.
Youngkin rapid response director Christian Martinez said in a statement, "All-talk, no-action career politician Terry McAuliffe has been exposed for rolling out the same old failed promises, failed policies and misleading lines of attack that he's been repeating for 12 years."
"Virginians have taken notice and are overwhelmingly throwing their support behind a new kind of leader in Glenn Youngkin."
Driving the news: Axios caught up with McAuliffe on Wednesday in Charlottesville, Virginia, where a deadly 2017 rally by white supremacists marked an early low point in the Trump administration.
Joe Biden says it also provided the spark for him to challenge Trump in the 2020 presidential race.
Despite his own efforts to tie Youngkin to Trump, McAuliffe said, "You know, I don't think y'all should be putting all this national stuff on me. I'm just trying to run this little governor's race here in the capital of Virginia."
Youngkin himself told Axios during a similar interview last month, "I brought together Forever-Trumpers and Never-Trumpers, sitting in the same audience, excited about what we're doing."
What they're saying: The issue raised most frequently by McAuliffe during an early vote rally was education. His would-be constituents signaled they're concerned about the nation's overall division and lack of respect for basic facts and educational principles.
Ginny Craven, 63, a freelance writer from the Charlottesville area, told Axios: "It's Earth One and Earth Two" between Democrats and Republicans.
"It's definitely polarized, and you know, perhaps it's getting worse," said John Ballen, 62. "It comes down to education."
Between the lines: The race in Virginia is tight, and it was clear the McAuliffe campaign has taken on an air of tension — bordering on panic.
McAuliffe cut off one television interview last week, and his staff told Axios a planned 20-minute interview — which they had requested following the Axios interview with Youngkin — was being limited to five minutes.
McAuliffe himself got agitated as Axios asked him about his efforts to tie Youngkin to Trump.
"I'm not tying — he's tying himself. He said, 'I'm honored to receive his endorsement, so much of the reason why I'm running is because of Donald Trump.' I'm not tying him; he is."
Go deeper