Carbon emissions spiking despite clean energy surge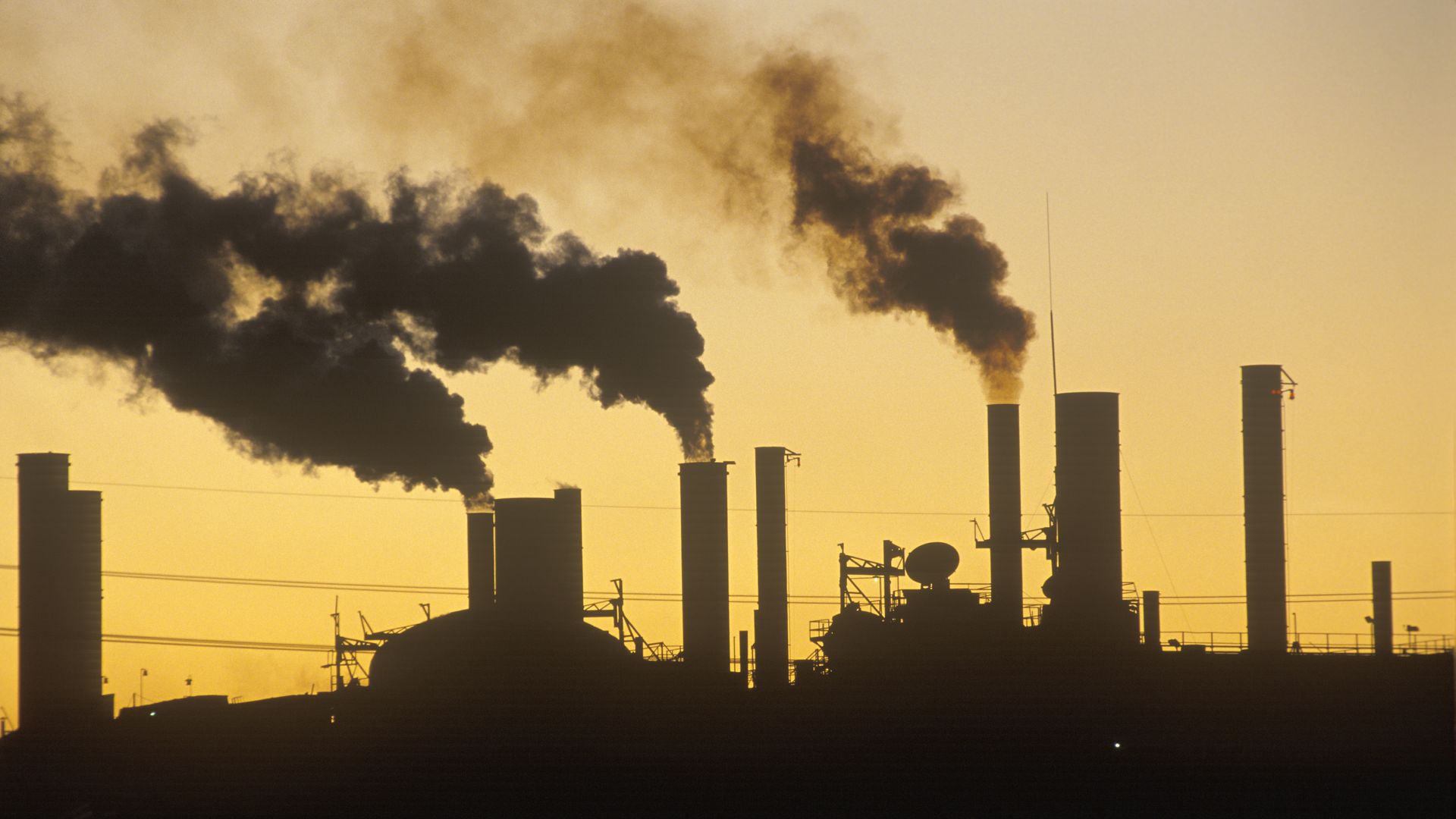 This year is bringing the second-largest global carbon emissions jump on record as fossil fuel use rebounds after 2020's pandemic-fueled downturn, a new International Energy Agency report finds.
Why it matters: It shows how, despite surging renewables, the global energy system remains far from an emissions-slashing pathway that achieves Paris agreement goals for limiting global warming.
The IEA calls the World Energy Outlook — a data-rich, nearly 400-page look at policy, tech, investment, and supply trends and scenarios — a "handbook" for COP26, the key UN climate summit that begins Oct. 31 in Glasgow, Scotland.
The summit is aimed at spurring nations to take stronger steps to boost deployment of technologies including solar, electric cars, clean hydrogen, efficiency and more, while curtailing fossil fuels — especially coal.
Threat level: "The world's hugely encouraging clean energy momentum is running up against the stubborn incumbency of fossil fuels in our energy systems," IEA executive director Fatih Birol said in a statement.
He said the UN summit must provide a "clear and unmistakable signal" that nations are committed to "rapidly scaling up the clean and resilient technologies of the future."
"Public spending on sustainable energy in economic recovery packages has only mobilized around one‐third of the investment required to jolt the energy system onto a new set of rails," the report finds.
How it works: The report models scenarios ranging from emissions and temperature rise expected under nations' current policies, what happens if they actually implement existing pledges under the Paris agreement, and more.
It compares them to the Paris goals of limiting temperature rise to "well below" 2°C (3.6°F) compared to preindustrial levels, and ideally to 1.5°C (2.7°F) — benchmarks for avoiding some of the worst effects of climate change.
The big picture: If — and it's a huge if — nations meet their Paris pledges submitted and announced longer-term targets, energy-related emissions decline by 40% by 2050, IEA projects.
Clean energy investment and finance would double over the next decade, but it's "not sufficient to overcome the inertia of today's energy system." Global temperatures rise is 2.1°C (3.9°F) in 2100 but still moving up.
However, even that assumes creating and implementing policies consistent with those commitments. "A lot more needs to be done by governments to fully deliver on their announced pledges," the report notes.
In contrast, under existing and announced policies, IEA projects temperature rise blowing past the Paris targets to reach 2.6°C (4.7°F) above preindustrial levels in 2100 and keep rising.
Yes, but: The report models investment and policies over the next 10 years that would set the world on a pathway to net-zero emissions in 2050 that keeps the 1.5°C target from slipping away.
These include a "massive" push toward electrification that sees, among other steps, a doubling of wind and solar deployment compared to what's foreseen under existing pledges.
Also on the menu: "relentless" focus on efficiency, more aggressive steps to cut methane emissions from oil-and-gas operations and tech innovation that sets the stage for post-2030 emissions cuts beyond what's achievable with existing technologies.
By the numbers: Getting on a 1.5°C pathway requires a "surge" in annual investment in clean energy projects and infrastructure to nearly $4 trillion annually by 2030, the IEA said.
Birol, however, notes: "The social and economic benefits of accelerating clean energy transitions are huge, and the costs of inaction are immense."
The report sees significant emissions cuts available at no extra costs to power consumers, and that energy efficiency gains save consumers money.
It also sees huge market opportunities for manufacturers of solar panels, batteries, hydrogen production equipment and more.
The intrigue: The report comes amid a recent surge in natural gas, power, oil and coal prices.
The IEA notes the "key reasons for these sharp increases in energy prices are not related to efforts to transition to clean energy."
But that "does not mean clean energy transitions in the years ahead will be free from volatility," the IEA adds.
Go deeper