Higher prices, weaker targeting push companies to rethink digital ads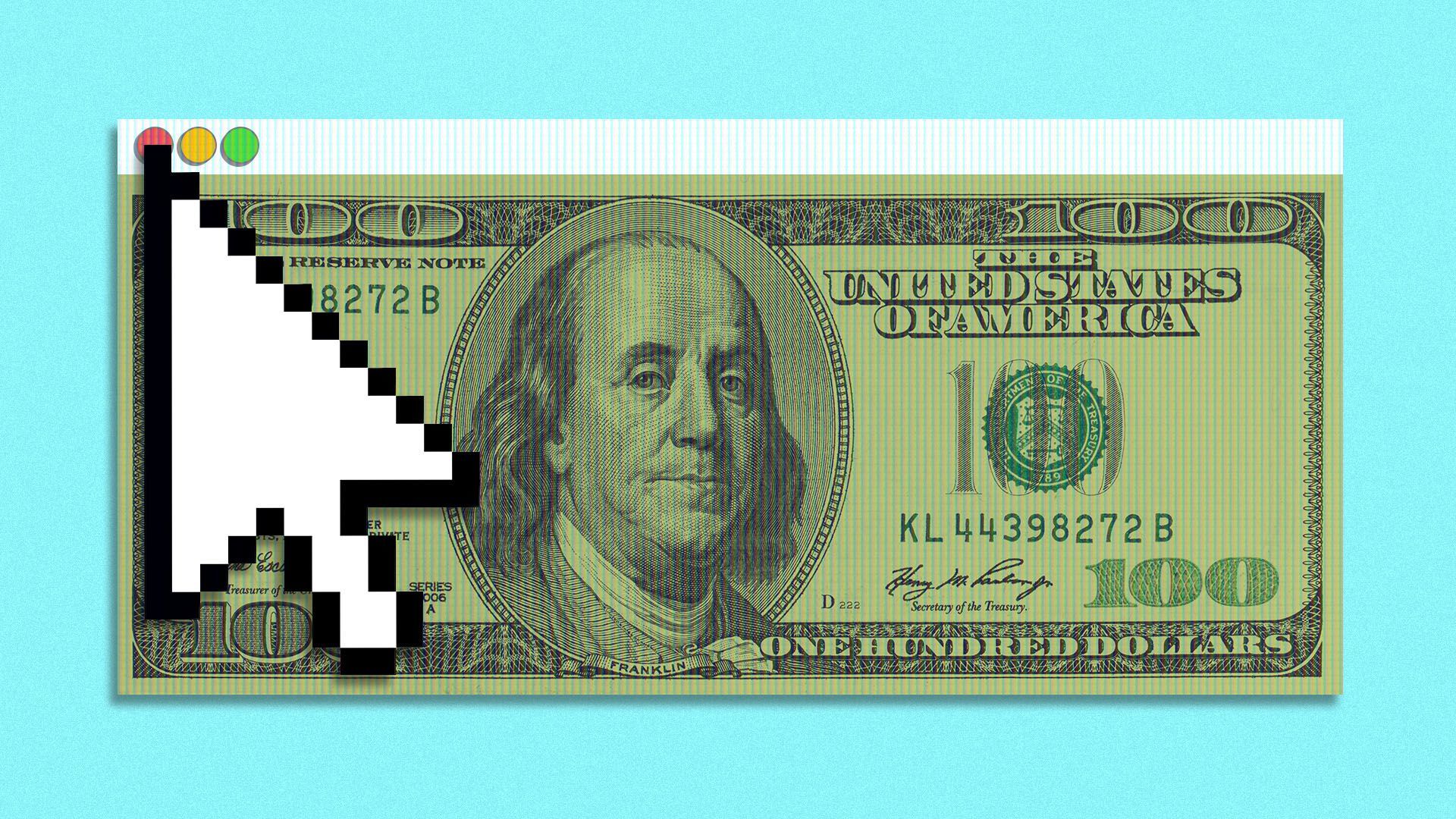 Digital ad prices are soaring, forcing businesses to rethink their entire marketing strategies.
Why it matters: At the same time digital ads are getting more expensive, they're also getting harder to target, creating big barriers to entry for startup digital-native brands trying to find their first customers.
By the numbers: The cost to advertise on Facebook is 33% higher than it was in Q3 2019 (before the pandemic), as measured by CPM, or cost per thousand impressions.
Instagram CPM is up 23% over the same period, and Google's cost per click (CPC) is also up 23%, according to proprietary data provided by performance marketing firm Tinuiti.
What happened: It's another example of how the pandemic has changed how we do business, and how we live our lives.
Advertisers pulled back at the beginning of the pandemic, but then lockdown life turbo-charged the transition to all things digital — so as the economy reopened this year, the ad dollars naturally gravitated there in greater force.
Competition for ad space is now driving prices sky-high.
What they're saying: "The [digital advertising platforms] are a lot more competitive than they used to be," Andy Taylor, VP of research at Tinuiti, tells Axios. "For most advertisers, pricing is the highest it's ever been."
One VP of e-commerce at a direct-to-consumer beauty brand tells Axios that the company's digital ads are now at least 50% more costly than they were in January, on a per click or per impression basis.
The intrigue: As ad costs have shot up, the power of consumer targeting on social media has suffered — thanks to Apple's recent iOS updates prioritizing data privacy.
"Facebook and Instagram CPM is just going through the roof — and their targeting is a lot weaker than it has historically been," the e-commerce exec says.
The impact: Given the escalating prices and declining return on investment, some brands have recently begun moving more of their ad budgets to other venues, like streaming TV, traditional TV, and even direct mailings.
The costs of those options has crept up as well, but at growth rates more in line with historical levels, the executive says.
What to watch: If prices stay high, the impact on startups that need to acquire their first round of customers could be significant. The era of ease for digital-native consumer facing companies, like Warby Parker and Allbirds, may be over.
"For a startup, this is a really tough time. A lot of them have historically depended quite a bit on the social platforms to track their business. They usually have lean marketing budgets, and you need returns on those investments," the e-commerce exec says.
Go deeper