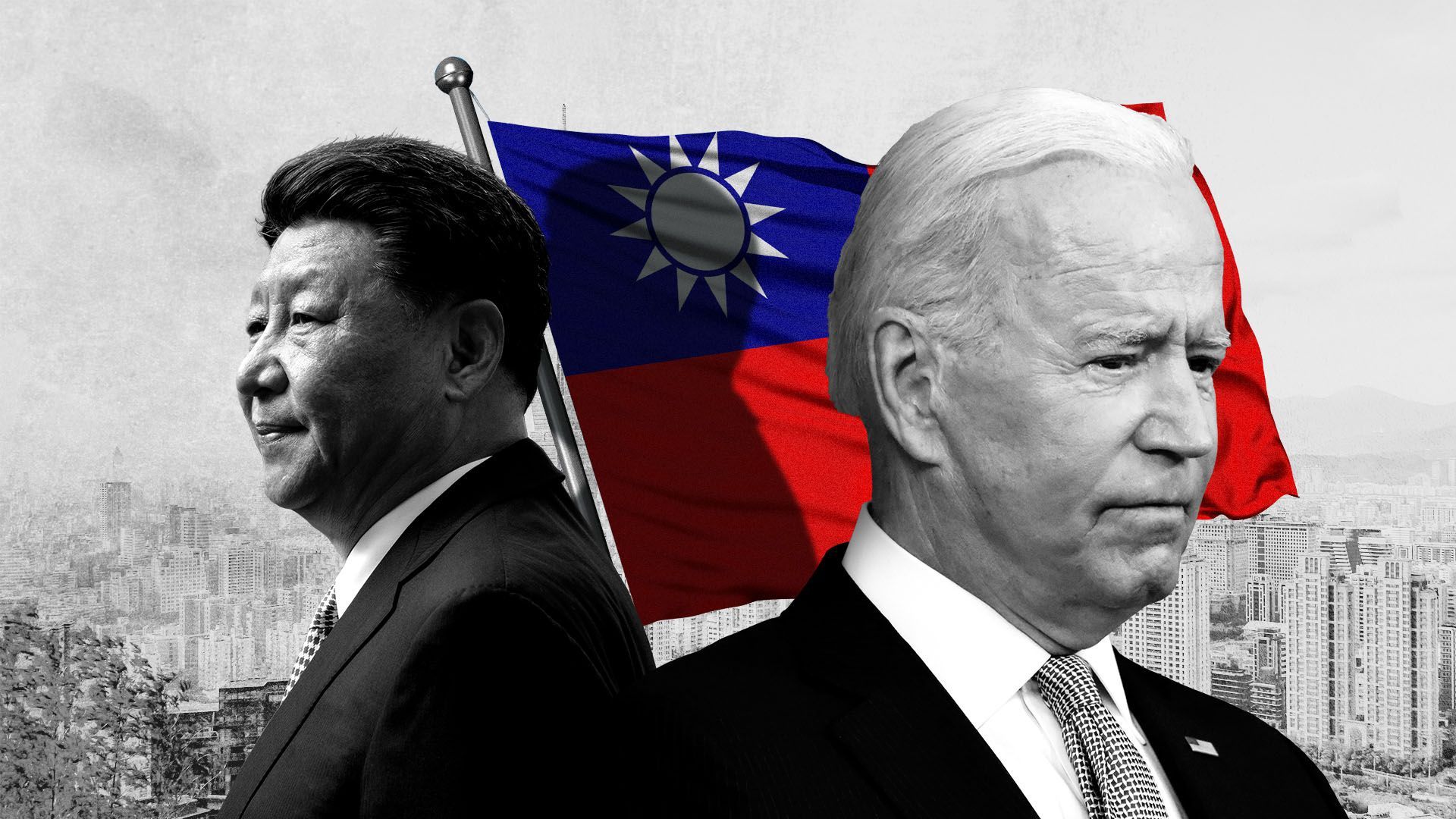 The Chinese military has flown a record 145 fighter planes into Taiwan's air defense identification zone (ADIZ) during the past four days, escalating Beijing's campaign of intimidation toward the self-governing island.
Why it matters: President Biden has emphasized the need to ensure his strategy of "vigorous competition" with China "does not veer into conflict." China's growing aggression toward Taiwan is drawing fresh fears of a catastrophic war and threatens to put that rhetoric to the ultimate test.
Driving the news: The People's Republic of China commemorated its 72nd annual National Day on Oct. 1 by sending 38 warplanes through Taiwan's ADIZ. That record stood until the following day — when it sent 39 more.
State media hailed the incursions as a form of "military parade," while the State Department condemned the flurry as "provocative." It reiterated the United States' "rock-solid" commitment to Taiwan.
Undeterred, China sent another 52 jets into the ADIZ on Monday. Taiwan's foreign minister told Australian television that the island was preparing for war and urged Australia to increase security cooperation.
Chinese state media, known for its hostility toward Taiwan and the West, responded by asking whether Australia was "willing to accompany Taiwan separatist regime to become cannon fodder."
The big picture: During a speech earlier this year, President Xi Jinping of China pledged "complete reunification" with Taiwan. The mainland Communist government views it as a breakaway province that must be brought to heel — including by force, if necessary.
These are not idle threats: China has crushed democracy in Hong Kong, once a semi-autonomous territory where Chinese nationals enjoyed rare political freedom, and fortified its military presence in the disputed South China Sea.
The U.S. has strengthened its ties with Taiwan over the last several years and sold the island billions of dollars worth of weapons, infuriating China.
Consecutive administrations have purposely maintained a posture of "strategic ambiguity" on the question of whether the U.S. would defend Taiwan from a Chinese invasion.
The policy deters Beijing, which must factor in potential U.S. intervention, while motivating Taiwan, which must be prepared to defend itself, former White House national security adviser H.R. McMaster told Axios.
Between the lines: Biden's stated desire to avoid a Cold War-style confrontation with China has been belied at times by the actions of his administration, which has sought to rally U.S. allies to curb China's influence.
The White House says its new U.S.-U.K.-Australia security pact is aimed at ensuring stability in the Indo-Pacific, not at any one country — but only one country is routinely accused by the West of destabilizing the region.
This weekend, two U.S. aircraft carriers joined vessels from five other countries for a joint naval exercise near Okinawa, Japan, aggravating the Chinese during a particularly sensitive holiday.
What to watch: Few experts see a Chinese invasion of Taiwan as imminent. But the chances of a devastating miscalculation grow each time a Chinese fighter jet enters Taiwan's ADIZ, says Timothy Heath, senior international defense researcher at the RAND Corporation.
The bottom line: Taiwanese President Tsai Ing-wen has a stark message for Biden and other leaders in the latest edition of Foreign Affairs.
She writes: "[I]f Taiwan were to fall, the consequences would be catastrophic for regional peace and the democratic alliance system. It would signal that in today's global contest of values, authoritarianism has the upper hand over democracy."
Go deeper