U.S. to warn China is not complying with Trump's Phase One trade deal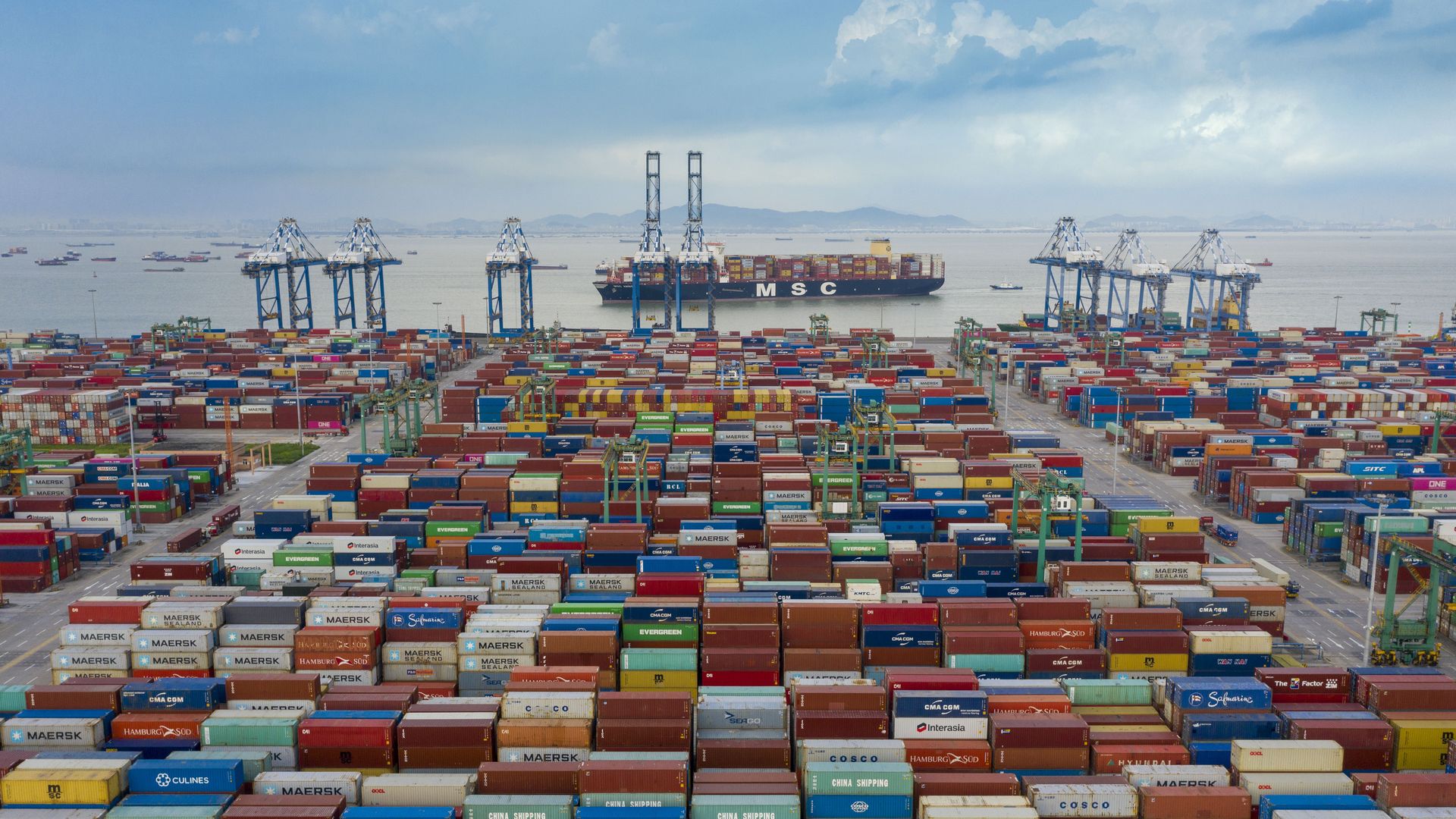 U.S. Trade Representative Katherine Tai will declare Monday that an extensive review found China isn't meeting its commitments under the Phase One trade deal — laying the groundwork for the Biden administration to keep in place Trump-era tariffs while considering other punitive actions.
Why it matters: American businesses and importers have waited months to hear what President Biden will do with the trade war he inherited from Trump, which has pitted the world's two largest economies against one another.
Biden on the campaign trail criticized Trump's trade strategy.
But since taking office in January, he's maintained tariffs on billions of dollars worth of goods as his administration conducted its months-long, "top-to-bottom" review of U.S. trade policy toward China.
Driving the news: Tai will detail the review's findings in a speech at a Washington think tank Monday, marking her most extensive comments to date about the administration's plans to address China's "coercive" and "predatory" trade practices, according to officials who spoke to reporters on condition of anonymity to preview the remarks.
One senior official emphasized that Biden's strategy "is not to escalate trade tensions with China or double down on the previous administration's flawed strategy."
Tai will highlight the history of China's trade abuses, beginning with its accession into the World Trade Organization in 2001, and "acknowledge that we need a new strategy ... that aligns with the priorities of our workers and businesses."
Details: The review concluded that the Phase One trade deal signed under Trump failed to address fundamental concerns over issues like China's IP theft and support for state-owned enterprises — but it did benefit certain American business sectors, such as agriculture.
Tai will confront her Chinese counterpart on areas where the U.S. says Beijing has failed to comply with the terms of the agreement, such as its commitment to buy an additional $200 billion worth of U.S. goods over two years.
That outreach will initiate an enforcement mechanism that could lead to more tariffs, a second administration official said: "All tools are on the table. All options are available for us to consider what we need to do to defend our interests."
Between the lines: Though existing tariffs on more than $350 billion worth of Chinese goods will remain in place as these talks play out, the administration will launch a "targeted exclusion process" to allow certain businesses to apply for exemptions.
Exemptions will take into account domestic priorities, such as securing U.S. supply chains and increasing America's competitiveness in key sectors.
What's next: Biden is seeking to craft a broader China trade strategy that extends beyond tariffs, incorporating coordinated approaches with U.S. allies and goals of major domestic investments via his multitrillion-dollar "Build Back Better" agenda.
The bottom line: The administration does not expect China to meaningfully change its practices and is not seeking to open negotiations on a Phase Two agreement with Beijing.
"We recognize that China simply may not change, and that we have to have a strategy that deals with China as it is, rather than as we might wish it to be," an official said.
Go deeper