The rickety state of climate legislation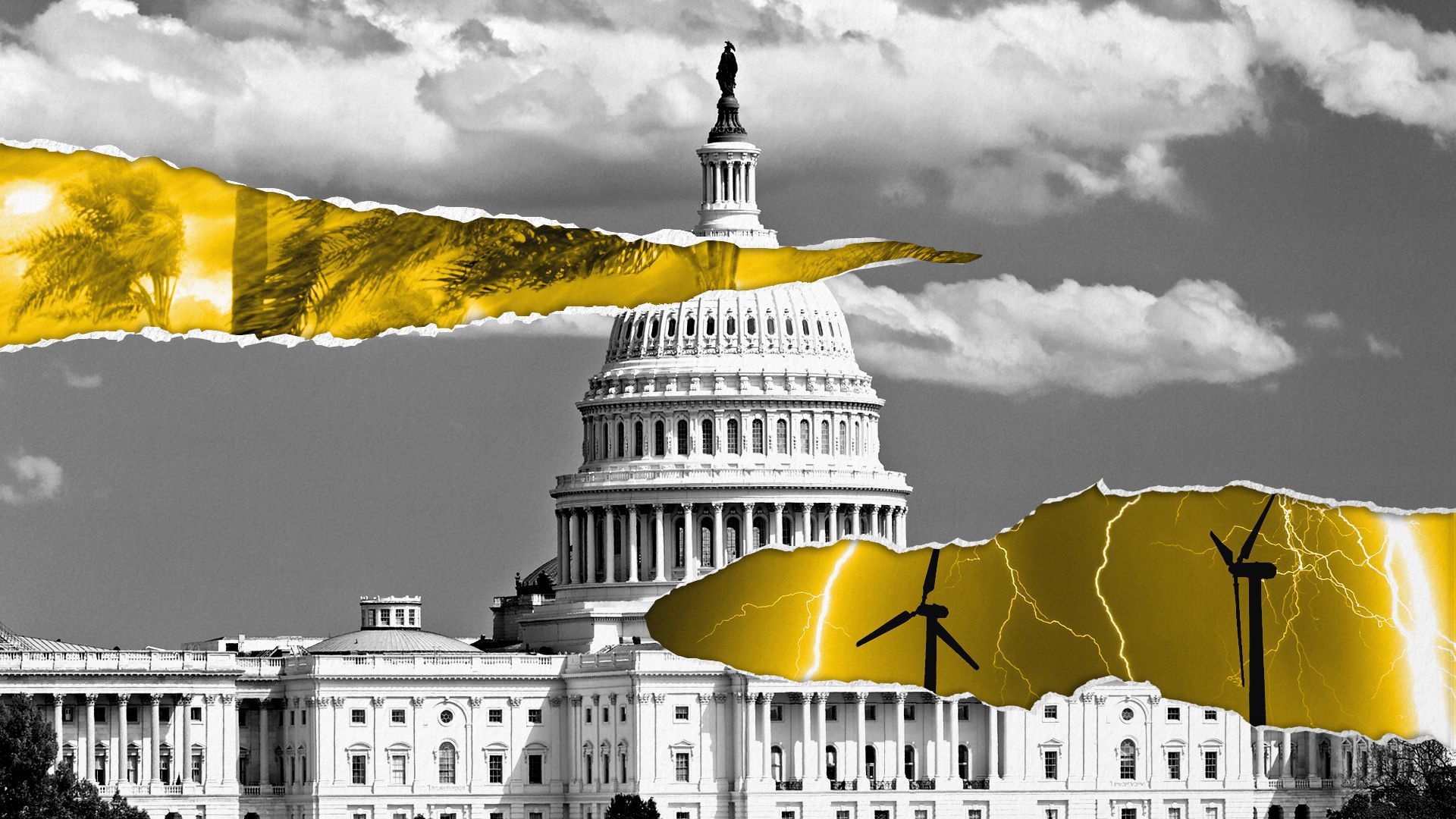 The last 24 hours have somehow been confusing and clarifying about the state of major climate legislation at the same time.
Catch up fast: Last night House Democratic leaders, facing a revolt from progressives, put off a vote on the bipartisan infrastructure package for now.
White House aides and Democrats are negotiating the scope of the separate Democrats-only package of social and climate measures, and the progressives won't back the bipartisan plan until that's done.
The big picture: Everything remains in flux, but here are a few takeaways based on what we know as of this morning...
Democrats' climate vision will be downsized. Sen. Joe Manchin dug in Thursday on his insistence that $1.5 billion is the max he'll accept in the catch-all, Democrats-only social safety net and clean energy package.
It's highly unlikely a politically viable plan could match robust energy incentives and spending in the $3.5 trillion House plan.
The House package includes, for instance, electric vehicle incentives up to $12,500 per buyer and a major new program of financial support for utilities to boost clean power.
"We think the $150 billion Clean Electricity Performance Program (CEPP) would likely be the first element to go in the transition to a smaller bill," Capital Alpha Partners said in a note.
Manchin's policy goals are a little clearer. A late July document Politico obtained shows Manchin's posture in finer strokes, such as wanting means-testing for new health and social provisions and other constraints.
He offered details on climate, saying he wants policies to be "fuel neutral," and that if renewable power tax credits are extended, oil-and-gas industry incentives should not be repealed.
Manchin's influence would likely ensure natural gas is credited in programs to cut emissions from the electricity sector.
White House climate diplomacy won't get easier. This isn't just inside baseball.
The scaled-down reconciliation plan under negotiation is unlikely to get the U.S. all the way to its new commitments under the Paris Agreement to slash greenhouse gas emissions.
That could complicate negotiations at the upcoming United Nations climate summit in one month.
If there's a deal, it'll be a bitter pill for many. Remember that progressives initially wanted a package in the $6 trillion range before a Senate deal went down to $3.5 trillion.
"$1.5 trillion would make it absolutely impossible to do what has to be done to address the climate crisis," Sen. Bernie Sanders told reporters Thursday.
The bottom line: The bipartisan plan has very substantial transit, grid and clean energy investments.
But it's the reconciliation package that Democrats are eyeing as a vehicle for vastly larger emissions-cutting provisions. Both are up in the air.
Go deeper