Scoop: Milley's blunt private blame for the State Department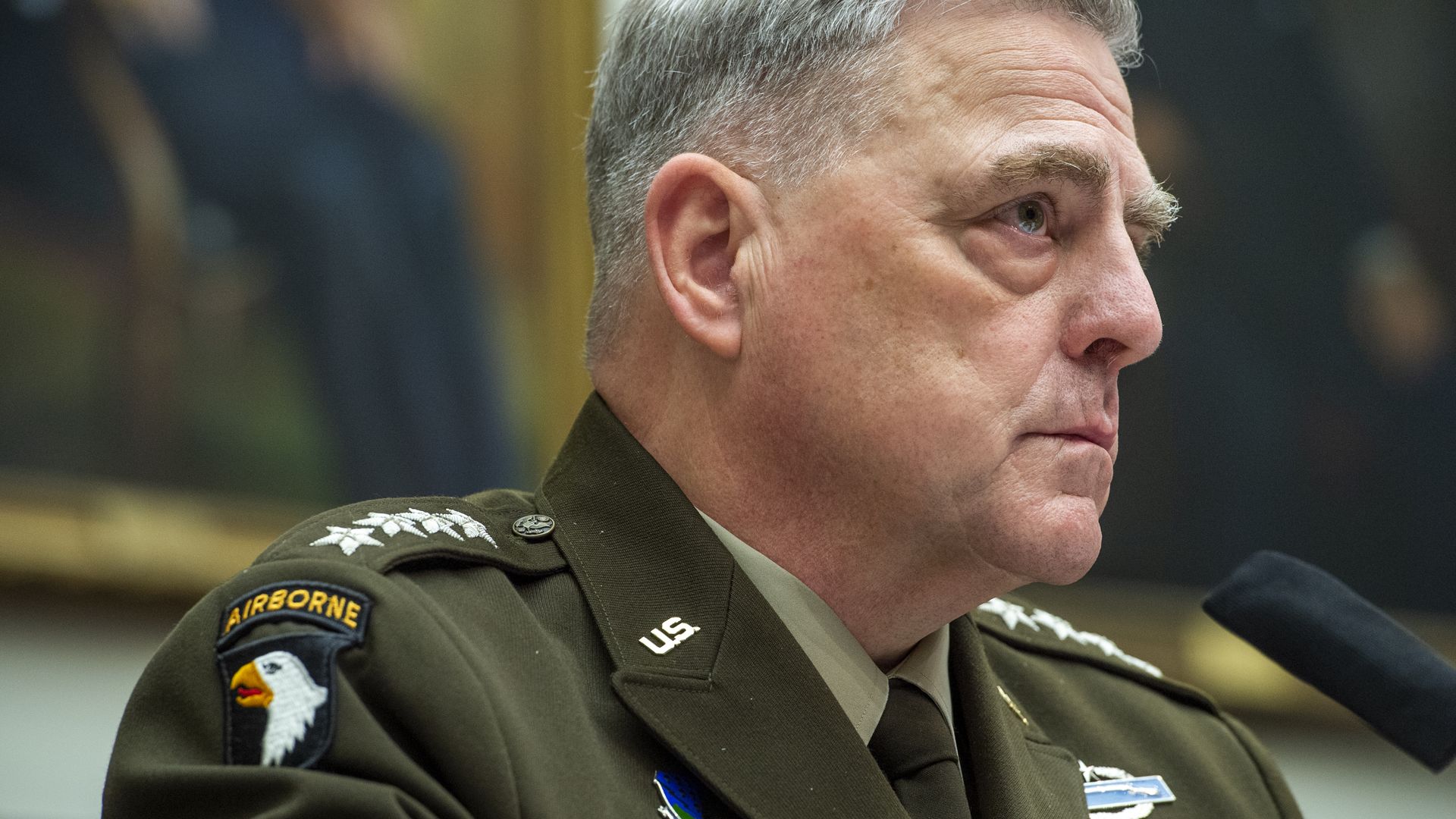 In a classified briefing with senators on Tuesday, Joint Chiefs Chairman Mark Milley directly blamed the State Department for a botched evacuation from Afghanistan, saying officials "waited too long" to order the operation out of Kabul's airport, two sources with direct knowledge of the briefing told Axios.
Why it matters: Those private remarks were far more blunt than Milley's public testimony, in which the nation's top general said the issue of whether the order should have been given earlier is an "open question that needs further exploration."
The big picture: Two days of testimony from Milley, Defense Secretary Lloyd Austin and Gen. Frank McKenzie, the head of U.S. Central Command, underscore the finger-pointing and deep divisions between the State Department and the Pentagon.
Lawmakers are demanding accountability over the Biden administration's chaotic exit from Afghanistan, including the failure to evacuate thousands of at-risk Afghan allies and leaving without evacuating all Americans.
The State Department delayed evacuations at the order of President Biden after Afghan President Ashraf Ghani warned that evacuating Afghan allies earlier would destroy morale and lead to the collapse of the government.
Republicans have called on Milley, Defense Secretary Lloyd Austin, Secretary of State Antony Blinken, White House national security adviser Jake Sullivan and even President Biden to resign.
Behind the scenes: During a closed session after Tuesday's public testimony before the Senate Armed Services Committee, Sen. Tammy Duckworth (D-Ill.) directed a general question to Austin about lessons learned from the withdrawal.
Milley jumped in to say that the evacuation of civilians — which Duckworth had not specifically asked about — needed to happen earlier.
The top U.S. general acknowledged that there's often disagreement between the State Department and Pentagon in general, but that it was particularly pronounced in this instance.
A third source, defending Milley, said the general "wasn't blaming anybody per se, but was speaking from a purely military perspective. The quicker we moved out non-combatants, the safer they would be."
How it works: The State Department is responsible for triggering what's called a noncombatant evacuation operation (NEO), which is carried out by the military.
Austin testified publicly that he ordered CENTCOM to begin preparing for a potential NEO weeks after Biden's announcement in April that the U.S. would withdraw from Afghanistan.
But the State Department did not order the mission until Aug. 14 — one day before Kabul fell to the Taliban. A senior State Department official pointed to the fact that, as Milley himself repeatedly testified, nobody believed that the Afghan security forces would collapse in 11 days.
It was only because the military had prepositioned forces in the region and run practice exercises, Austin testified, that thousands of troops were able to arrive in Kabul and secure the airport after 48 hours of chaos.
For the record: "Following the president's decision to withdraw U.S. military forces from Afghanistan, CENTCOM updated contingency planning for a non-combatant evacuation operation, in coordination with the Department of State, including Embassy Kabul," a senior administration official told Axios.
"Senior leaders from the National Security Council, State, DoD, CENTCOM and the intelligence community discussed the planning during a table-top exercise on August 6."
"During that exercise, no DoD official, civilian or military, argued for triggering a NEO. If DoD had been pushing for an earlier NEO, we would have expected to have heard those calls during the discussion."
Flashback: Blinken was the first senior Biden official to testify before Congress on Afghanistan. He faced sharp criticism and calls to resign from several Republicans but largely remained calm under pressure.
"We have to admit it was the State Department and the White House that caused this catastrophe, not the Defense Department," Rep. Mike Rogers (R-Ala.), the House Armed Services Committee's top Republican, said after hearing the generals' testimony on Wednesday.
Editor's note: This story has been updated with additional comment from a senior administration official.
Axios' Alayna Treene contributed to this report.
Go deeper