First look: GM's Mary Barra named Business Roundtable chair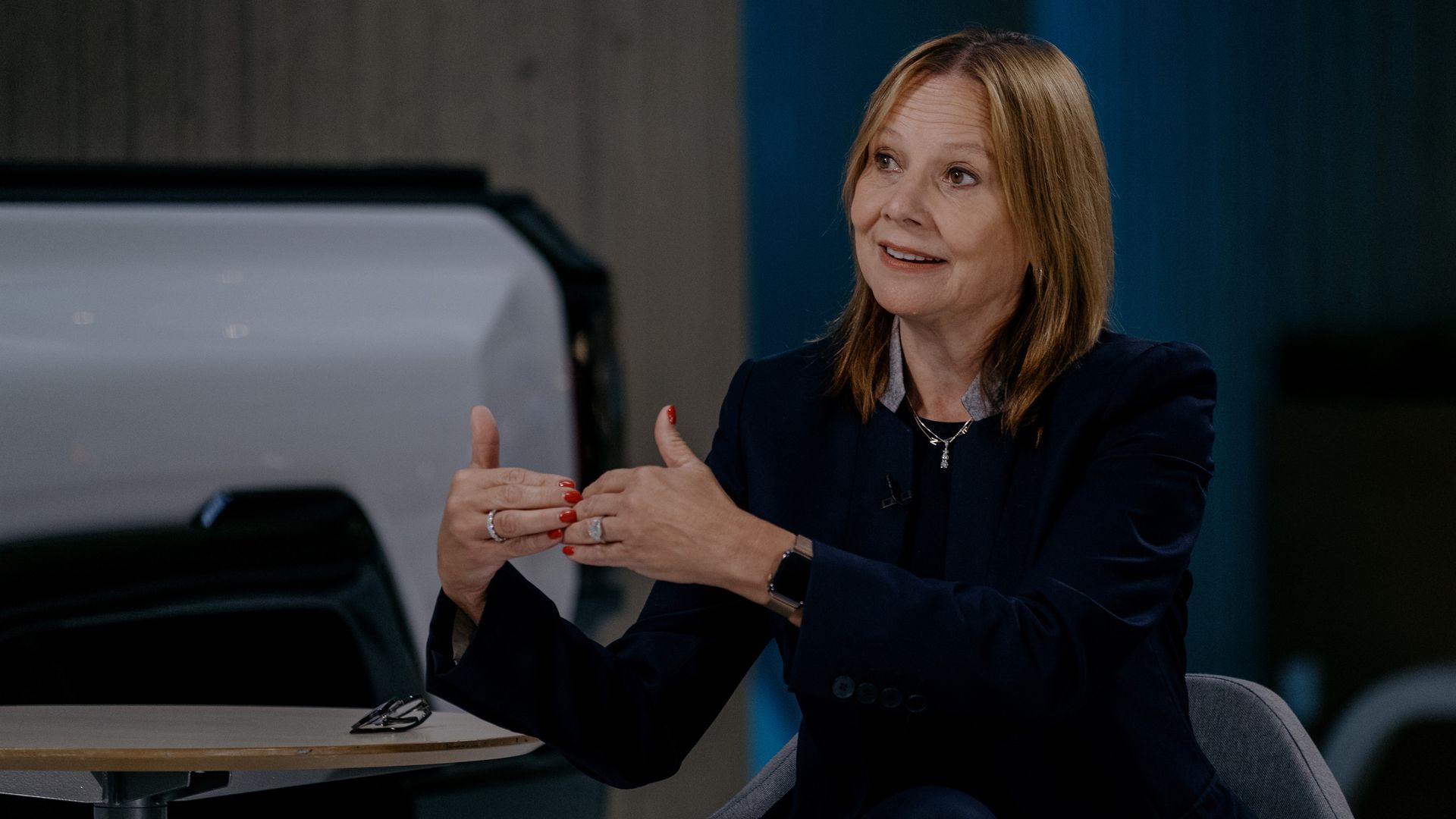 GM chair and CEO Mary Barra, a transformational leader of an iconic American company, on Wednesday was elected chair of the Business Roundtable, the association of CEOs of top American companies.
Why it matters: Barra gives the BRT its first female chair, ahead of the group's 50th anniversary next year. She has long been personally engaged on some of the most important issues for members, including climate and workforce.
Barra begins a two-year term Jan. 1. She succeeds Walmart president and CEO Doug McMillon, who began his tenure in 2020, and will remain active on BRT's board.
In presiding over BRT's response to the pandemic and the killing of George Floyd, McMillon drew on his experience as leader of a company with a presence throughout the country.
McMillon helped BRT members navigate expanded expectations of CEOs. He pushed the Roundtable and its members to lean forward on racial reckoning in substantive ways.
With a pragmatic, nonpartisan style, McMillon engaged with the White Houses of both President Trump and President Biden.
Between the lines: Barra's leadership style is pragmatic and goal-oriented, Axios' Joann Muller reports from Detroit.
Case in point: Earlier this year, when many companies were wrestling with decisions about return-to-work policies, Barra issued a simple missive to GM employees: "Work appropriately."
As she wrote on LinkedIn: "This means that where the work permits, employees have the flexibility to work where they can have the greatest impact on achieving our goals. The notion behind this approach — that our employees are capable of making smart decisions without overly prescriptive guidance — is the same notion behind our dress code, 'Dress Appropriately.'"
Barra has been active in promoting STEM education for girls, and started a cross-level networking initiative at GM to help younger women in the company connect with higher-ranking role models. 
Barra also has been an outspoken advocate on racial equity issues.
In a statement, Barra praised McMillon for BRT's "work to advance racial equity and justice. I look forward to continuing to help advance policies that offer greater economic growth and opportunity for all Americans."
BRT president and CEO Josh Bolten said that as chair of the group's Education and Workforce Committee, Barra focused on "business initiatives designed to prepare American workers for a rapidly changing economy."
McMillon praised Barra's "understanding of America's workforce and vision for the future."
Barra began her career with GM in 1980 as a General Motors Institute co-op student at the Pontiac Motor Division, her bio says. She graduated with a B.S. in electrical engineering in 1985, and got an MBA from Stanford in 1990.
Before becoming GM CEO in 2014, Barra held several executive engineering positions.
Go deeper