Exclusive: Battleground voters wary of Big Tech power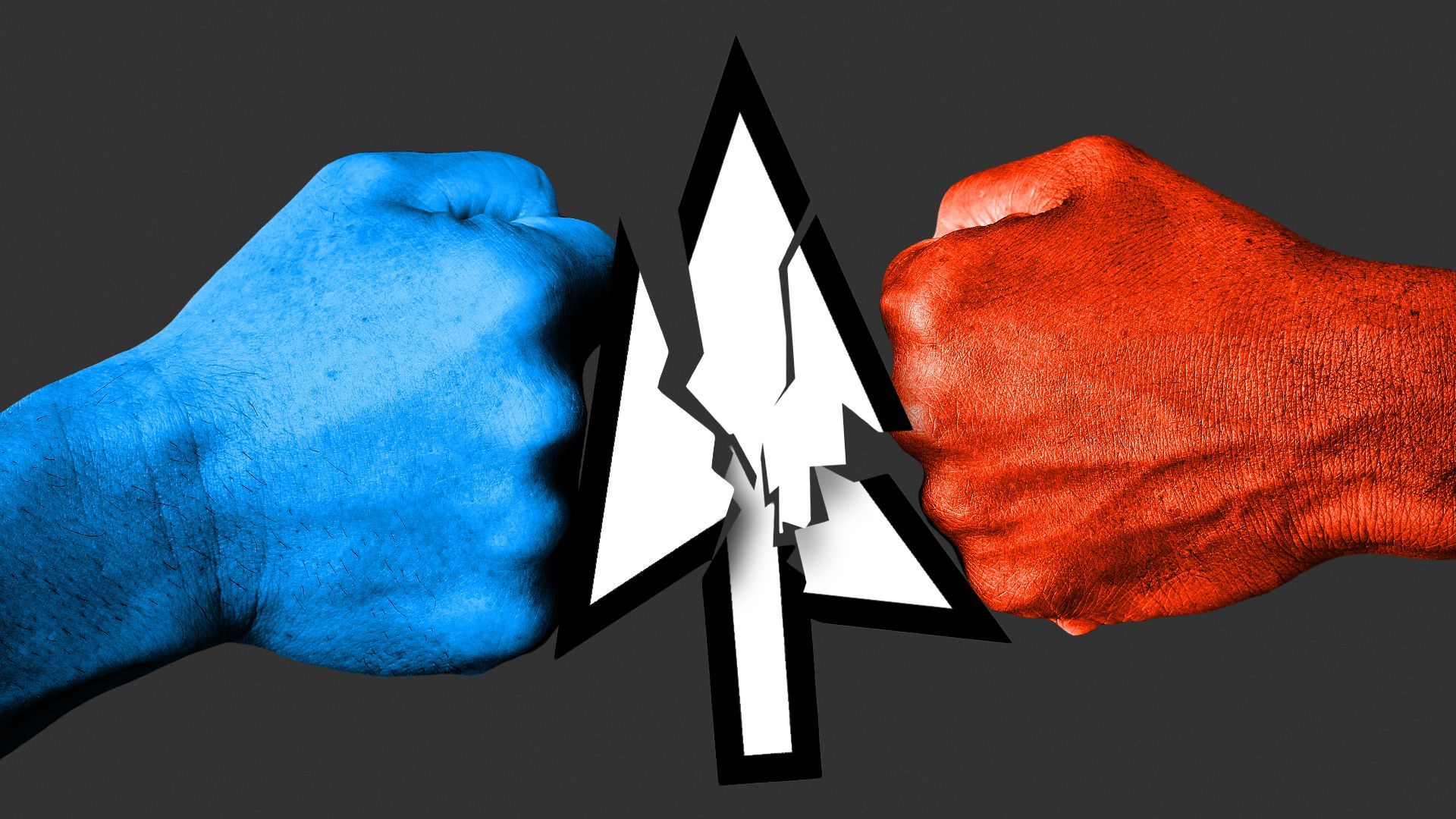 A majority of voters in battleground districts and states agree Big Tech companies are monopolies with too much power, according to new data shared exclusively with Axios — but those same voters are divided on what Congress should do in response.
Why it matters: Lawmakers from both parties in the House have backed a package of proposed new laws to rein in tech firms' power.
Reality check: When it comes to concerns about Apple, Facebook, Google and Amazon, voters polled were much more worried about privacy, data security, and whether the companies pay a fair share of taxes than they were about competition issues.
By the numbers: 57% of respondents said America's large technology companies "are monopolies that have too much power and too little competition."
72% said they were worried about the ability of small U.S. tech companies to compete with their larger U.S. counterparts.
And 63% said they were worried about the size of the largest tech companies.
Yes, but: Despite the concerns, just under half (49%) said tech companies have grown so big and powerful that Congress needs to break them up or strongly regulate them.
Instead, 51% said they agreed more with the view that "American technology companies are highly innovative and competitive, so Congress shouldn't intervene with heavy-handed regulation."
Voters were split evenly on the impact breaking up companies could have.
Half said that not breaking up tech companies would harm consumers and the economy. The other half worried that break-ups could cause the firms to fail, hurting workers and consumers.
66% view the success of Apple, Amazon, Google, and Facebook as a good thing for American workers and the economy.
How it worked: Polling firm Expedition Strategies conducted 2,000 interviews in 44 battleground House districts and 9 Senate battleground states from August 2-8 on a range of tech issues.
The poll was commissioned by the Progressive Policy Institute, a think tank that has received funding from Big Tech companies including Facebook, Google and Amazon.
What they're saying: "Despite worries about monopolies, worries about competition, they don't seem to be clamoring for break-ups or super-stringent regulations," Progressive Policy Institute president Will Marshall told Axios.
"What I take away from this is there's no public groundswell for eviscerating these tech companies, as people on the left and right ends of the spectrum have called for."
What Congress should do: Still, 54% of voters polled said they support regulations that would break up big technology companies and ban them from buying other businesses.
But some of the outcomes critics say would result from the tech antitrust legislation under consideration in the House received much less support.
For example, 73% opposed requiring Google to shut down or sell off YouTube or Google Maps, and 70% opposed prohibiting Amazon from selling its own products on its platform.
"We're some ways away from the point where voters are going to concentrate on the question of what they might lose in a breakup of these big companies," Marshall told Axios. "And I think when they do, we'll find that these are services and goods they don't want to lose."
The big picture: Previous polls on Big Tech sentiment have shown growing evidence of bipartisan support among voters for action against the companies.
"People, even those who have happier views of these companies, recognize that there is a need for limitations over how far of a reach these companies can have," Sean McElwee, executive director of progressive polling firm Data for Progress, told Axios.
Go deeper