The Democrats' debt dilemma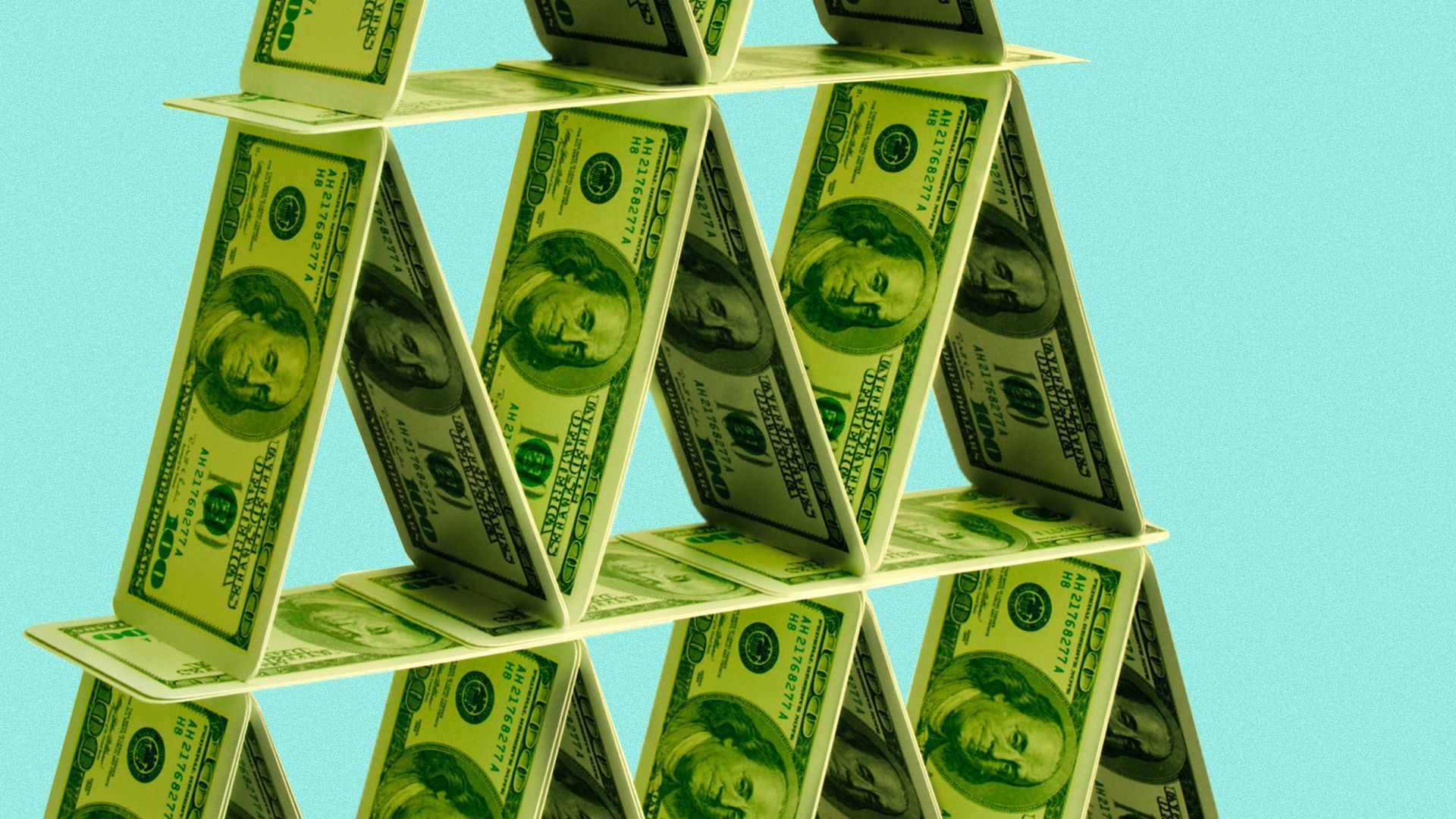 Democrats find themselves in a political and potentially catastrophic economic quagmire as Republicans stand firm on denying them any help in raising the federal debt ceiling.
Why it matters: The Democrats are technically right — the debt comes, in part, from past spending by President Trump and his predecessors, not only President Biden's new big-ticket programs. But Senate Minority Leader Mitch McConnell (R-Ky.) is saddling them with the public relations challenge of making that distinction during next year's crucial midterms.
Just as he did by delaying the Supreme Court nomination of Merrick Garland, McConnell is creating his own justification. He insists Democrats have to raise the ceiling themselves, since they control not only the White House but both chambers of Congress.
Never mind that Democrats helped GOP lawmakers suspend the debt ceiling three times during the Trump administration, including to help pay for a $2 trillion tax cut McConnell shepherded through a Republican Congress and onto the Republican president's desk, as well as coronavirus relief bills that cost more than $3 trillion.
The risk now — however remote — is that the federal government will default on its debt. Since that would cause irreparable damage to the economy and global financial markets, Democrats are unlikely to let that occur — ultimately forcing them to do what McConnell wants.
As Axios' Lachlan Markay and Hans Nichols reported Sunday, conservative groups are preparing huge ad-buys going after vulnerable House Democrats over tax increases and other revenue measures in Biden's massive $3.5 trillion infrastructure spending bill.
The Democrats themselves are divided on the current spending, only adding to the confusion that voters confront now and as they weigh congressional candidates next fall.
"Progressives are demanding the centrists support the $3.5 trillion, Democrat-only bill before the progressives vote to pass the $1.2 trillion bipartisan infrastructure package that's already passed the Senate," Markay and Nichols wrote.
Senate Democrats are making their case, but their Republican colleagues have yet to offer any hope of blocking McConnell's plan.
Sen. Angus King (I-Maine): "It's exactly like charging something on your credit card, and then not paying the credit card bill when it comes. ... This is to pay for spending that many of them voted for over the last several years."
Sen. Tim Kaine (D-Va.): "I have been saying we should [raise the debt ceiling] in reconciliation and I continue to believe that." Kaine said he doesn't know why Democratic leaders are so adamant about getting Republicans to vote for it.
Sen. Kevin Cramer (R-N.D.): "I think he's handling it perfectly," referring to McConnell.
Sen. John Barrasso (R-Wyo.): "Every other time the debt ceiling has been raised, it involves bipartisan discussion on how to get spending under control. ... There should be discussions of how to get spending under control — not full speed ahead with another few trillion."
Go deeper