Pence seeks $18 million war chest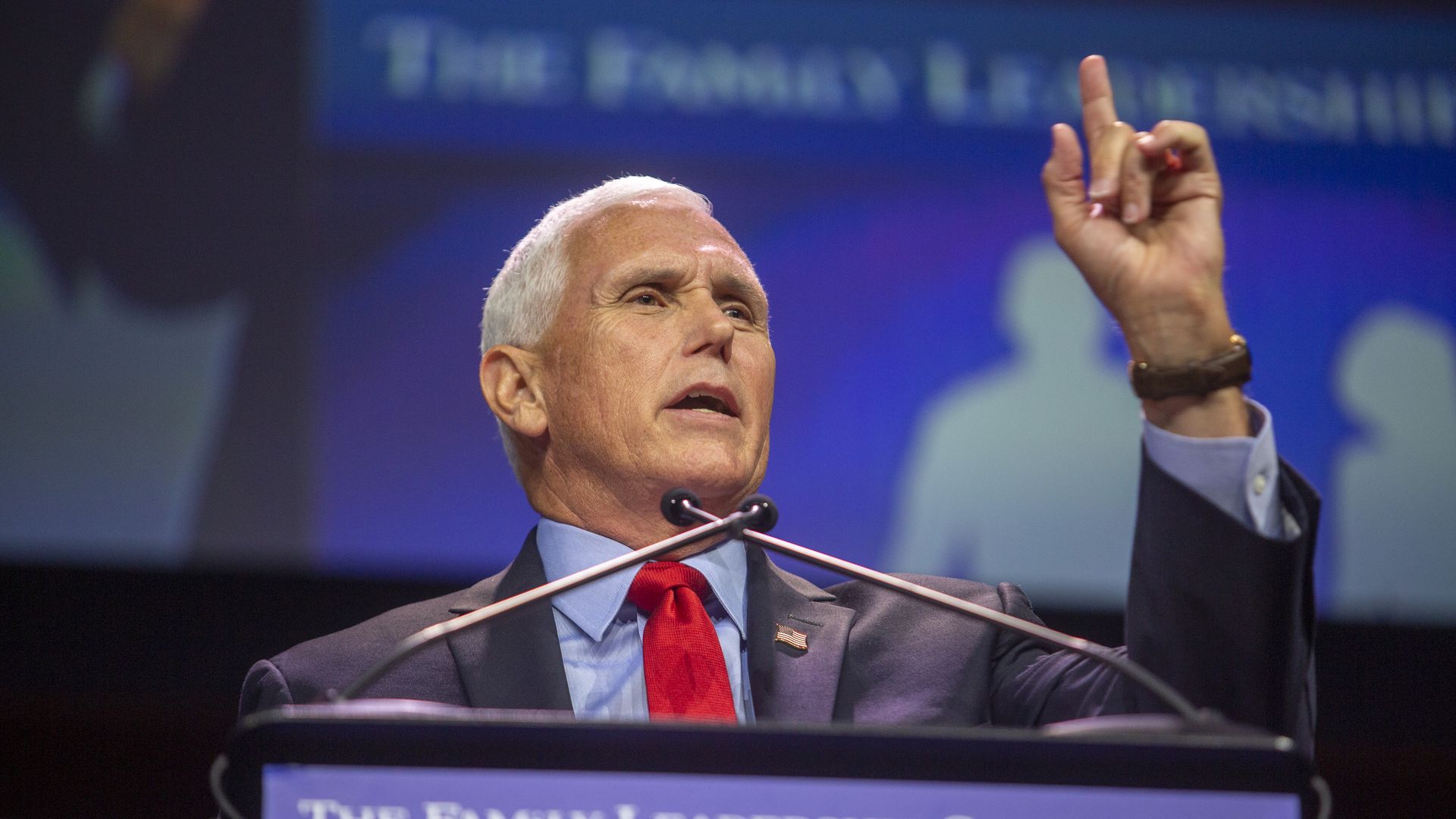 Mike Pence is positioning himself for a 2024 presidential run by aiming to raise a whopping $18 million this year, Axios has learned.
Why it matters: While polls show Donald Trump as an early Republican favorite, his former vice president also has been making moves to be a candidate. His group, Advancing American Freedom, is shaping up as a vehicle for testing the waters and building the infrastructure needed for a White House bid.
Driving the news: The group is staffed by some of Pence's top allies and ex-aides, including former chief of staff Marc Short, political adviser Marty Obst and former senior Trump White House staffer Paul Teller.
Donors at a recent retreat in Jackson Hole, Wyoming, were asked to chip in a percentage of the target sum, the source said.
AAF has also enlisted three fundraising firms to help build up its war chest, according to filings with state charity regulators.
A source familiar with the group's operations told Axios it's aiming to raise $18 million during its first year — a huge sum for a new nonprofit group that doesn't offer its donors a tax break.
Between the lines: AAF has served as a post-government platform for Pence to pursue his brand of social conservative advocacy and promote his various media appearances.
Since the group launched in April, it's spent about $60,000 on digital ads promoting the Indiana Republican and asking for contributions.
If Pence seriously eyes a 2024 run, AAF could provide a platform for pre-campaign activities such as polling and candidate travel. If he enters the race, it could pour a chunk of its funds into a supportive political group.
The big picture: A Pence run is looking like a stronger possibility as he attends political events in key presidential swing states.
He's also been fundraising for high-profile Republicans this year, including House Minority Leader Kevin McCarthy (R-Calif.), Virginia gubernatorial candidate Glenn Youngkin and Iowa Republican Rep. Randy Feenstra.
AAF also is burnishing Pence's social conservative bona fides with a pair of briefs filed with the Supreme Court.
One seeks to overturn Roe v. Wade and the other aims to strike down limits on state education funding for religious schools.
Yes, but: Pence's standing among the Trump faithful remains shaky after he defied the former president's demand to withhold certification of Joe Biden's election victory in January.
Far from trying to walk back or obscure that split, though, Pence is leaning into his decisive role on Jan. 6.
When excerpts of a new book by Bob Woodward and Robert Costa released this week reported that Pence asked former Vice President Dan Quayle about ways to avoid certifying the election results, a spokesperson called the reporting a "gross embellishment."
Pence, he said, "never wavered in his commitment to the Constitution."
Go deeper