Biden's muddled China policy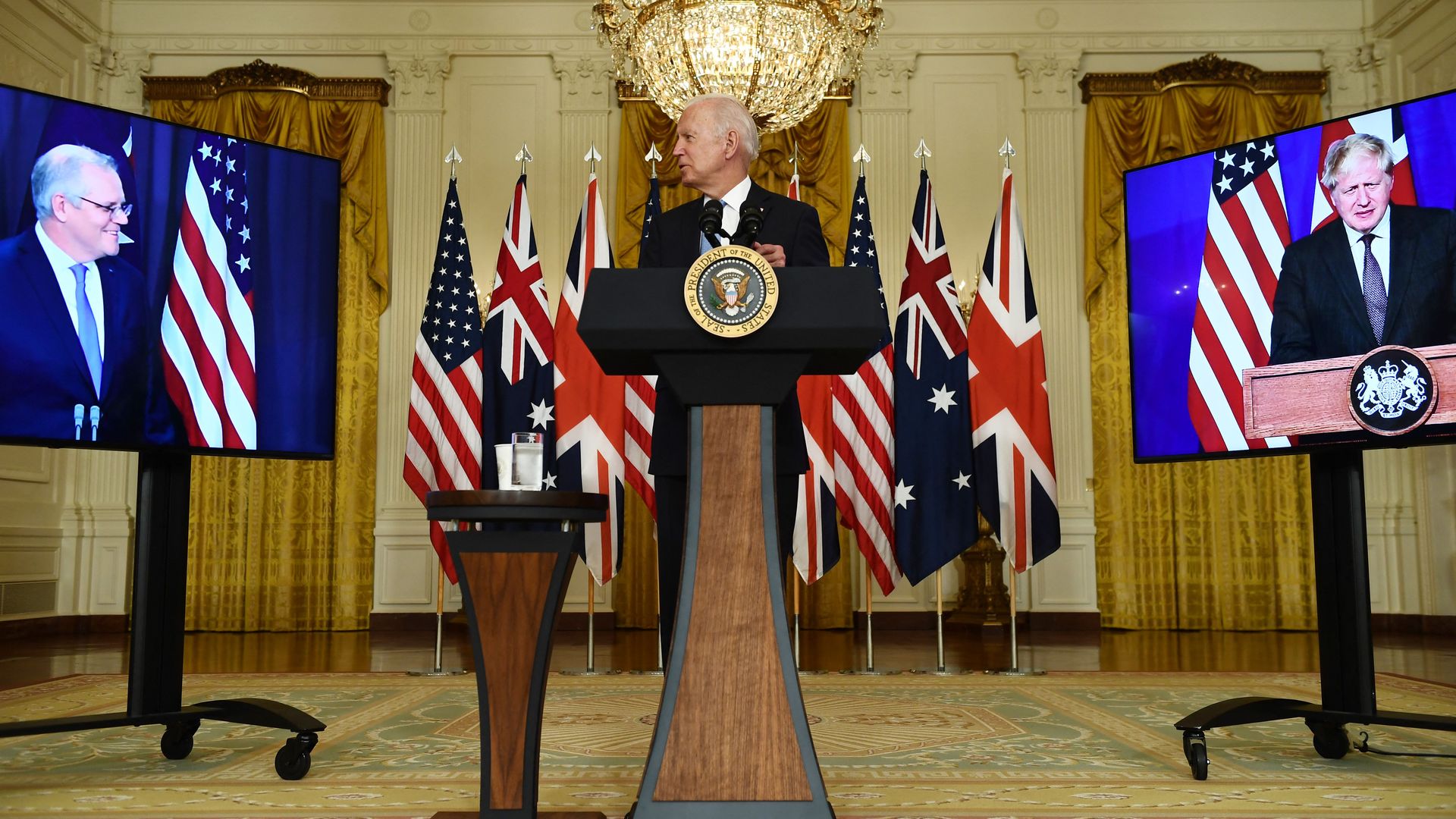 President Biden came into office with a plan for dealing with China that sounded great in theory but's failing in practice.
Why it matters: The idea was to confront China aggressively on a range of issues — from trade abuses to human rights — while working cooperatively on areas of mutual interest, including climate change. A new plan to help Australia acquire nuclear submarines makes that both-ways approach even less realistic.
The subtext is hardly subtext: Despite declining to cite China by name, the announcement sends a strong signal about the U.S. commitment to countering China's naval activities in the Indo-Pacific region, and will undoubtedly draw backlash in Beijing.
A senior administration official who briefed reporters ahead of the formal announcement was grilled about why they refused to state the obvious about China being at the center of the decision.
The official responded curtly: "I have nothing further to add than what I've said. This is not aimed at any one country."
Biden has labeled his approach to China as "extreme competition," but the Chinese aren't buying it.
Under the president's theory, the Chinese would be willing to compartmentalize.
China, the argument goes, would be willing to overlook America's criticisms of their state-sponsored hacking, genocide in Xinjiang and trade theft, and sit down with Biden's climate envoy, John Kerry, to hash out a deal on climate change — one of Biden's top international priorities.
But, but, but: Chinese officials have already made it abundantly clear they won't accept the theories. They humiliated Kerry when he visited China two weeks ago.
As Axios reported, President Xi Jinping's senior officials would only speak with Kerry by video call, sending a junior official to meet the former secretary of State in person.
The same Chinese officials met with a Taliban delegation in person just weeks earlier.
Biden's team has seemingly acknowledged it's not making progress with the Chinese. The president himself called Xi last Thursday night to see if leader-to-leader dialogue would break the impasse.
Driving the news: The new policy Biden announced on Wednesday will make his have-your-cake-and-eat-it-too China strategy even more untenable.
The U.S. and the U.K. plan to help Australia acquire nuclear-powered submarines as part of a trilateral security pact designed to "promote stability" in the Indo-Pacific.
The official who discussed the plan with reporters said the president did not raise the partnership in any specific terms when he spoke to Xi.
The White House had previously said that phone call was intended to "set guardrails" in the U.S.-China relationship and prevent "stiff competition" from spiraling into outright conflict.
What they're saying: "If our president is telling President Xi we want guardrails and we want safety mechanisms around the military activities, but then we amp up the pressure on military, that's probably going to put an end to any such discussions pretty quickly," Chris Johnson, a former top CIA China analyst, told Axios.
What's next: The White House is looking to rally international support for new tariffs in response to China's unfair use of industrial subsidies.
It's also reportedly considering a request to allow Taiwan to change the name of its representative office in Washington — a symbolic step that would outrage Beijing.
Go deeper