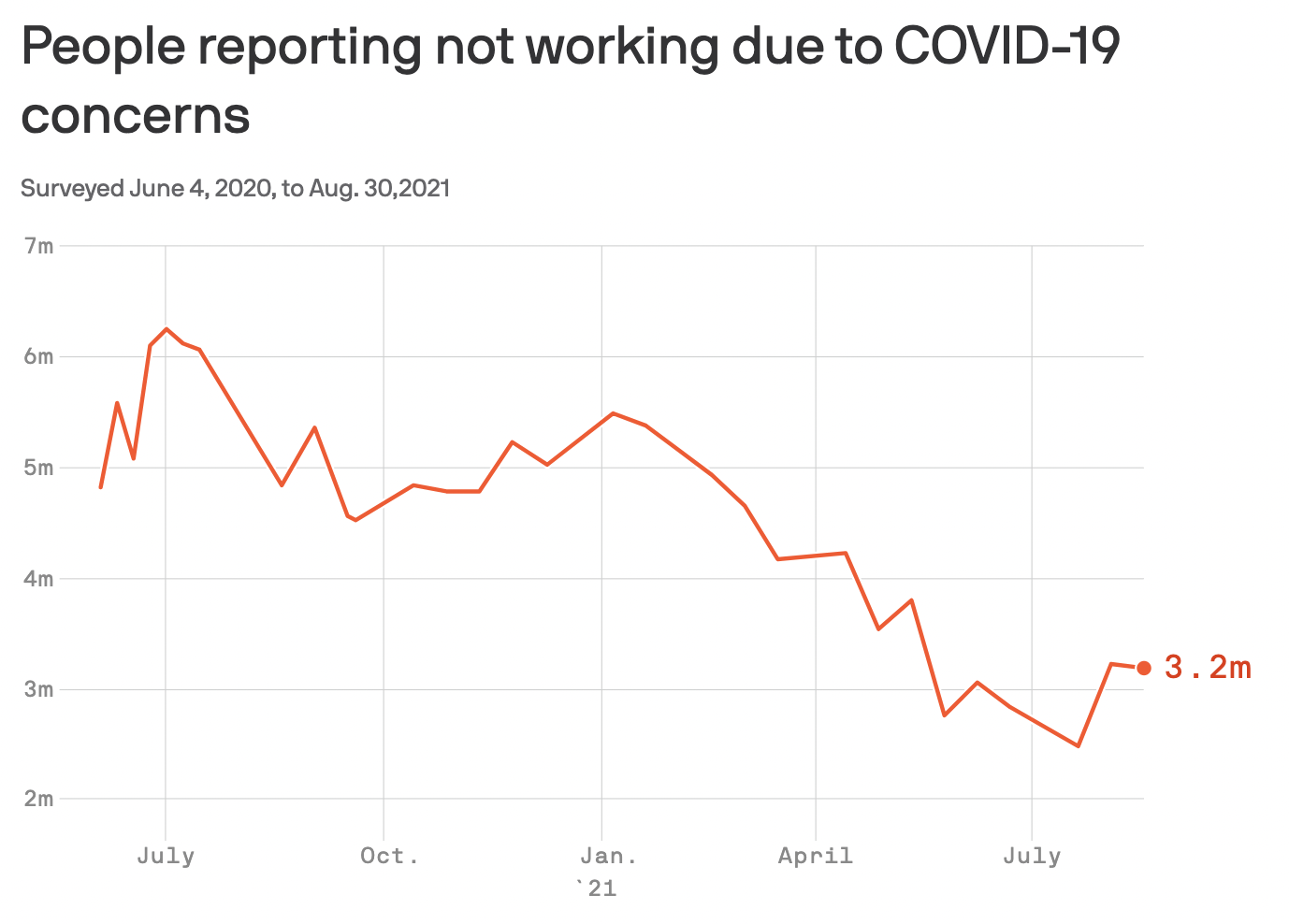 COVID concerns are keeping a growing number of Americans out of the labor market.
Why it matters: The wave of Delta variant infections over the past two months has renewed worker fears, which threatens to exacerbate ongoing labor shortages.
It's a reversal from earlier in the summer when the distribution of COVID-19 vaccines enabled employers to fill open jobs for months as workplace safety improved.
By the numbers: According to the Census Household Pulse Survey (conducted Aug. 18-30) released Wednesday, 3.2 million Americans said they were not working because they were "concerned about getting or spreading the coronavirus."
This is up from the low of 2.5 million in the July 21 to Aug. 2 survey.
The number peaked at 6.24 million in July 2020 but has been trending lower ever since.
Flashback: The U.S. economy added just 235,000 jobs in August, well short of economists' expectation for 725,000 jobs and a sharp deceleration from the 1.05 million jobs created in July.
According to Friday's report, 5.6 million people said they were "unable to work because their employer closed or lost business due to the pandemic."
The big picture: The Census data confirms the argument that recent weakness in the hiring data is a supply issue, not a deterioration in demand.
Indeed, another batch of recent labor market data released Wednesday showed there was a record 10.9 million jobs openings in the U.S. in July.
And the Federal Reserve's latest Beige Book, which collects business anecdotes, noted that "Demand for workers continued to strengthen, but all Districts noted extensive labor shortages that were constraining employment and, in many cases, impeding business activity."
"Overall demand for workers remains strong, and with cases appearing close to peaking, the Delta surge is only a temporary setback for the labor market's recovery," Wells Fargo senior economist Sarah House tells Axios.
Yes, but: "But the effect of the variant could linger and extend into September, depending on how the health situation evolves and if it impacts school reopenings," Rubeela Farooqi, chief U.S. economist at High Frequency Economics, tells Axios.
"That will have implications for both labor demand and supply."
What to watch: Evidence from economic reports and corporate announcements has mostly blamed short-term shortfalls on supply chain issues and labor shortages, which suggests demand is just being delayed. It'll be a much bigger problem for the economy if demand is actually weakening.
Go deeper