Justice Department is suing Texas over new abortion ban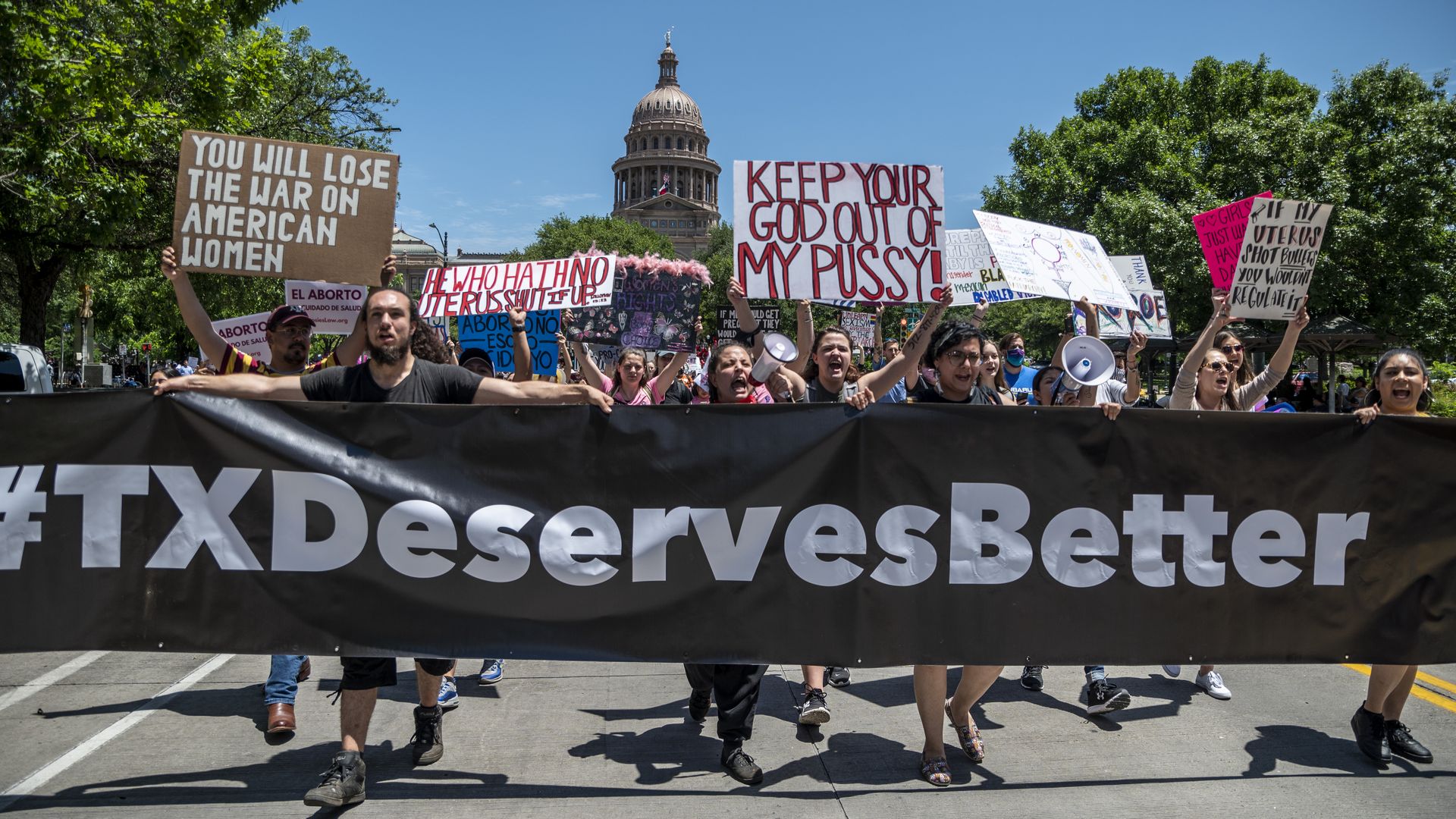 The Justice Department has sued Texas over its new law banning abortions after six weeks, Attorney General Merrick Garland said in an announcement Thursday, calling the law "clearly unconstitutional."
Driving the news: The lawsuit comes after Garland vowed to "protect those seeking to obtain or provide reproductive health services," adding that "[w]e will not tolerate violence against those seeking to obtain or provide reproductive health services."
The Supreme Court, in a 5-4 vote, allowed Texas' Senate Bill 8 to go into effect earlier this month. The court's three liberal justices — Elena Kagan, Sonia Sotomayor and Stephen Breyer — along with Chief Justice John Roberts dissented.
Details: "Texas enacted S.B. 8 in open defiance of the Constitution," the DOJ said in their complaint.
The DOJ argues that Texas "adopted an unprecedented scheme 'to insulate the State from responsibility'" by allowing private citizens to enforce the law because state officials allegedly know that the law "violates the Constitution."
"It takes little imagination to discern Texas's goal — to make it too risky for an abortion clinic to operate in the State, thereby preventing women throughout Texas from exercising their constitutional rights, while simultaneously thwarting judicial review," it adds.
"The United States therefore seeks a declaratory judgment that S.B. 8 is invalid" and it "also seeks an order preliminarily and permanently enjoining the State of Texas, including its officers, employees, and agents, including private parties who would bring suit under the law, from implementing or enforcing S.B. 8."
What they're saying: Garland cited the 1992 Supreme Court case Planned Parenthood v. Casey, which upheld the right to an abortion, by saying: "Regardless of whether exceptions are made for particular circumstances, a state may not prohibit any woman from making the ultimate decision to terminate her pregnancy."
When asked about other states that would follow Texas' example to restrict abortion, Garland responded, "If another state uses the same kind of provisions to deprive its citizens of their constitutional rights and in particular to deprive their citizens with the ability to seek immediate review, we will bring the same kind of lawsuit."
The big picture: Other states' attempts to enact similar abortion bans have often been struck down by federal or state courts. However, the Texas law differs because it gives private citizens the power to enforce the law instead of the state.
Roberts called the move "not only unusual, but unprecedented," adding that he would have temporarily blocked the law to allow lower courts to debate whether Texas "can avoid responsibility for its laws in such a manner."
"This kind of scheme to nullify the Constitution of the United States is one that all Americans, whatever their politics or party, should fear. If it prevails, it may become a model for action, in other areas, by other states and with respect to other constitutional rights and judicial precedents," Garland said.
Of note: The law, which is the most restrictive abortion ban in the U.S., is already being challenged by several reproductive rights groups.
Read the DOJ's complaint here:
Go deeper:
Go deeper