Biden mandates COVID vaccines for federal workers, with no option for testing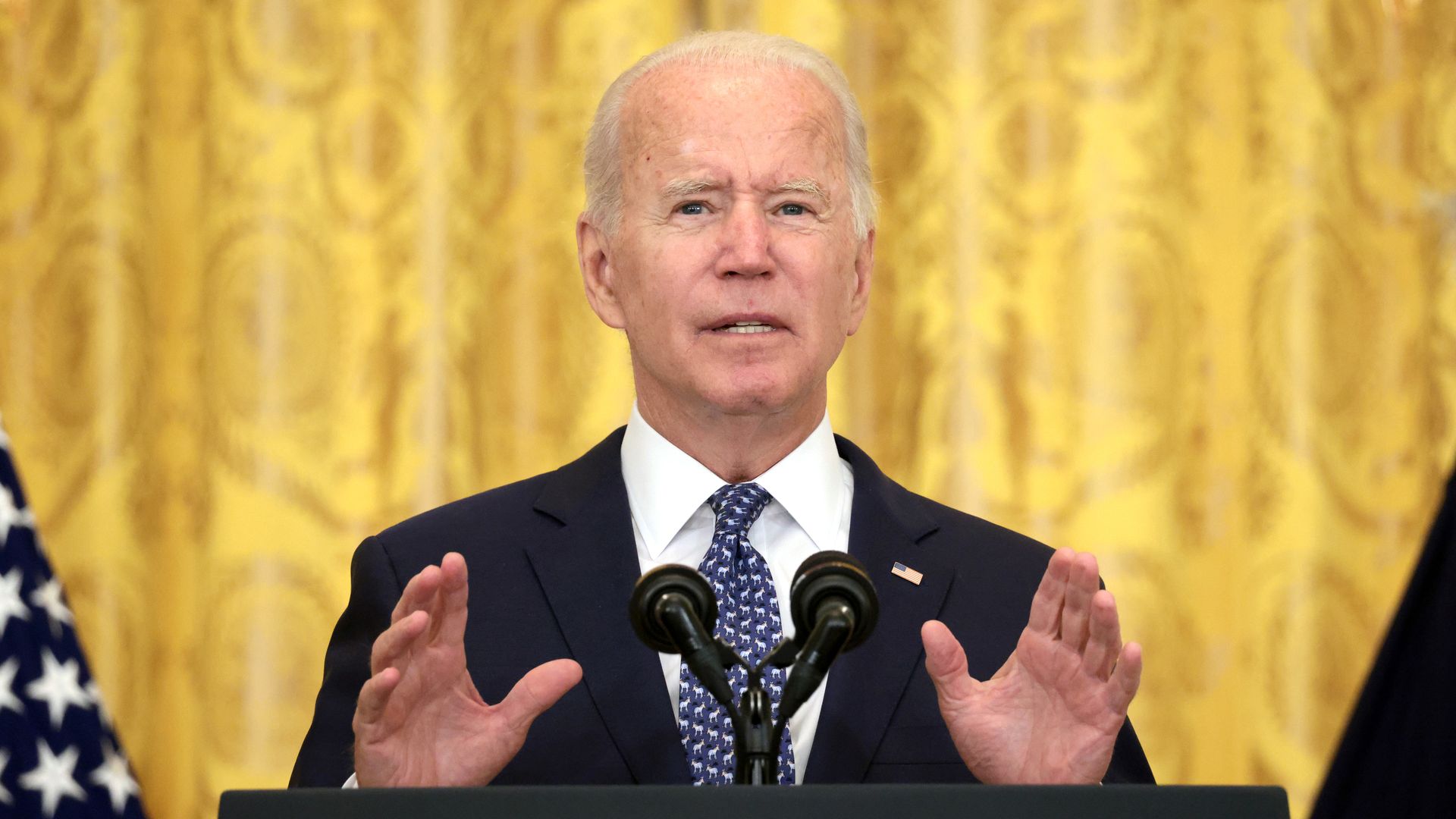 President Biden on Thursday signed executive orders requiring most federal employees to get the COVID vaccine, without the option of getting regular testing instead.
Why it matters: The orders go further than the Biden administration's previously announced policy, which required federal workers to be vaccinated or follow other rigorous safety protocols, including regular testing.
Driving the news: "The expectation is if you want to work in the federal government or be a contractor, you need to be vaccinated," White House press secretary Jen Psaki said Thursday.
Federal employees will have about 75 days to get fully vaccinated from the time the executive order is signed, Psaki said.
The vaccine requirement will include exemptions for individuals with disabilities and objections on religious grounds.
The big picture: Biden also extended the mandate to employees of contractors that do business with the federal government.
The Department of Defense, the Department of Veterans Affairs, the Indian Health Service and the National Institute of Health will complete their previously announced vaccination requirements, which cover about 2.5 million people, per a source familiar with the plans.
The Department of Labor will require employers to give employees paid time off to get vaccinated.
Workers in hospitals, home health care facilities and other medical facilities will also be mandated to get the vaccine — a total of 17 million people.
The announcement comes amid a surge in cases and hospitalizations largely driven by the Delta variant.
The administration is also committing $2 billion to purchase nearly 300 million rapid tests for distribution to community health centers, food banks, schools, etc. 
What he's saying: "This is not about freedom or personal choice," Biden said in a national address on Thursday. "It is about protecting yourself and those around you, the people you work with, the people you care about, the people you love."
"What makes it incredibly more frustrating is we have the tools to combat covid-19 and a distinct minority of Americans supported by a distinct minority of officials are keeping us from turning the corner," he said.
"These pandemic politics, as I refer to it, are making people sick, causing unvaccinated people to die."

"My message to unvaccinated Americans is this: what more is there to wait for?" he added. "We've been patient but our patience is wearing thin and your refusal has cost all of us. So, please, do the right thing."
"Listen to the voices of unvaccinated Americans who are lying in hospital beds taking their final breath saying, 'If only I had gotten vaccinated.' It is a tragedy. Please don't let it become yours."
Editor's note: This story has been updated with additional details.
Go deeper