Study: Vast majority of fossil fuels needs to stay in ground to hit Paris targets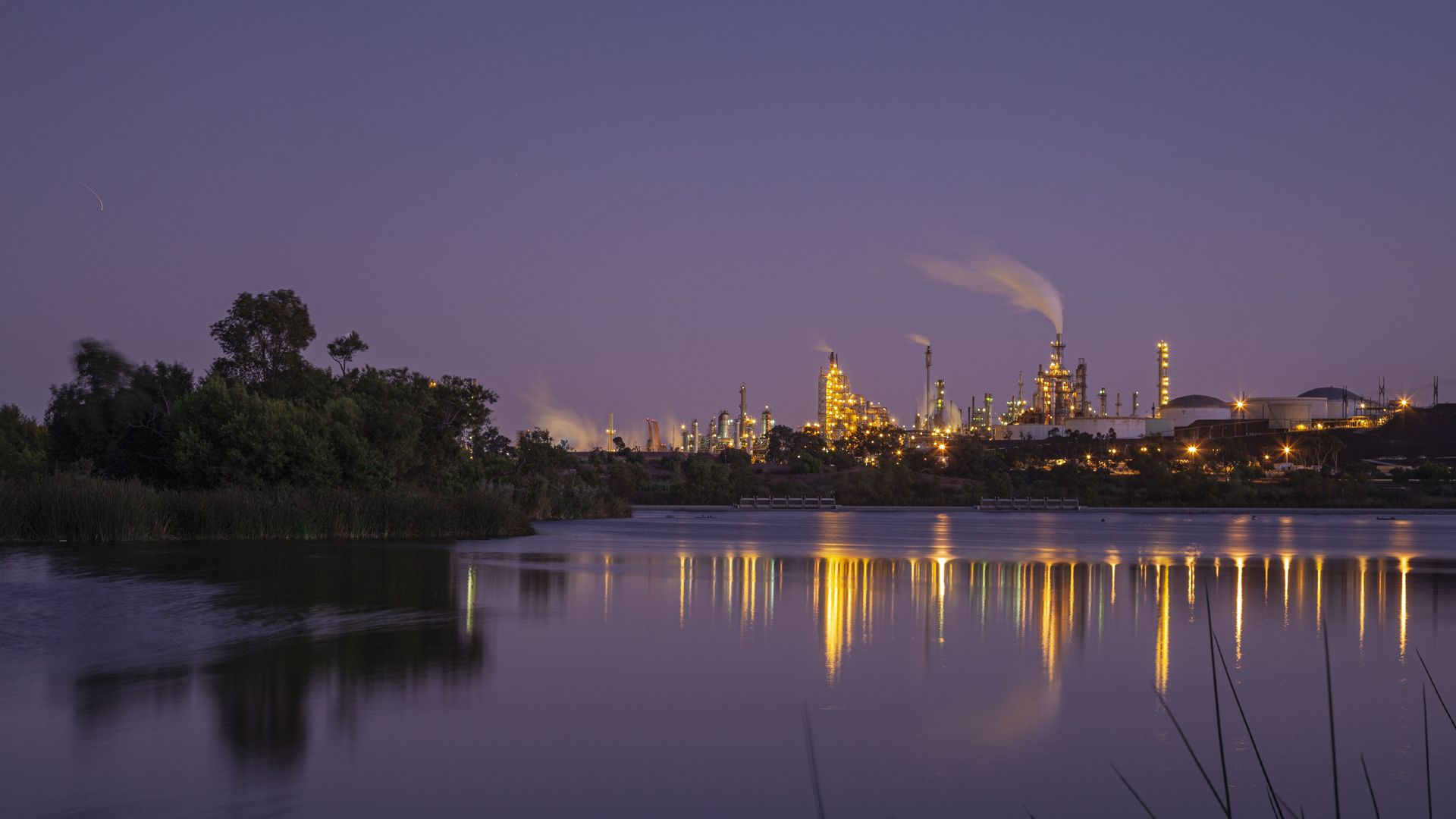 Vast quantities of oil, natural gas and coal need to stay in the ground in order for the world to have even a 50% chance of meeting the Paris Climate Agreement's temperature target, a new study finds.
Why it matters: The research paints a stark picture of a world in which fossil fuel production must begin declining either now or within the next few years.
Context: The study, published in Nature, provides a fresh perspective after a 2015 paper looked at regional differences in so-called "unburnable" carbon. The new paper takes into account the Paris Agreement's goals and new scenarios of economic development and emissions.
It takes a regional approach and examines the economics, including the cost of production, in specific areas, and how much carbon is contained in the fuels coming from certain areas — Canada's oil sands, for example, are particularly carbon intensive. '
What they found: The researchers from the University College of London found that "very high shares of [fossil fuel] reserves considered economic today would not be extracted" if the world is to meet the 1.5°C (2.7°F) temperature target.
The study finds that overall, about 60% of oil and natural gas reserves and nearly 90% of coal reserves would have to be left in the ground in order to meet the Paris target. All undeveloped Arctic oil and gas resources would need to be left untouched, the study states.
The global peak in oil and natural gas production would need to have occurred last year in order to meet the Paris targets, the study finds.
"The broad takeaway here is that while we will not stop using fossil fuels tomorrow, we will have to begin quickly phasing them out to limit warming to 1.5°C, with coal going first followed by oil and gas," Zeke Hausfather, director of climate and energy at The Breakthrough Institute, who was not affiliated with the study, told Axios via email.
By the numbers: The scientists looked at the unequal burden facing certain countries, such as Canada, that would have to curtail their oil and gas production more than other nations.
For example, 83% of Canada's oil reserves would not be extractable under a 1.5-degree scenario, including 84% of the 49 billion barrels of estimated proven reserves in the oil sands region.
The U.S., by contrast, would see oil production growth to 2025 before declining at a constant rate through 2050, the study states.
Between the lines: The study warns of "huge transition risks" for countries whose economies are heavily dependent on oil and gas production, such as Bahrain, Saudi Arabia and Kuwait.
"As countries get serious about addressing climate change the economics and such investments are going to start looking increasingly problematic," said study co-author Steve Pye, during a press briefing.
The research is also a likely underestimate, the researchers note, due to some reliance on as-yet unproven carbon removal technologies toward the latter half of the century.
What they're saying: "While the warnings of peak oil in the 2000s turned out to be false, there is a much clearer case to be made for peak oil this decade; not because we run out of cheap oil to produce, but because we hit peak demand due to falling costs of EVs and other clean energy technologies," Hausfather said.
Jason Bordoff, co-founding dean of the Columbia Climate School, told Axios the world is far off course from meeting the Paris targets, which makes it essential that governments enact policy measures that incentivize leaving proven reserves in the ground.
Go deeper