Tropical Depression Ida brings threat of flash flooding across Southeast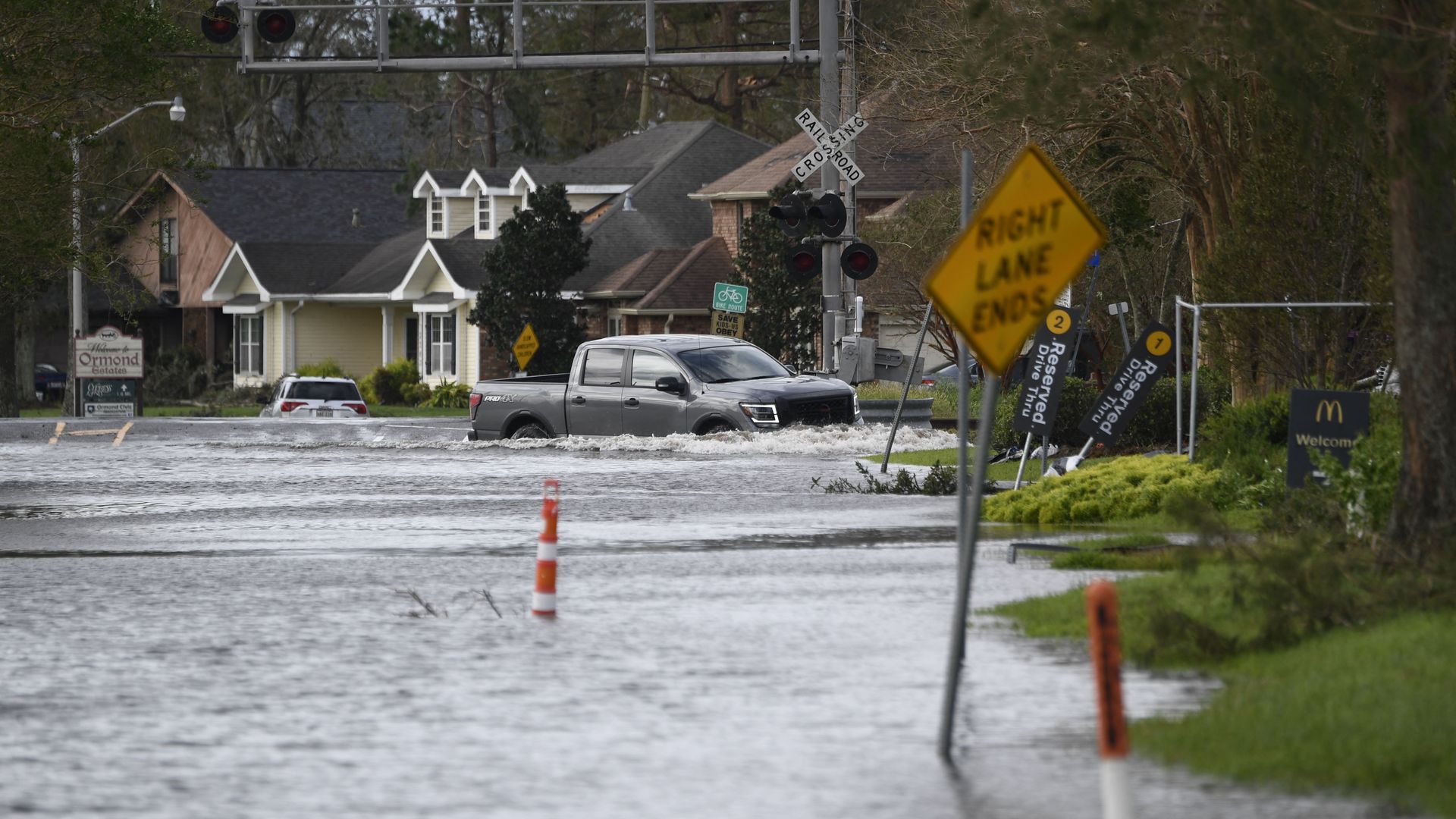 The deadly former Hurricane Ida was bringing heavy rains, "dangerous" flash flooding, storm surge and extreme winds as the tropical depression moved northeast across Mississippi overnight.
Threat level: "Ida will continue to produce heavy rainfall tonight through Tuesday morning across portions of southeast Louisiana, Mississippi, and western Alabama, resulting in considerable flash and urban flooding and significant river flooding impacts," the National Hurricane Center warned.
The agency added that as Ida moves inland, "additional considerable flooding impacts" are likely across portions of the Tennessee Valley, the Ohio Valley, and particularly in the Central and Southern Appalachians, into the Mid-Atlantic through Wednesday.
As of 10 p.m. ET, Ida was some 80 miles north-northeast of Jackson, Miss., with maximum sustained winds of 35 mph, according to the NHC. It continued to crawl northeast at 10 mph.
State of play: More than 1 million people, including most of New Orleans, remained without power as of early Tuesday, per poweroutage.us. In Mississippi, nearly 60,000 customers had lost power.
"It will likely take days to determine the extent of damage to our power grid and far longer to restore electrical transmission to the region," Energy provider Entergy Louisiana tweeted Monday.
White House press secretary Jen Psaki said: "We're working with companies to get the power back on. That could take weeks. We don't know."
New Orleans officials urged those who evacuated to not return "until further notice," saying "there is widespread debris, power remains out, and emergency services are working to respond to those still in the city."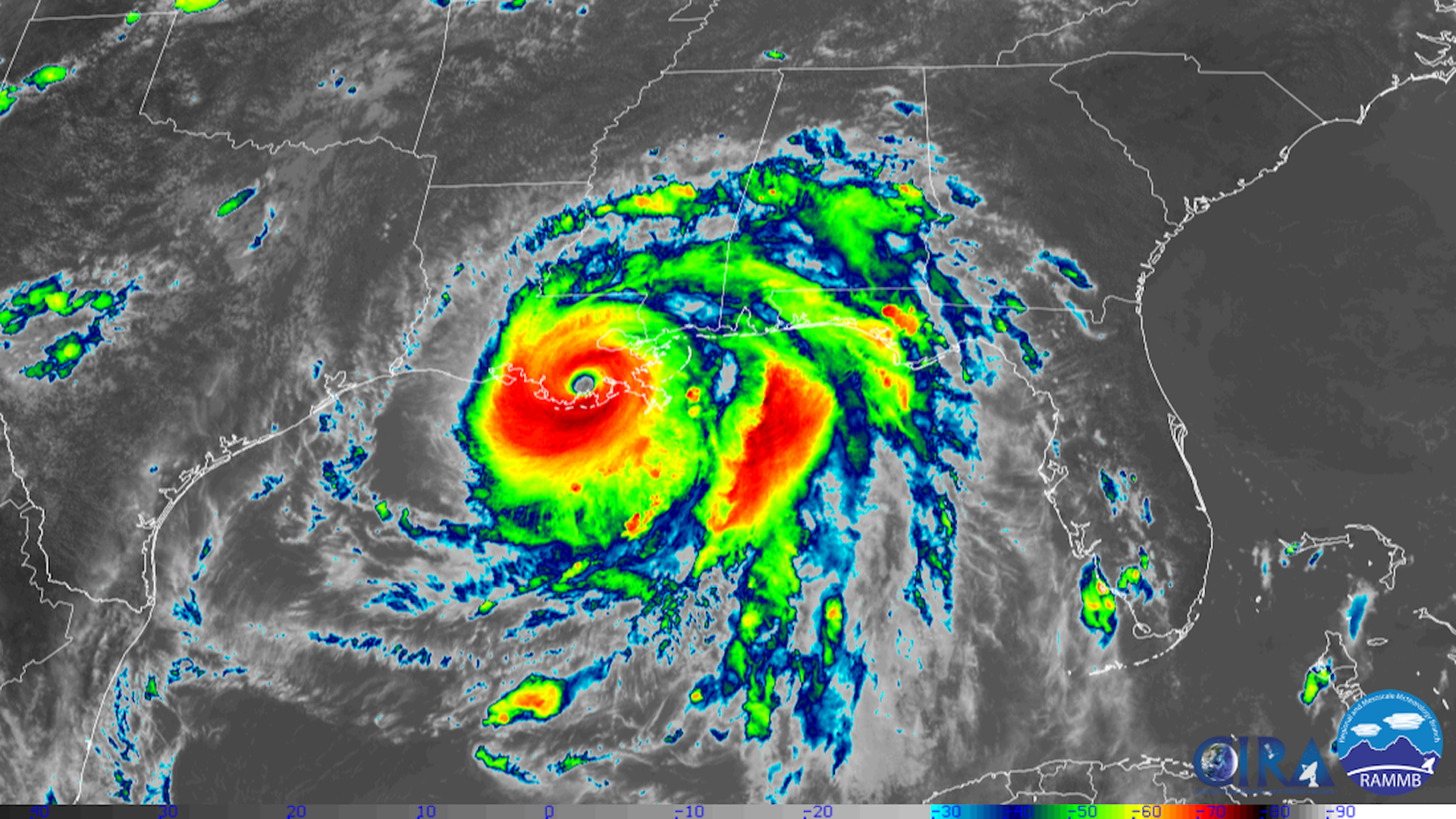 The big picture: Ida made landfall in Port Fourchon, Louisiana, as a Category 4 storm on Sunday afternoon, with maximum sustained winds of 150 mph. Preliminary reports suggest it's the fifth-strongest storm "ever to make landfall in the continental U.S.," according to NASA Earth.
A ship in Port Fourchon reported a sustained wind of 149 mph and a gust to 172 mph when the storm made landfall.
Ida weakened Sunday evening to a Category 3 hurricane before weakening again, but it still caused devastation across southern Louisiana.
Wind gusts of up to 90 mph were reported in New Orleans on Sunday.
What to watch: Numerous oil and gas facilities and chemical plants were in the path of some of the strongest winds and storm surge, including the strategic Port Fourchon, which is integral to the Gulf of Mexico's oil and gas production.
Damage to infrastructure there and upriver, between New Orleans and Baton Rouge, could lead to environmental hazards and delays in resuming oil and gas production in the Gulf.
Context: The rapid intensification, which exceeded forecasts, was due to extremely warm ocean waters and ideal conditions in the atmosphere as well. The Gulf of Mexico served as gasoline thrown onto the fire of the storm.
Human-caused climate change, by warming air and ocean temperatures, is leading to both stronger and wetter hurricanes, and also more storms that rapidly intensify.
The Gulf of Mexico has seen a recent trend of storms like Ida, which strengthen right up through landfall, whereas this used to be extremely uncommon (even Hurricane Katrina weakened as it neared land).
Go deeper: Meteorologists ahead of Hurricane Ida arrival: "We can't bear to see this on satellite"
Editor's note: This article has been updated with new details throughout.
Go deeper