Hurricane Ida to slam Gulf Coast as a Category 4 storm this weekend
A dangerous scenario is taking shape across the Gulf Coast as Hurricane Ida, currently a Category 1 storm, is poised to intensify and hit coastal Louisiana on Sunday night or early Monday as a major hurricane of Category 4 intensity.
Driving the news: Ida made landfall on the Isle of Youth after rapidly strengthening over a span of several hours from a tropical storm into a Category 1 hurricane Friday afternoon. The storm had maximum sustained winds of 80 mph, with higher gusts, as it approached western Cuba.
The hurricane is forecast to emerge over the bathtub-like waters of the Gulf of Mexico Friday night, where it will gain strength.
Much of the Louisiana Gulf Coast is under a hurricane warning, per the National Hurricane Center.
The big picture: Computer models are in agreement on the hurricane's general track and intensity, with all reliable models projecting a second, and potentially sustained period of rapid intensification — in which Ida's wind speeds would increase by at least 35 mph in 24 hours, potentially all the way up to landfall.
Since Friday morning, the Hurricane Center's intensity forecast for Ida has increased, and forecasters are now calling for the storm to make landfall in Louisiana Sunday night or early Monday as a Category 4 storm.
If it makes landfall on Sunday, it would come 16 years to the day after Hurricane Katrina's devastating strike.
It is not out of the question that Ida attains Category 5 intensity for a time, given conditions in the Gulf of Mexico.
Details: A combination of warmer-than-average water temperatures for this time of year — which is already the climatological peak for water temperatures in that region — plus a favorable atmospheric setup for intensification means the Gulf will serve as gasoline added to a fire for Ida, with all models showing a large amount of intensification.
Ida is forecast to bring significant and potentially extreme impacts to the New Orleans metro area, though the strongest winds and highest storm surge inundation could stay west of the city.
"The risk of hurricane-force winds continues to increase, especially along portions of the Louisiana coast, including metropolitan New Orleans," the Hurricane Center stated. "Potentially devastating wind damage could occur where the core of Ida moves onshore."
"Locations may be uninhabitable for weeks or months," per New Orleans NWS.
Residents only have another 24 hours to complete preparations and evacuations before the hurricane's impacts begin.
Yes, but: Uncertainty still exists on the exact landfall location, with some models taking the hurricane into central or western Louisiana, the same region hit hard by three storms last season.
That scenario could spare New Orleans the worst of the winds and storm surge flooding, but the surge barriers built in the wake of Katrina may not be able to fully withstand a direct hit by a Category 4 Ida should the storm move closer to the city. A statement from the Weather Service said some flood protection systems may be "tested" in this event.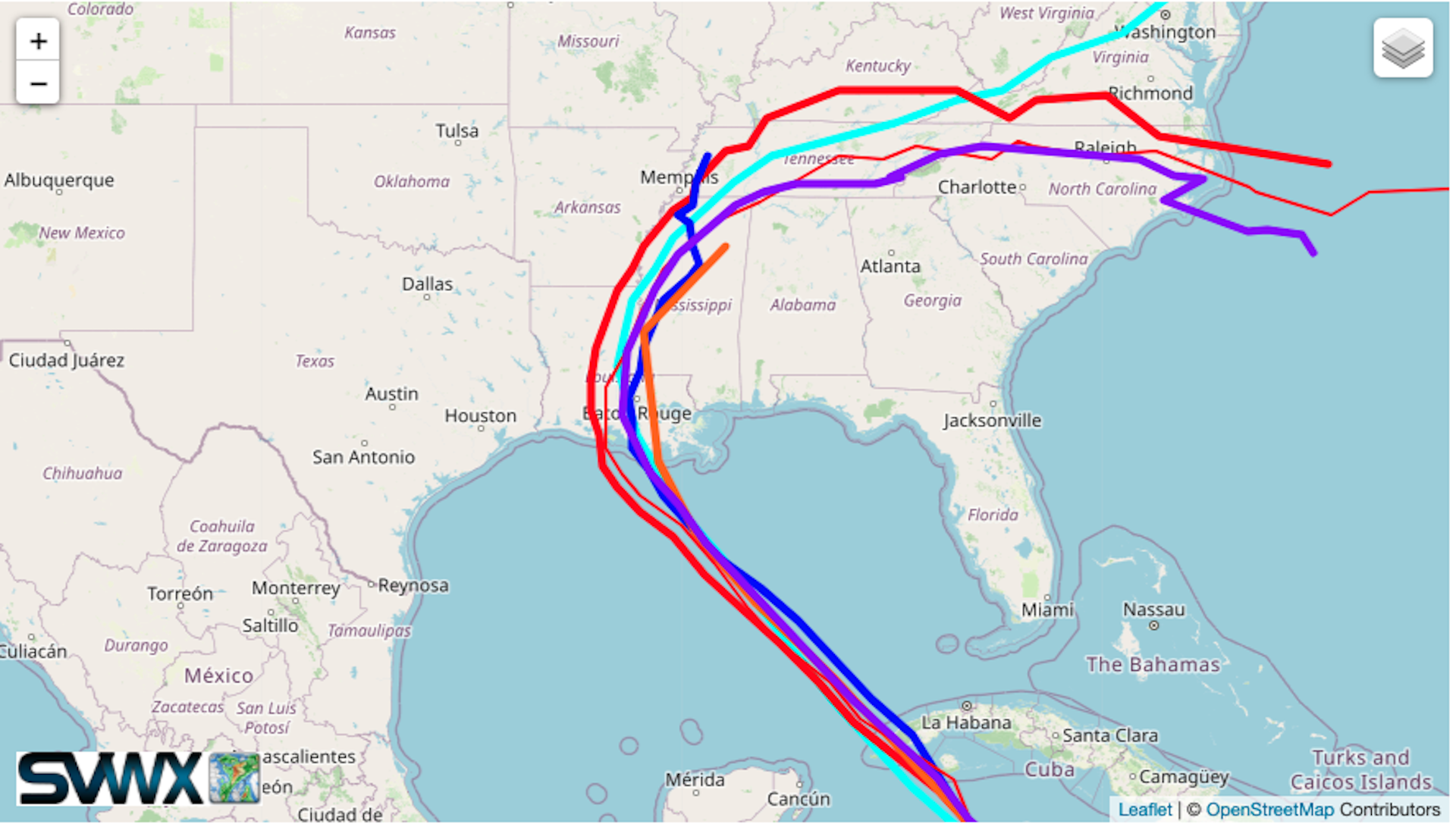 Threat level: Water is a big threat with this storm, with initial projections showing a storm surge of 10 to 15 feet above normally dry ground in parts of coastal Louisiana just to the east of the landfall location, and up to 20 inches of rainfall likely even well inland.
While landfall is not forecast until Sunday night or early Monday, weather conditions will deteriorate along the Gulf Coast Saturday night.
"Prepare for life-threatening surge having possible devastating impacts across coastal Mississippi and coastal Louisiana outside the Hurricane Risk Reduction System and the tidal lakes," the National Weather Service New Orleans said Friday afternoon.
The NWS also warned of possible "life-threatening winds" that could "have devastating impacts across southeast Louisiana from Baton Rouge to New Orleans and south to the coast."
Oil companies have already begun evacuating personnel from Gulf drilling platforms, and the storm may prompt infrastructure shutdowns along the coast, though little to no gas price impacts are likely from this hurricane.
The New Orleans Saints canceled their home preseason game scheduled for Saturday against the Arizona Cardinals, AP reports.
Context: According to the latest UN IPCC report, stronger hurricanes are becoming more common as the climate warms due to human emissions of greenhouse gases, and such storms are also producing more rainfall as air and sea temperatures warm.
Sea level rise is making such storms more damaging as well. The combination of sea level rise and land subsidence in coastal Louisiana makes such a trend particularly problematic.
Scientists have also shown that rapid intensification may be linked to climate change, with more storms exhibiting such leaps in storm categories.
Go deeper