"A living hell": Leaked email describes Afghan refugee conditions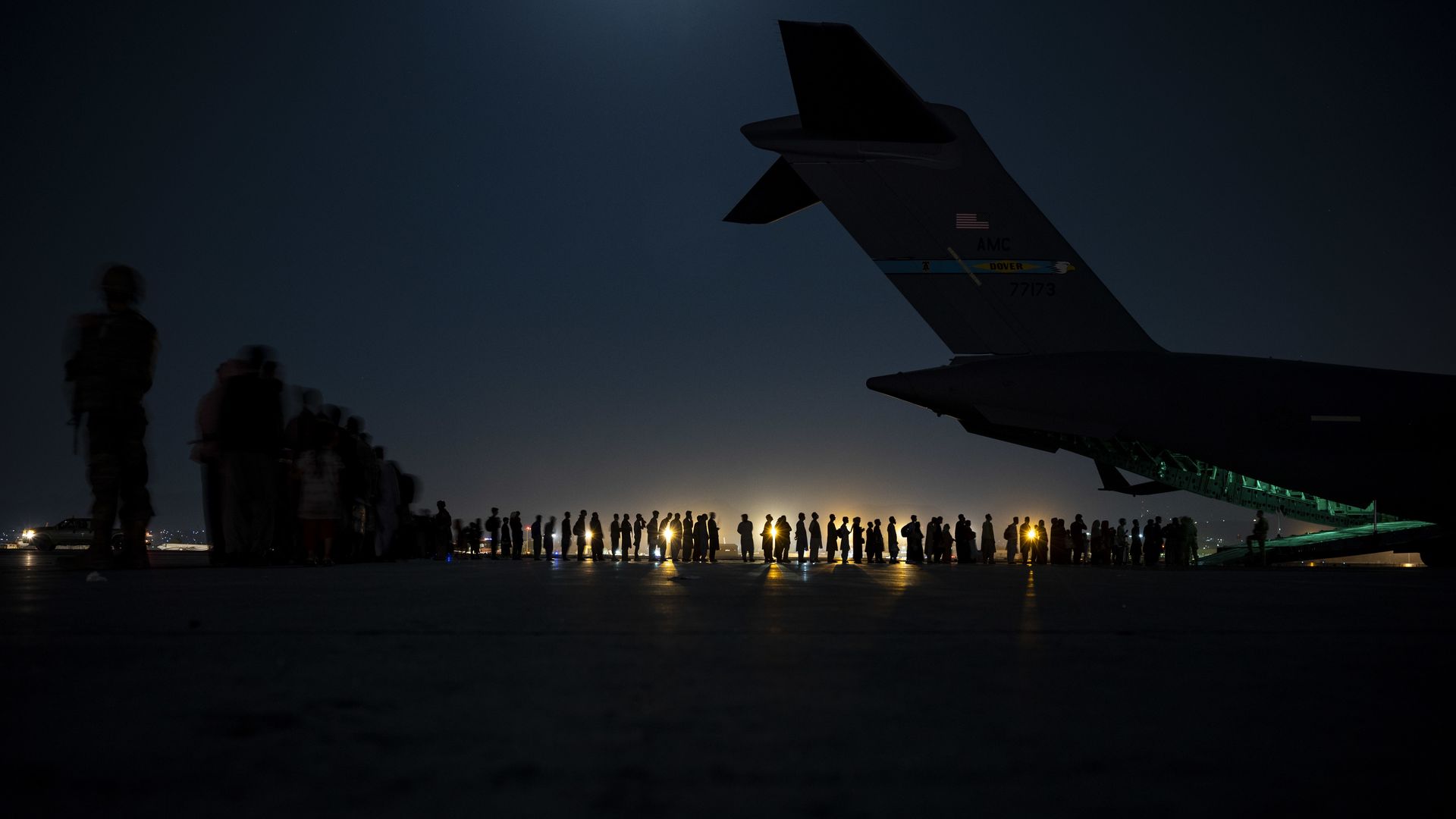 Shortly before 8 a.m. last Friday, an official at U.S. Central Command sent a searing wake-up call to colleagues: The sweltering Qatar air base where the Biden administration is housing thousands of Afghan evacuees was awash with loose feces and urine and a rat infestation, according to internal emails shared with Axios.
Why it matters: The email highlights the despair inside the federal government and some elements of the administration at the handling of the Afghanistan withdrawal.
President Biden faces intense criticism for failing to secure safe passage to the airport in Kabul or guarantee flights out for thousands of Afghans targeted by the Taliban.
But the account of conditions at Al Udeid Air Base in Doha shows how the U.S. was unprepared to receive thousands of desperate Afghans in a safe and sanitary environment.
"We recognize this is a challenging and difficult situation for these vulnerable individuals and families, and we remain committed to providing a secure, safe and sanitary environment," said Navy Capt. William Urban, a spokesperson for U.S. Central Command.
"It has been challenging to keep up with the flow, but we have made progress in caring for and safeguarding these vulnerable individuals and in getting them moving onward," Urban told Axios.
Driving the news: The email by supervisory special agent Colin Sullivan — with subject line "Dire conditions at Doha" — went to officials at the State Department and the Pentagon. It described "a life-threatening humanitarian disaster … that I want to make sure all of you are fully tracking."
"While not in any way downplaying the conditions in Kabul nor the conditions the Afghanis [sic] are escaping from, the current conditions in Doha are of our own doing."
Sullivan is a veteran member of the State Department's Diplomatic Security Service now serving as a liaison to U.S. Central Command. It oversees U.S. military forces and actions in the Middle East.
Contacted by Axios, Sullivan referred questions about his email to a Defense Department spokesperson.
The Pentagon told Axios it has taken concrete steps to improve conditions on the ground, including installing more than 100 toilets and offering 7,000 traditional Afghan meals, three times a day.
And a State Department spokesperson said: "We are working quickly to alleviate bottlenecks and are surging consular personnel in Qatar, in addition to expediting manifesting, to alleviate current conditions."
On Monday "more than 3,700 individuals were transported to follow-on destinations in the United States, Germany and Italy," said the spokesperson. "Our goal is to process them for onward destinations within a few days of arrival."
Between the lines: The State Department had done little to advise the Defense Department about how to build appropriate facilities to house thousands of Afghan refugees, according to the U.S. government official who read out the emails to Axios.
The official spoke on condition of anonymity to describe sensitive internal discussions. The official said U.S. Central Command was doing the best it could under appalling conditions and inadequate forethought and contingency planning from the State Department and White House.
Behind the scenes: In his email, Sullivan also shared what he said were "excerpts from Doha Embassy staff communications" about the conditions at the Al Udeid base.
"A humid day today. Where the Afghans are housed is a living hell. Trash, urine, fecal matter, spilled liquids and vomit cover the floors."
"I spent an hour in there picking up trash ... almost suffocated."
"Another flight arrived and there's no resources to solve the sanitation problem."
"These human beings are in a living nightmare."
"No A/C."
"We're in the middle of humanitarian crises [sic] that compounds itself with every flight that lands in Doha."
"Hangar update. They now have a rat problem."
Embassy Doha personnel have also expressed concerns about their own staff catching COVID-19 from arriving evacuees.
"I am pulling all [Chief of Mission] personnel out of the AFGHAN hangar," said one response in the communications chain. "I've advised the [assistant deputy chief of mission] of the pullout who 100% supports this decision."
The big picture: Al Udeid is a major military airport in a country that extends like a thumb from Saudi Arabia into the central Persian Gulf.
Along with Kuwait, Al Udeid provides the closest staging area to Afghanistan both to import U.S. troops securing Kabul's airport and to export U.S. citizens and evacuees fleeing the country.
What they're saying: One official familiar both with the flights and the airfield in Qatar told Axios the hangars at Al Udeid have no air conditioning, only large fans and evaporative "swamp coolers."
"It's brutally hot," the official said. "The base is in the middle of a desert. There's nothing around it."
"There's a reason they're not holding the World Cup in the middle of the summer there." The 2022 World Cup is being held in Doha — but in November.
The weather forecast there called for a high of 103°F on Tuesday, climbing to 107°F on Wednesday.
Go deeper: The Washington Post posted a video and other details from inside the Doha hangar over the weekend.
The White House has touted the overall evacuation effort, drawing attention to a growing tally of daily flights and accelerating pace of evacuations.
"You make adjustments and you ultimately get an operation going that is moving out thousands, if not tens of thousands, of people daily. That is what we have accomplished over the course of the week," national security adviser Jake Sullivan said during a White House briefing on Monday.
"It has not been without its immense difficulties. And we are very mindful of those difficulties. We are clear-eyed about those difficulties."
Go deeper