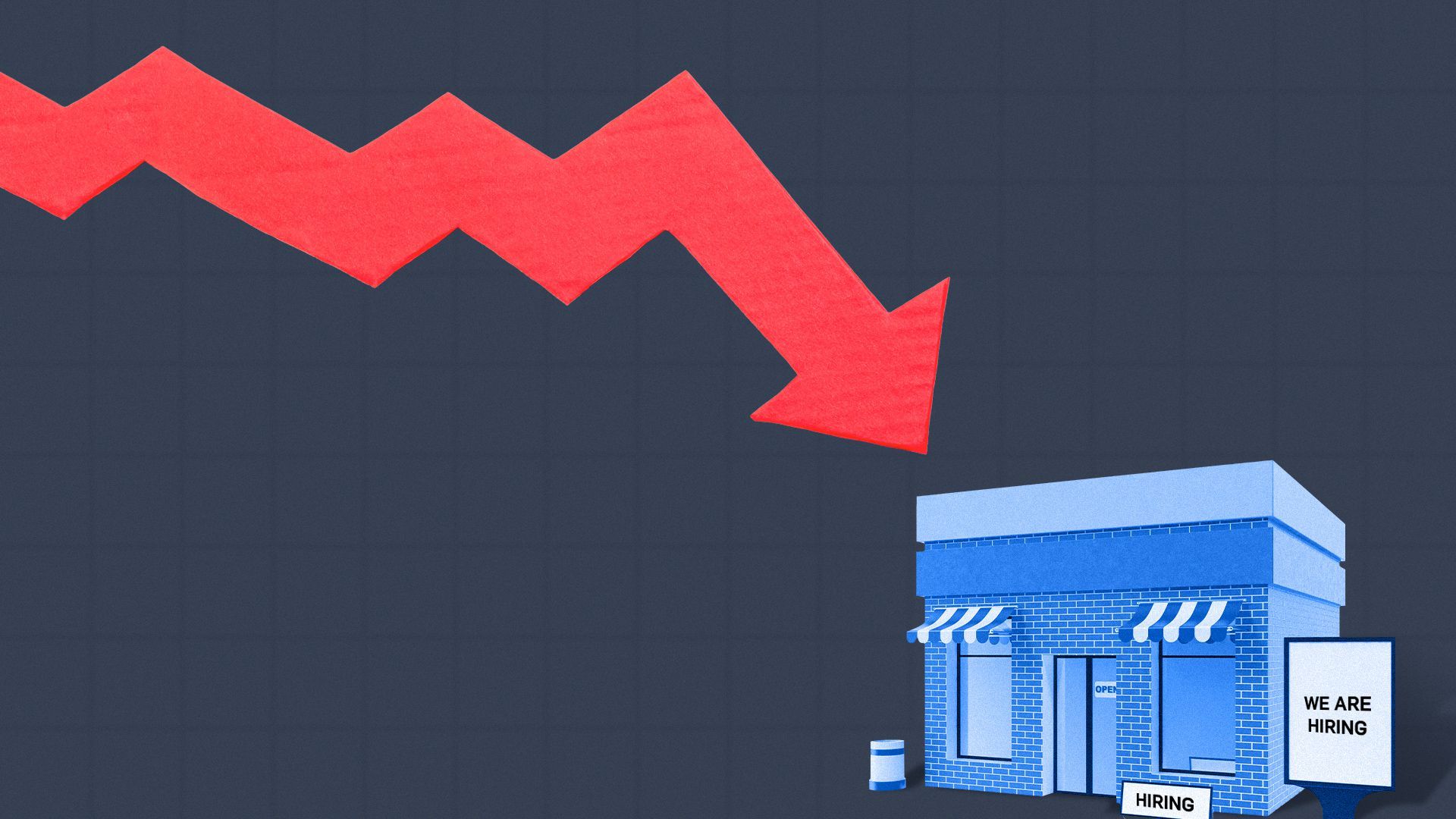 Small businesses aren't thriving quite like their large corporate counterparts.
Why it matters: It's a signal of the bifurcated pandemic recovery, in which the biggest U.S. companies have reported record earnings growth as they leveraged higher wages to help recruitment and used their scale to make cost cuts.
Meanwhile, small businesses have had limited capacity to execute like their larger competitors.
By the numbers: About 53.3% of small and medium-sized businesses missed out on revenue opportunities due to staffing issues, according to a new survey conducted from July 12 to 15 by Salesforce.
Of that group, 56.6% said staffing issues were responsible for at least an 11% drop in revenue over the past six months.
This sentiment was echoed in the National Federation of Independent Business (NFIB) July jobs survey, which found 63% of small businesses were hiring and 89% of that group said there were few or no qualified applicants.
In another July survey, the NFIB found most small businesses said the last three months' worth of earnings were lower than the prior three months worth of earnings. A top reason for this was disappointing sales volumes.
What they're saying: When asked why there's been such a stark contrast between small business and S&P 500 earnings in recent months, Holly Wade, executive director of the NFIB Research Center, tells Axios that staffing issues explain a lot, but not all of, the bottom line woes.
"Small businesses have a harder time absorbing increased costs and passing them along" while staying competitive, she says.
Between the lines: It may seem like the obvious solution is to just raise pay more aggressively.
But raising pay for new applicants often means having to raise pay for other existing employees, which is costly.
Also, raising pay now gives employers less cost flexibility in the future as employers would rather avoid having to cut pay down the road.
The bottom line: Even in a booming economy, many small businesses will find themselves at a disadvantage relative to larger corporations if they have to compete for scarce resources like labor.
Editor's note: This post was updated to include data from Salesforce.
Go deeper