Biden officials: Trump left bare cupboard on Afghanistan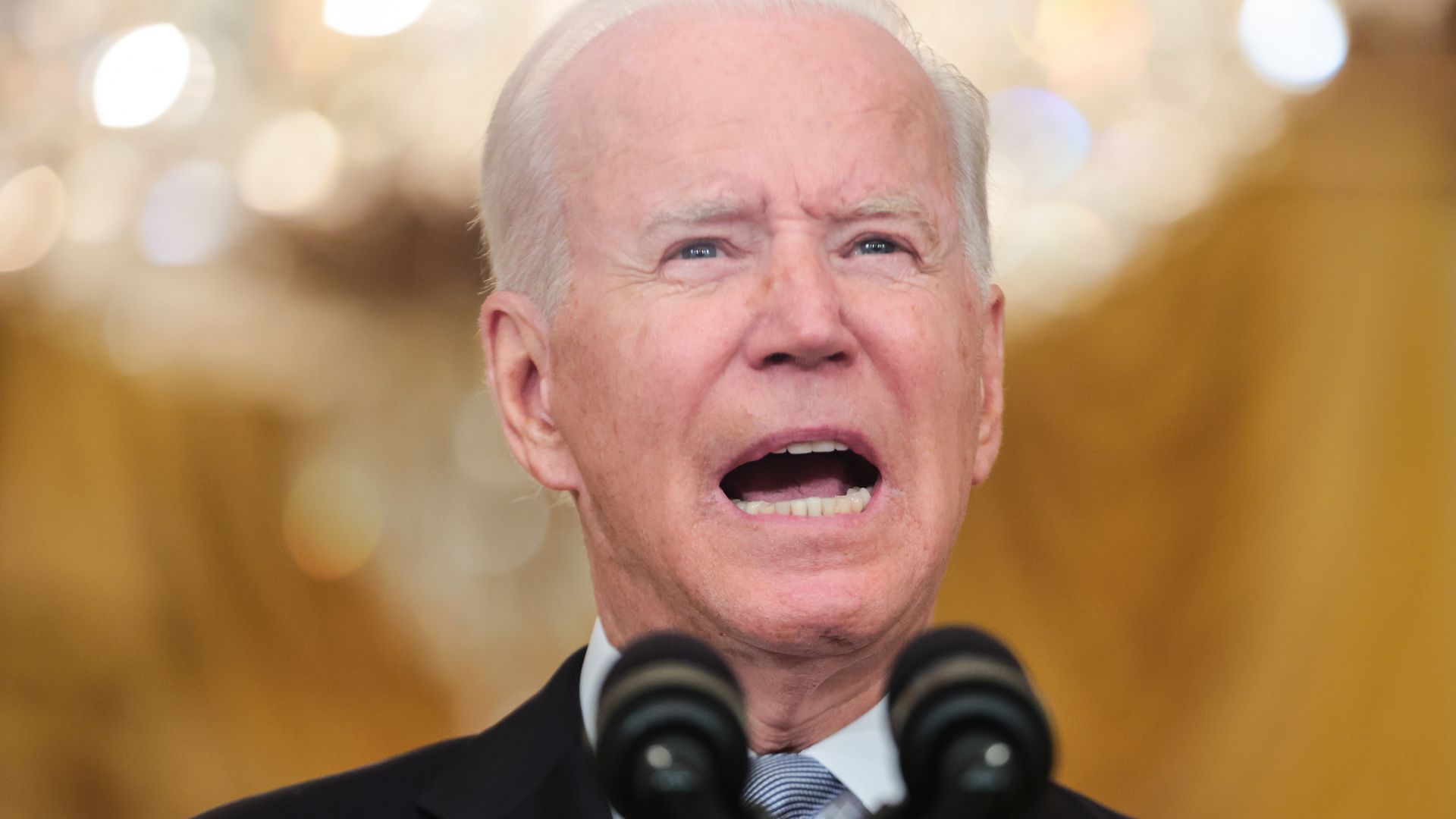 Senior national security officials presiding over a historic foreign policy collapse are privately expressing deep frustrations about the thin Afghanistan withdrawal plans left behind by Donald Trump.
Why it matters: Many experienced operatives in both parties are aghast that President Biden and his team didn't ready better preparations over nearly seven months since taking office.
But two Biden officials who spoke with Axios on Monday on condition of anonymity bristled at the criticism coming from former President Trump and his administration in the wake of the Taliban's rapid sweep across Afghanistan and capture of Kabul.
What they're saying: "There was no plan to evacuate our diplomats to the airport," a senior national security official told Axios about the preparations they inherited from the previous administration. "None of this was on the shelf, so to speak."
"When we got in, on Jan. 20, we saw that the cupboard was bare," the official said, echoing a complaint Team Biden also made about Trump's vaccine distribution plan.
Former President Trump said in a statement Monday slamming his successor: "It's not that we left Afghanistan. It's the grossly incompetent way we left!"
The big picture: In an address to the nation, Biden criticized U.S.-trained Afghan forces for not being willing to fight for their own country while acknowledging that the Taliban exerted dominance "more quickly than we anticipated."
He called the end of American's military involvement "hard and messy and, yes, far from perfect."
Between the lines: Biden officials said Trump's team was slow to brief them during the transition on key details and context behind the 2020 peace agreement signed in Doha.
That Trump-era deal between the U.S. and the Taliban called for a withdrawal of troops by May 2021.
Separately, Trump, after losing the election, signed a secret memo to withdraw all troops from Afghanistan before Biden took office, as Axios' Jonathan Swan and Zachary Basu reported. But after some Trump officials became aware of "an off-the-books operation by the commander in chief himself," they eventually persuaded Trump to keep some 2,500 troops in Afghanistan.
After all of that, the senior Biden officials said, Trump effectively didn't have a plan to bring all Americans, including troops, contractors and diplomats, home safely. One said that created "headwinds" and "unnecessarily increased" the degree of difficulty for the new administration.
"The entire policy process had atrophied," one of the officials said. "It was really manifest here.
"On the one hand, they set a May deadline for withdrawal," the official said. "On the other hand, there was no interagency planning on how to execute a withdrawal."
The bottom line: Biden officials aren't directly blaming Trump for how events unfolded in Kabul.
But they do want to challenge what they see as bad-faith arguments from Trump officials making the case that they would have presided over a more orderly withdrawal.
Go deeper