Female Olympians push back against double standard in uniforms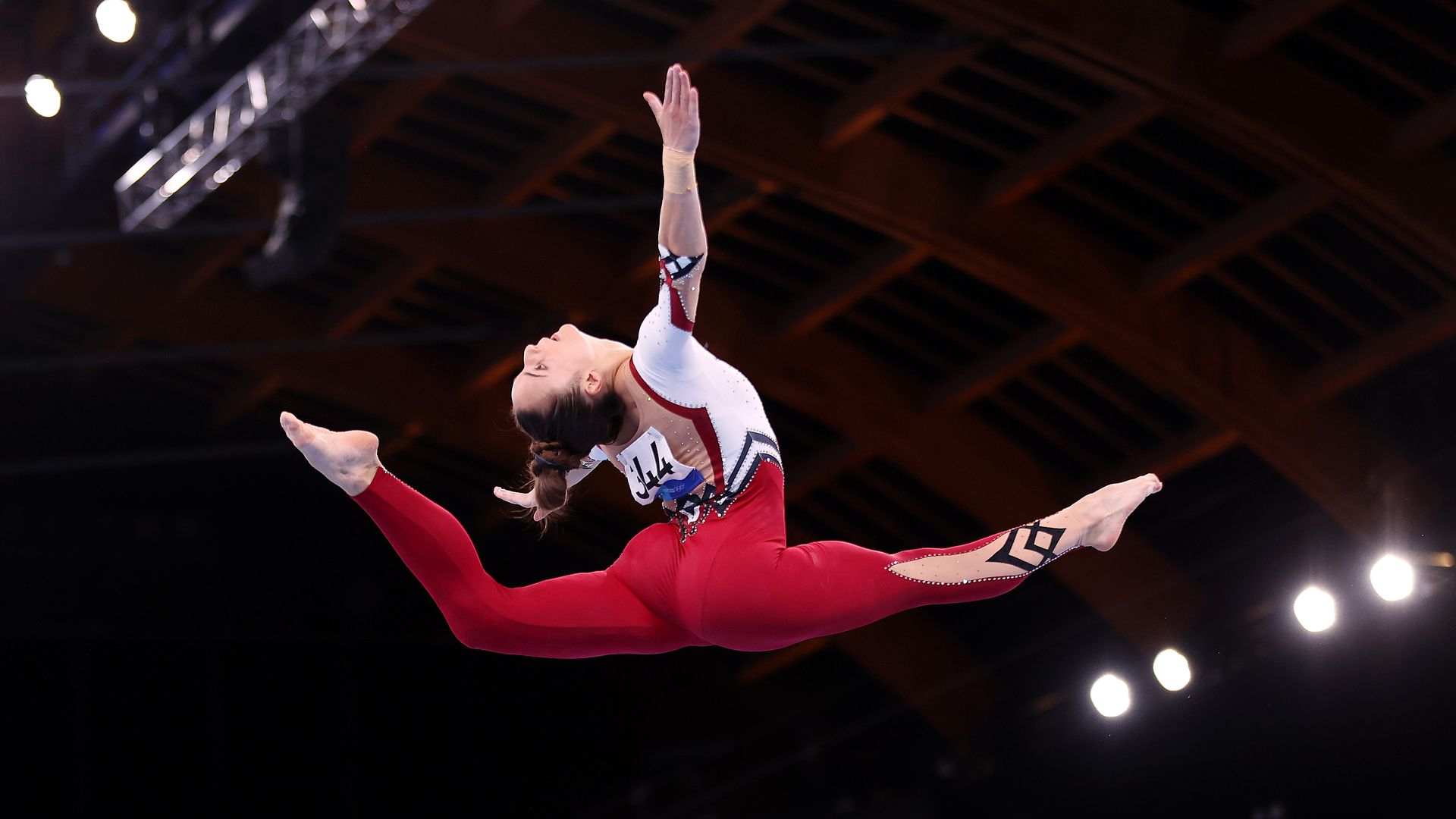 Female Olympians in Tokyo are rejecting the uniforms that have long defined their sports, highlighting a double standard that exists how women dress in competition vs. men.
Driving the news: During their qualifying round Sunday, Germany's women's gymnastics team wore full-length unitards, eschewing the conventional leg-barring leotards worn by most female gymnasts.
Earlier this week Norway's women's beach handball team was fined for wearing shorts instead of the required bikini bottoms during a match.
Between the lines: The German Gymnastics Federation said the new uniforms were meant to push back "against sexualization in gymnastics."
"It's about what feels comfortable," three-time Olympian Elisabeth Seitz told reporters in Tokyo. "We wanted to show that every woman, everybody, should decide what to wear."
The Norwegian Olympians highlighted the double standard for female athletes.
"I don't see why we can't play in shorts," said Norwegian player Martine Welfler. "With so much body shaming and stuff like that these days, you should be able to wear a little bit more when you play."
Australian athletes voiced support for the Norweigians' move. "It is so much easier to focus on your performance... when you do not have to worry about whether your bikini bottom has ridden up in an unflattering way… or what angle a photographer might be able to capture you on," Australian beach handball player Rose Boyd told The Feed.
State of play: Double standards between male and female athletes often come down to aesthetics and convention, rather than necessity.
Male gymnasts typically compete in shorts or loose pants, while female gymnasts are typically seen sporting bikini-cut leotards, even as many prefer to train wearing shorts, notes the New York Times.
While no rules bar female gymnasts from wearing long unitards in competition, they remain niche, often worn by athletes for religious reasons, per the Times.
The International Handball Federation permits male beach handball players to wear shorts as long as four inches above their knees as long as they are "not too baggy," much like the ones the Norwegian women's team wore last week.
Yet the IHF requires women to wear bikini bottoms "with a close fit and cut on an upward angle toward the top of the leg" that are no longer than four inches on the sides.
The big picture: Tokyo's Games have the most gender balance in Olympics history, with women making up nearly half of all the competitors here. However, parity doesn't mean equality. And several gender issues beyond dress have been front and center at this year's Olympics.
Two Namibian sprinters were excluded from the games because their naturally occurring testosterone exceeded a specific threshold, a violation of a rule created specifically to target South African sprinter Caster Semenya.
Tokyo is also seeing the first group of openly transgender and non-binary athletes, including Canadian soccer player Quinn, New Zealand weightlifter Laurel Hubbard and Chelsea Wolfe, an alternate on the American BMX bike team, and the first transgender women to represent Team USA at an Olympics.
What they're saying: "We want to make sure everyone feels comfortable and we show everyone that they can wear whatever they want and look amazing, feel amazing, whether it is in a long leotard or a short one," German Olympic gymnast Sarah Voss told reporters in Tokyo.
Voss added that by wearing the unitards Sunday the team hoped to "be a role model in any case, to make everybody have the courage to follow us."
Go deeper: Norway's beach handball protest is about a lot more than bikinis (NBC Think)
Go deeper