CDC: Vaccinated people in COVID hotspots should resume wearing masks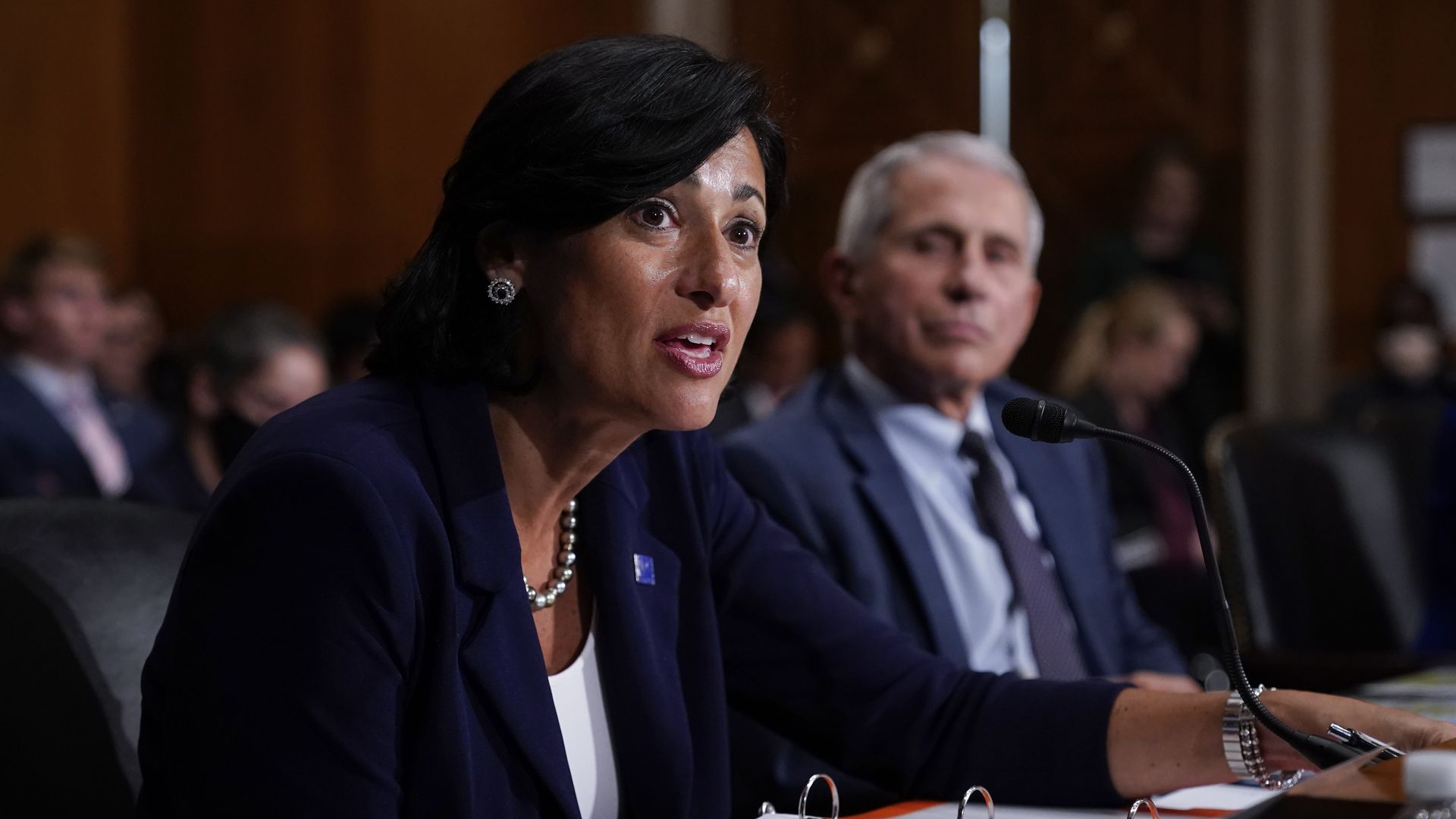 The Centers for Disease Control and Prevention issued updated guidance on Tuesday recommending that vaccinated people wear masks in indoor, public settings if they are in parts of the U.S. with substantial to high transmission, among other circumstances.
Why it matters: The guidance, a reversal from recommendations made two months ago, comes as the Delta variant continues to drive up case rates across the country. Millions of people in the U.S. — either by choice or who are ineligible — remain unvaccinated and at risk of serious infection.
Details: Community leaders in areas with high transmission rates should encourage vaccination and masking, the agency says.
In another reversal, the CDC also recommended universal indoor masking for all teachers, staff, students and visitors to K-12 schools this incoming school year, regardless of vaccination status.
By the numbers: The CDC defines "substantial transmission" as 50-100 cases per 100,000 people in a seven-day period and "high transmission" as more 100 cases per 100,000. 
Currently, 46% of U.S. counties have "high transmission" and 17% have "substantial transmission," according to CDC data.
What they're saying: "We're just a few mutations away from it being able to evade our vaccines," CDC director Rochelle Walensky told reporters Tuesday.
"This [is a decision that] weighs heavily on me," Walensky said, adding that it was not taken lightly.
"I know at 18 months through this pandemic, not only are people tired, they're frustrated. We have mental health challenges in this country. We have a lot of continued sickness and death in this country," she said.
"I know in the context of all of that, it is not a welcomed piece of news that masking is going to be a part of people's lives who have already been vaccinated."
President Biden later Tuesday urged "all Americans who live in the areas covered by the CDC guidance" to follow the new recommendations.
"[M]ore vaccinations and mask wearing in the areas most impacted by the Delta variant will enable us to avoid the kind of lockdowns, shutdowns, school closures, and disruptions we faced in 2020," he noted in a statement.
"Unlike 2020, we have both the scientific knowledge and the tools to prevent the spread of this disease. We are not going back to that."
He added that he will announce new initiatives to get Americans vaccinated on Thursday.
The big picture: Virtually all hospitalizations and deaths continue to be among the unvaccinated, especially in places with low vaccination rates.
In rare occasions, Walensky said some vaccinated people can contract the Delta variant in a breakthrough infection and "may be contagious."
Nearly 50% of the U.S. population 12 years and older is fully vaccinated.
Los Angeles County, New Orleans, Savannah and Chicago are among the major metropolitan areas that reinstated mask mandates amid a rise in cases.
Editor's note: This story has been updated with additional details.
Go deeper