Journalism's two Americas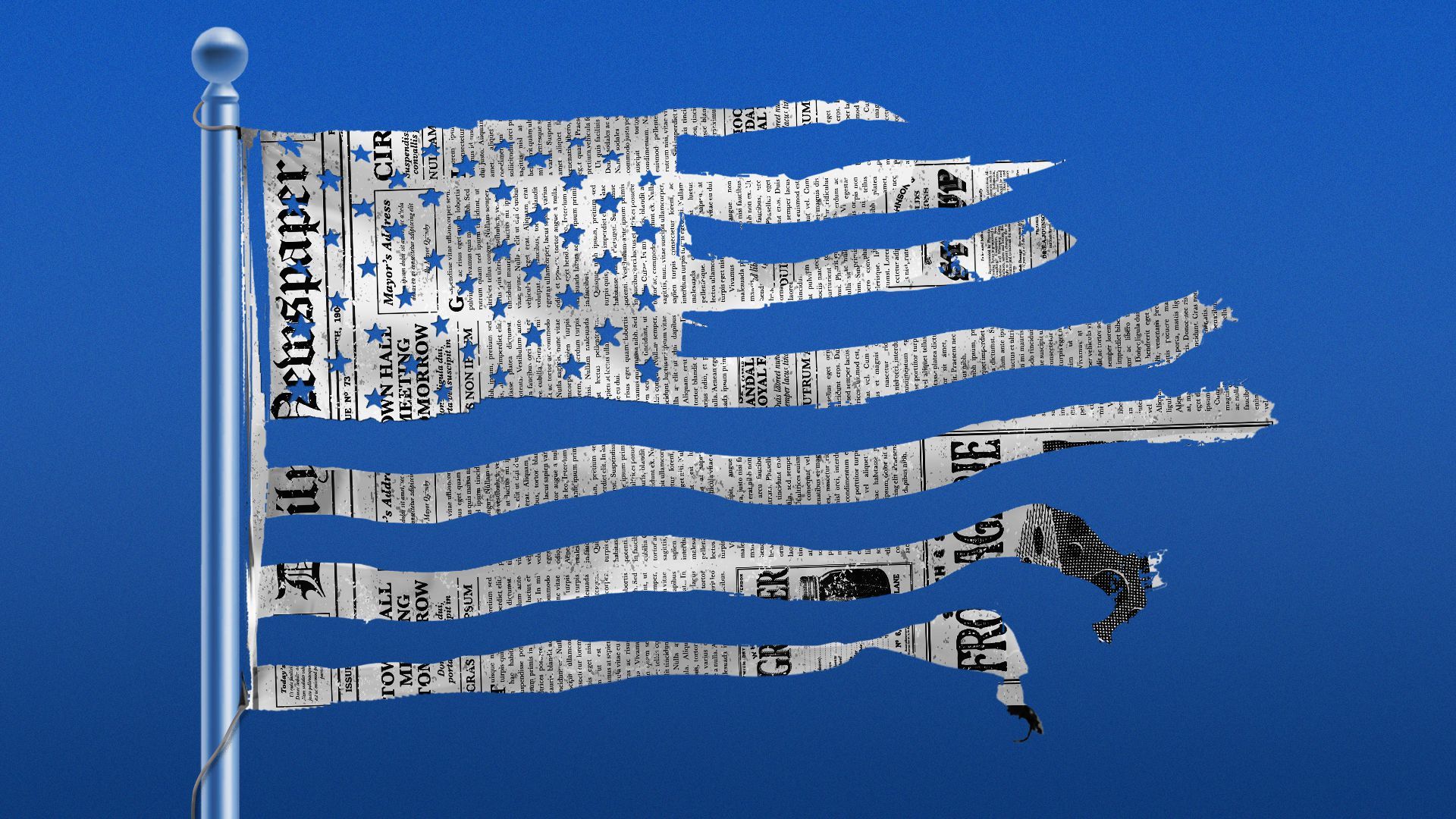 There's a sharp divide in American journalism between haves and have-nots. While national journalists covering tech and politics on the coasts reap the benefits of booming businesses and book deals, local media organizations, primarily newspapers, continue to shrink.
Why it matters: The disparate fortunes skew what gets covered, elevating big national political stories at the expense of local, community-focused news.
At the local level, newspapers continue to be gobbled up by hedge funds eager to slash jobs for profits. News veterans with more experience are often the first to go.
Dozens of journalists at the Chicago Tribune have recently taken buyouts in response to the purchase of its parent company by a hedge fund known for slashing local newspaper jobs for profit.
A recent New York Times opinion piece about Julie Brown, the Pulitzer Prize-winning journalist at the Miami Herald who broke the story about Jeffrey's Epstein's abuses but often had to pay her own expenses, also underscores that discrepancy.
At the national level, venture money continues to pour into new outlets like Puck and Recount Media, among others, creating more opportunities for those that cover broad national topics, like media, influence, politics and technology.
CNN says it will hire 450 new people for its new streaming service, CNN+. While it's unclear how many of those jobs will be local, it's reportedly paying one top national anchor over $1 million to be a part of the service.
CNET recently announced plans to hire 150 people. While many jobs are remote, most are based in New York or San Fransisco.
Be smart: Such opportunities give national journalists much more bargaining power in salary negotiations and more visibility for book deals.
"I can't sell local books, only national," says Jane Dystel, a veteran book agent and the president of Dystel, Goderich & Bourret LLC. "For local, they're not getting paid any advances."
"A reader in the Midwest is not going to want to read about a local L.A. politician no matter how big or rich he is," Dystel says.
Case in point: Facebook recently said it has been the subject of 368 books. There is a wave of at least 17 new books about Donald Trump, and The New York Times reported last year that there were over 1,200 books written about Trump between 2016 and 2020.
The salary disparity at the local and national levels contributes to broader competitive issues for local outlets.
The average base pay for a local reporter job, according to Glassdoor, is $49,061 annually, compared to $65,437 for national reporters.
"You don't want to limit your hiring pool to those who are being financially supported by their family, which is basically what you're doing by paying someone with a college degree so little," says Scott Brodbeck, Founder and CEO of Local News Now, which operates several digital outlets in Northern Virginia.
What to watch: There have been hundreds of new digital ventures and newsletter experiments at the local level, but many of those efforts are bootstrapped.
"More than half our membership has two or fewer full-time employees for their whole company," says Chris Krewson, executive director at the trade group LION (Local Independent Online News). "This obviously means they are not even paying *themselves* while they establish themselves."
A recent study from LION, Google News Initiative and the University of North Carolina found that of 700+ digital-first local news outlets, more than half bring in less than $100,000 a year. Only 10% have revenue of more than $1 million annually.
The big picture: Despite an overwhelming number of new efforts trying to bridge the gap between local and national news investments, the delta between the two seems to be growing wider.
"I think there is a disparity right now in the sustainable businesses we see with national media companies versus local media companies," says Fran Wills, CEO of the Local Media Consortium.
Wills' group aims to provide more shared services and technology for local outlets so that their cost structure is lower. "That way, they can pay their journalists more of the revenue that they bring in."
What to watch: Some local outlets are leaning into partnerships like the Local Media Consortium to save costs.
Others are becoming non-profits so that they can accept philanthropic donations, a trend that's become very popular during the pandemic. Most, however, are still scrambling to find a workable solution.
Go deeper