What it's like to hail an air taxi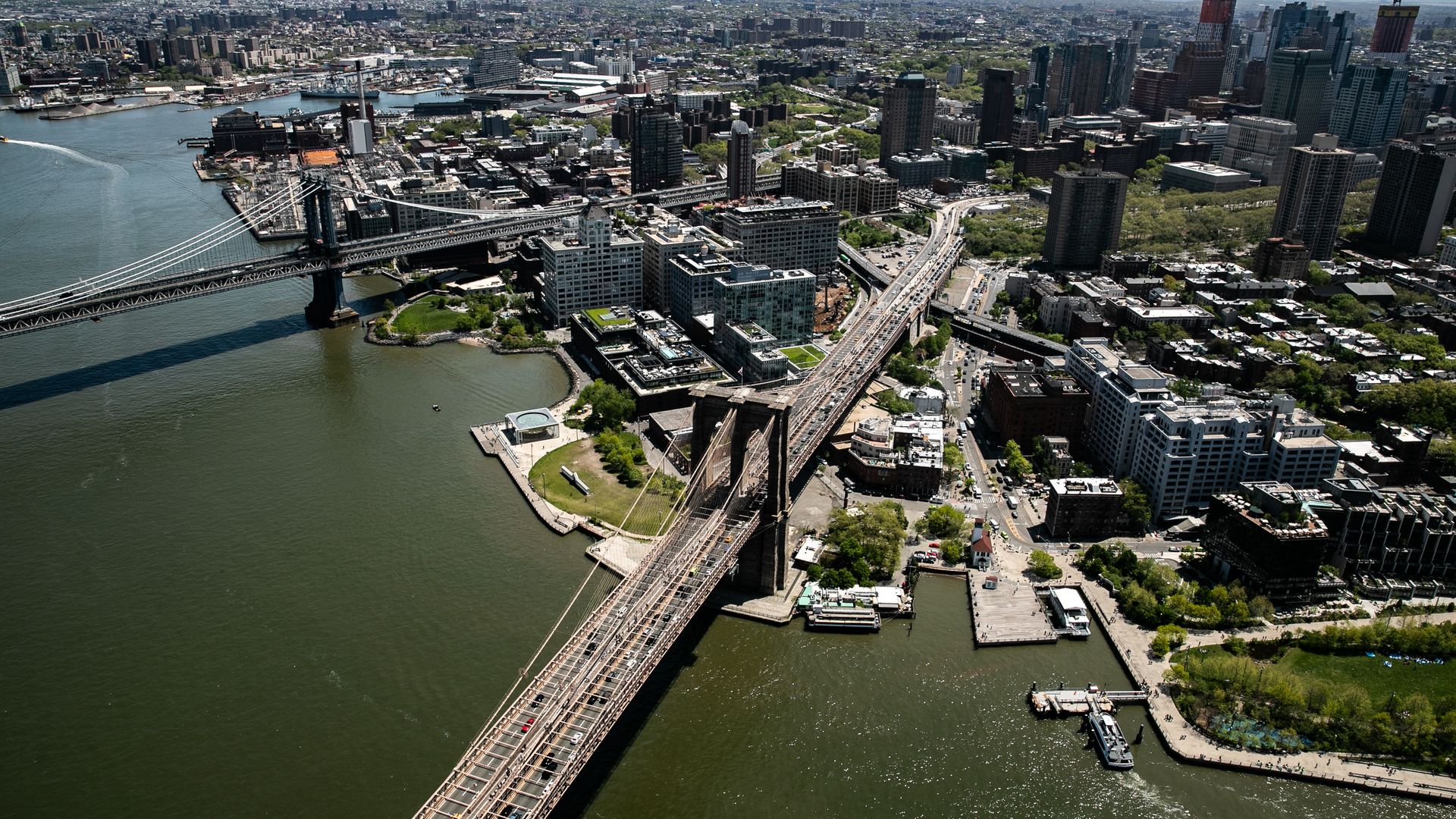 The future of urban air mobility is a lot closer than you think and could start changing the way cities work in just a few years.
The big picture: As roads get ever more congested, transportation is moving to the skies. Electric flying taxis will zip over choked highways, ferrying passengers among a network of "vertiports" around the city. From there, passengers can walk or use another mode of transportation to get to their final destination.
I got a glimpse of the future this week on a quick day trip to New York, where I tried out Blade Urban Air Mobility's helicopter service from Manhattan to JFK Airport.
The trip — five minutes in the air, and 20 minutes to curbside at my terminal — cost $195.
That compares to the one hour and 13 minutes it would have taken midday in an Uber, which quoted me a fare of $111 (or $142 for an Uber Black car).
How it works: The booking process on Blade's website or app is simple and straightforward. I typed in what time I wanted to arrive at the airport and it scheduled my seat on the appropriate helicopter.
The Blade West lounge — in a trailer next to the Hudson River at 30th Street and 12th Avenue — isn't impressive from the street, but inside, there's everything you'd expect in a VIP lounge.
When it was time to board, the Blade staff escorted me and another passenger to the whirring chopper, where we buckled into our leather seats, put on headsets and took off.
We headed south over the Hudson, around the tip of Manhattan, and then flew over Brooklyn to Queens, where we landed at the Sheltair general aviation facility at JFK.
I was escorted off the helicopter to a waiting Cadillac Escalade, where the driver already had my flight information and took me straight to my terminal.
My thought bubble: The Blade flight was both spectacular and sobering. The stunning views of the Manhattan skyline and the Statue of Liberty were obscured by smoke from the wildfires out West that scientists have linked to human-caused climate change.
Electrifying transportation — cars, buses, trucks and even aviation — is more urgent than ever.
What's next: A day after my flight, I called Blade CEO Rob Wiesenthal for his take on the transformation of urban mobility.
"It's becoming City 2.0," he told me. "Right now, we're thinking about what is New York going to look like five years from now?"
Perhaps as early as 2024, he says, the helicopters that Blade flies today will start to be replaced by a new type of electric vertical aircraft that is lightweight, quiet and emission-free.
Looking a bit like oversized drones, they mimic choppers on takeoff and landing, but then fly more like a typical airplane.
Companies developing these aircraft like Joby, Wisk and Lilium say they'll be cheaper to build and operate, making urban air mobility more affordable for everyone.
Go deeper