Senate Democrats' $4.1T Plan B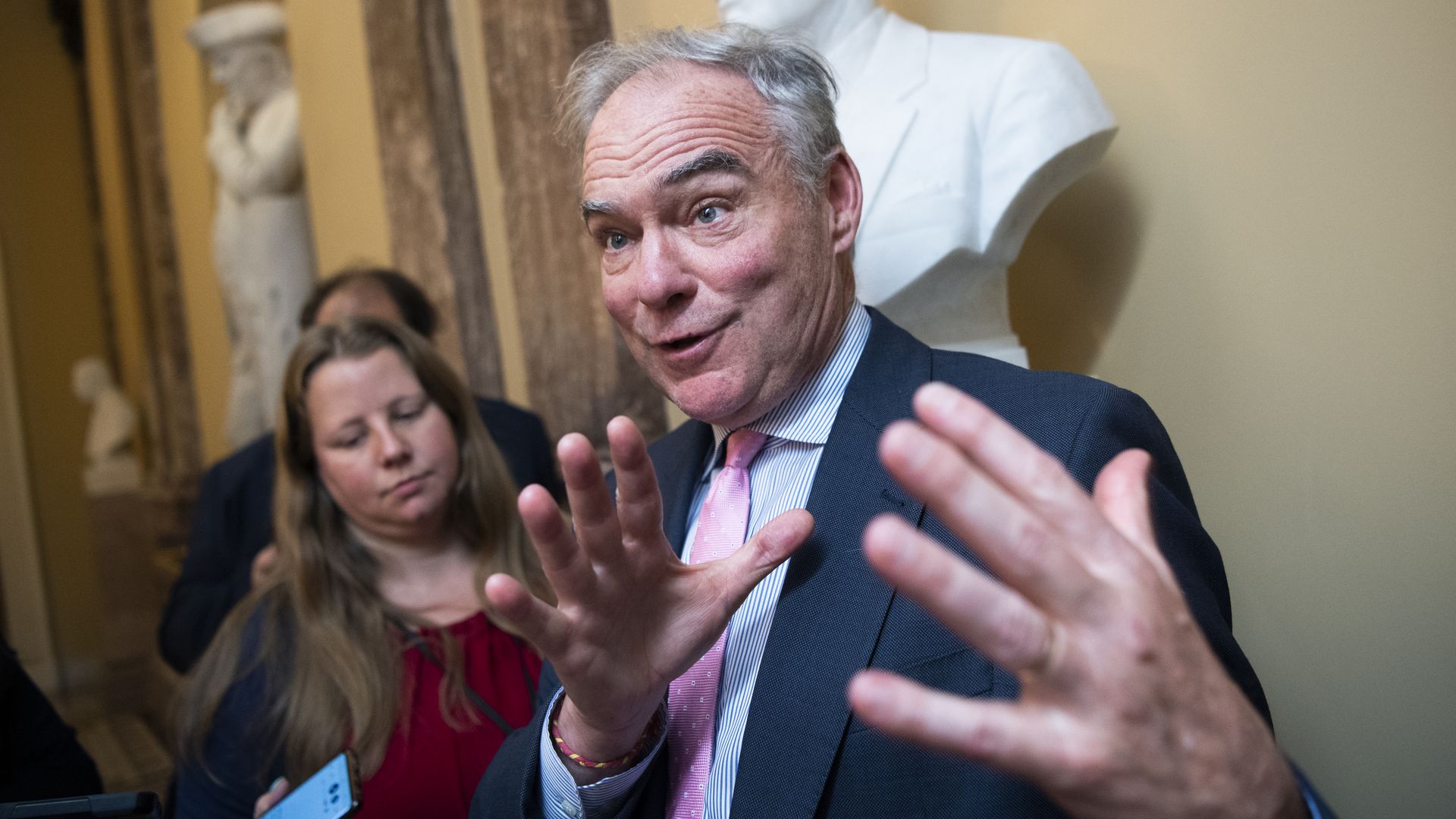 Senate Democrats are weighing a Plan B if the bipartisan infrastructure negotiations fail: adding the nearly $600 billion in spending Republicans have already accepted to the $3.5-trillion plan they want to enact alone — a $4.1 trillion overall price tag.
Why it matters: The combination gets the roads and bridges both parties favor; the reconciliation package covers the "soft" climate and child care items wanted by progressives, and Republicans would have to answer why if they oppose a measure that includes all of what they want.
The bipartisan talks, which important Democrats like Sens. Joe Manchin (D-W.Va) and Kyrsten Sinema (D-Ariz.) drove and said were critical to securing their votes, are in danger of falling apart in a dispute over how to pay for spending in the $579 billion framework already negotiated.
Some Senate Democrats and Republicans also have process concerns: meeting the demand of Senate Majority Leader Chuck Schumer (D-N.Y.) to move the process along on Wednesday before a bipartisan bill is even drafted.
The vote is designed to put pressure on negotiators to wrap up talks, but it could also be what ultimately kills them. Republican senators have asked Schumer to push the vote to Monday.
What they're saying: Sen. Tim Kaine (D-Va.), a member of the Senate Budget Committee, told Axios he and his fellow members always had a hard target of $4.1 trillion in spending — similar to what President Biden initially proposed.
"So we did have the conversation, 'Well, what if, for some reason, the bipartisan thing doesn't come together?'" Kaine added. "And we decided we could take care of that as we write the reconciliation bill by moving it from $3.5 [trillion] to $4.1 [trillion] and just adding in all the things that the Republicans agreed to."
"The reconciliation instruction is 'spend up to this number,'" Kaine said. "We do look at the two bills as a combined investment, totaling about $4.1 trillion."
Sen. Ron Wyden (D-Ore.), another member of the Budget Committee, told Axios: "The numbers are still very fluid, to give you my judgment."
A Wyden aide said they don't expect the total number to increase significantly but cautioned certain items could be moved around.
Between the lines: Kaine is one of the first Democrats involved in the reconciliation talks to acknowledge there's a contingency plan in place.
Schumer also set tomorrow as the deadline for getting all 50 Democrats on board with the framework for the budget reconciliation bill.
This is more of an informal deadline, though, with the goal of giving the budget committee a green light to begin writing the reconciliation bill.
Be smart: Even though some Democrats have this contingency plan in place, it doesn't mean all 50 Democrats will go for it.
"I'm not committed to anything right now except for a bipartisan infrastructure bill," Manchin told reporters Tuesday afternoon.
The thinking among other lawmakers is it may be easier for him and Sinema to pass a massive Democrat-only bill now that the group has made a sustained effort to strike a bipartisan deal.
Go deeper