Facial recognition surges in retail stores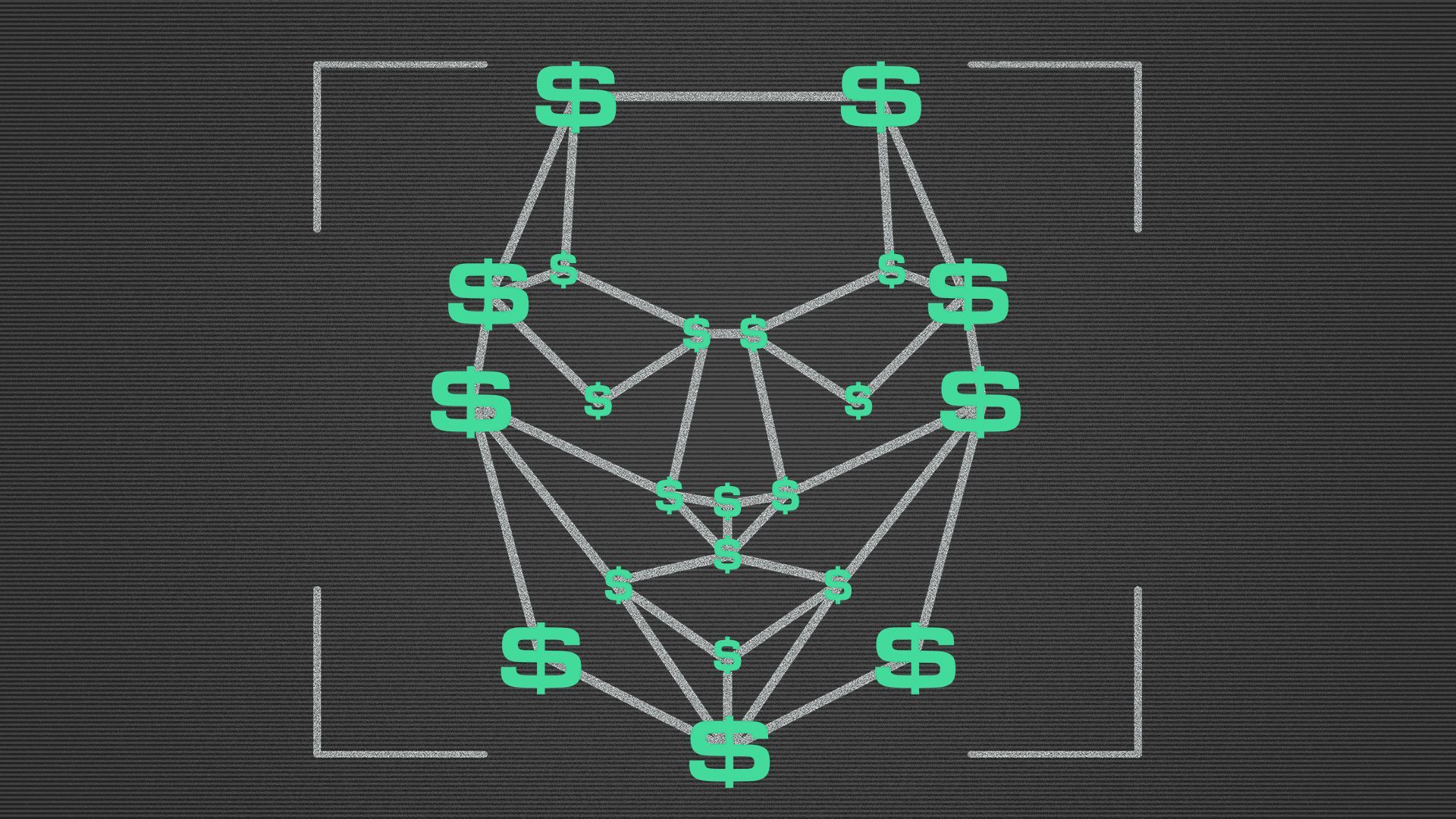 Face-recognition tech is coming to a store near you, if it's not there already, and that's sparking a new wave of opposition.
Why it matters: The systems can scan or store facial images of both shoppers and workers. Their use accelerated during the pandemic as retailers looked for ways to prevent fraud, track foot traffic with fewer employees, and offer contactless payments at a time when consumers were wary of interacting with others.
Driving the news: More than three dozen advocacy groups launched a campaign late last week to pressure retailers to stop using facial recognition technologies, or to pledge not to use them.
"Facial recognition vendors are taking advantage of the pandemic to promote the technology to offer hands-free payments or monitor the distance between people, and stores are promoting them as features for safety and convenience," said Caitlin Seeley George, campaign director for Fight for the Future, which spearheaded the campaign.
"But the truth is, you're giving up so much more than that," she said.
Where it stands: Stores including Walmart, Kroger, Home Depot and Target have said they won't use facial recognition technologies, per the advocacy groups' running list of retailers.
But Albertson's, Macy's and Apple Stores are among major retailers that do use the technologies, per the groups' list. Their privacy policies say they use it for security and to prevent fraud.
Apple was sued by a Black New York man who was misidentified as a shoplifter by the facial recognition security system.
Studies have shown that facial recognition technologies are far less accurate in correctly identifying nonwhite and female faces than white male faces.
How it works: Facial recognition tools are primarily used by retailers for security reasons — chiefly, to prevent shoplifting — and they usually don't link images to personally identifiable information, says Brenda Leong, Senior Counsel and Director for Artificial Intelligence and Ethics at the Future of Privacy Foundation.
There are plenty of other ways stores would like to use the technology, she said, such as:
Identifying loyalty club members the minute they enter a store to send them push alerts and text messages about deals or products they're likely to be interested in.
Knowing exactly how long a customer is in the store to help tailor their experience in future visits.
Using biometric systems for employees to clock in and out and track workers' whereabouts and monitor productivity. Advocates find this use particularly concerning because employees do not have the choice to opt out.
What's happening: In China, Alibaba and JD have opened futuristic grocery stores where automated carts follow you around, wrist trackers scan your selections and payments are made by facial recognition systems, per Wired.
In its new Amazon Fresh stores, Amazon offers cashier-less "Just Walk Out" technology. The company says it that system doesn't use facial recognition. Instead, customers select their entry method at the store to let Amazon know they are shopping.
Then, a combination of computer vision, sensors and deep learning determines what shoppers took off or returned to shelves.
The other side: Just because a camera is used in a store doesn't mean it's identifying or storing specific faces. And companies argue the systems can improve shoppers' in-store experiences in other ways.
The intrigue: Biometric information, like finger prints and facial images, is protected as personal data in states with strong privacy laws, like California.
Stadiums, amusement parks and cruise ships are among the venues where facial recognition use is more mature. The technology observes crowds, locates unruly guests, can identify guests for priority access to rides or restaurants and track where they are to direct offers to their phones or wrist bands.
People are generally less creeped out by those experiences because they know they are entering a "closed" environment of sorts and that they are benefiting from sharing that information with the companies, Leong said.
"But you don't have those same expectations of being tracked when you happen to walk into a store. A grocery store isn't a place you can avoid going. Maybe your choice of food is more sensitive than the ride you are going on," she said.
What to watch: Some industries, including retail, are experimenting with biometric technologies that can interpret facial expressions, detect sweat on a person's skin or identify an elevated heart rate.
"If someone walks into a drug store and they can intuit that they are anxious or worried, are they going to try to market them a sleep aid?" said Leong. "Some retailer could take advantage of someone's emotional state without that person's knowledge. There's a real imbalance of power there."
Go deeper