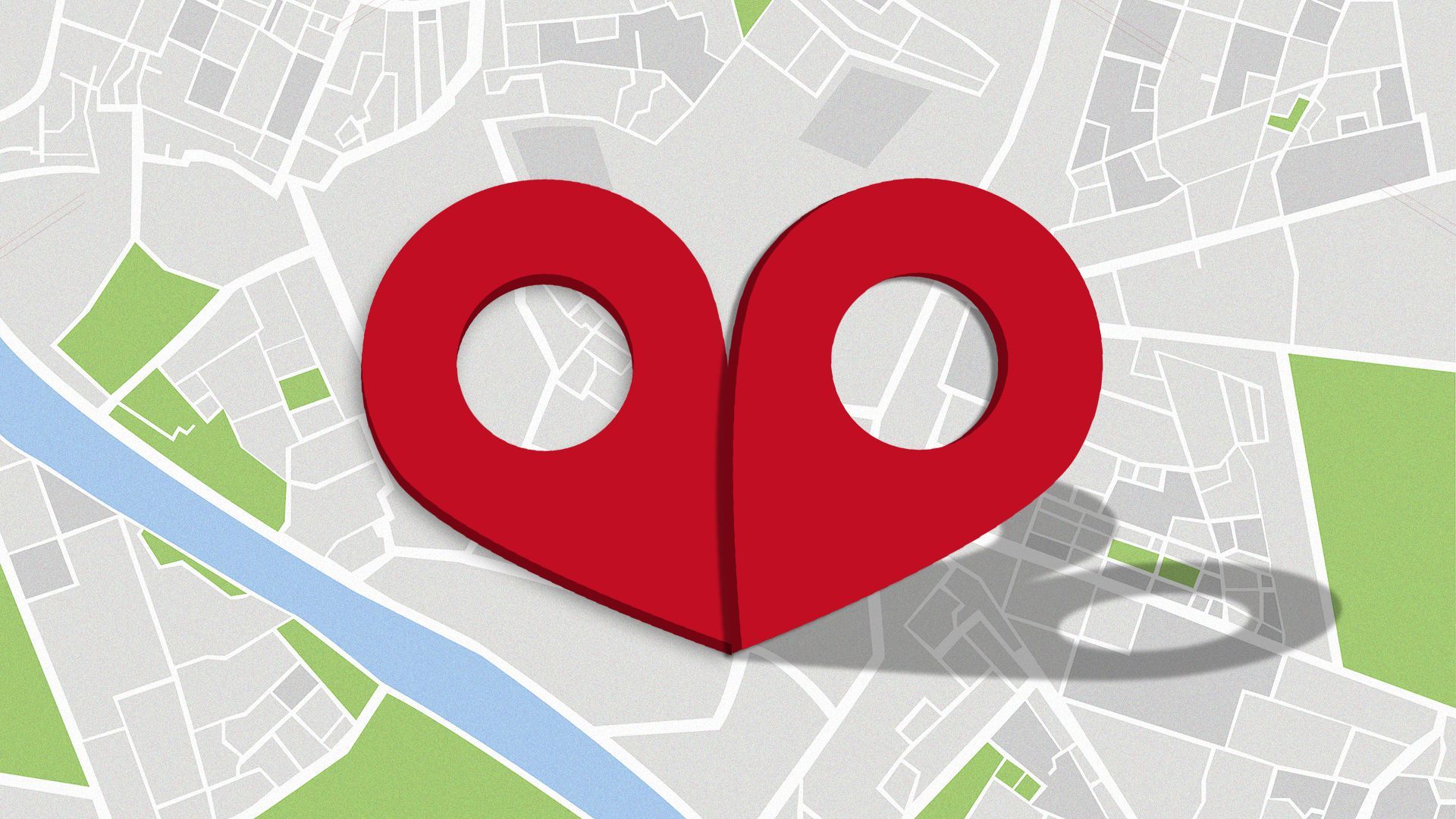 Chicago touts a diverse workforce. Morgantown, West Virginia, promises outdoor activities galore. Savannah, Georgia, advertises its historic charm. Indianapolis is proud of its small-town feel.
Why it matters: The post-pandemic workforce reshuffling has given cities and towns a new opportunity — and a new mandate — to market themselves with glitzy ad campaigns and worker recruiting trips, putting a new spin on the conventional municipal economic development playbook.
Between the lines: Instead of trying to attract big companies with tax incentives to bring a new headquarters or manufacturing plant (along with hundreds of new jobs) to town, city leaders are looking for the "micro-talent" — the individual who already has a job somewhere else but is looking for a better place to live.
Convince enough people to move to a particular city, and that city suddenly has a new worker ecosystem that can grow organically without having to dole out multimillion-dollar tax breaks to lure corporations.
Building out the social and physical infrastructure needed for remote workers — like co-working spaces, restaurants and other urban amenities and faster broadband — can help stimulate local economies.
What's new: Last week, a delegation of Chicago city leaders and serial tech entrepreneurs headed to San Francisco to meet with Chicago natives who'd moved west to pursue their tech careers, with the hopes of luring some of them back.
"We've got a lot of very strong, innovative tech entrepreneurs that are setting the world on fire," Chicago Mayor Lori Lightfoot told Axios from California. "We've got to do a better job of telling that story, both internally within Chicago, but really to the nation and to the world. Chicago is very much in the mix and has a lot of momentum."
Marketing 101 involves touting big wins. Like colleges that advertise their title teams to potential applicants, pro sports teams winning championships helps cities become top of mind for people who might be looking to relocate.
"That gets a lot of eyeballs and gets us on the map," said Jeffrey Vinik, owner of the Tampa Bay Lightning, which won the Stanley Cup last week, just a few months after the Tampa Bay Buccaneers took the Super Bowl. #ChampaBay has been trending on social media.
Vinik, a longtime investor based in Tampa, spearheaded the focus on attracting knowledge workers to the area about five years ago, establishing an entrepreneur support center and trying to raise the city's profile.
"I think it helps to have a spark," to energize a community and get people talking, Vinik told Axios. "I truly believe that in the next 10-20 years, the region from Tampa Bay to Orlando all the way to the Space Coast is going to explode. The message to people is, 'get in on it now.'"
Flashback: The era of municipal marketing arguably began with Amazon's sweepstakes-like contest to find a location for its second headquarters, HQ2.
Many of the 200 cities that applied probably didn't have much of a chance at winning the bid, and the campaign was later panned as a publicity stunt when the company ultimately chose Arlington, Virginia — hardly an overlooked market — for the HQ2 location.
Yes, but: Still, the process made cities think of marketing themselves in a new way. Clusters of cites realized the need to form a narrative around their unique regional identities.
Rural areas are also competing for attention, and small towns can be just as attractive to remote workers looking for lots of space and the chance to have an impact, said Laurel Farrar, CEO of Distribute, which works with towns to attract, retain and up-skill residents to meet economic goals.
"This is really revolutionizing economic development as we know it," said Farrar.
Go deeper